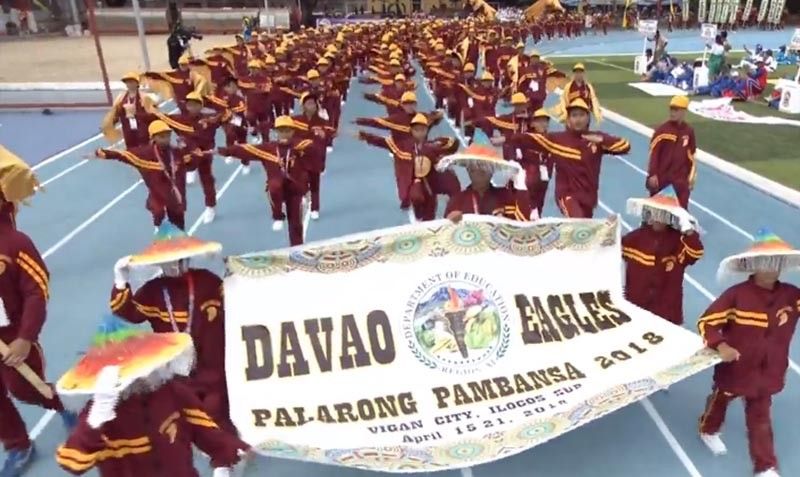 President Duterte's home region of Davao sent 800 athletes to the national meet.
Screenshot from RTVM stream
Duterte to Palaro athletes: Embody good values, enhance your skills
MANILA, Philippines — Sports can keep the youth away from illegal drugs and crime, President Rodrigo Duterte said Sunday, as he vowed to continue efforts to secure a "progressive" future for future generations.
Duterte said the government remains steadfast in promoting physical education, encouraging sports programs and supporting athletes, especially when they compete in international events.
"Sports serves as an avenue to divert the youth from illegal drugs, criminality and other lawless acts. We in government continue our campaign to eradicate these social ills to ensure a safe and progressive tomorrow for you and for the next generations," Duterte said during the opening of this year's Palarong Pambansa in Ilocos Sur.

"Rest assured that this administration will never stop working hard to make the Philippines a better nation. We, however, cannot do this alone. We call for your participation in making our national plans and programs tangible," he added.
'Palarong Pambansa a training ground for future leaders'
Duterte said the Palarong Pambansa is not just a showcase of talents and skills in sports but also serves as "a training ground for future leaders and national builders whose values and principles are founded on perseverance, discipline, teamwork, integrity and love of country."
"To the student athletes who have flown all the way from their provinces to compete and represent their respective schools and regions, congratulations. The fact that you are here with us today is enough proof of your determination and excellence in your chosen sports, and that makes all of you winners and champions already," the president said.
"Being a delegate to the Palarong Pambansa is just one of the many firsts in your journey towards success. Embody good values and enhance your skills, for this is the beginning of your greater participation in nation-building. I look forward to your more significant contributions to society in the days to come," he added.
Duterte advised student-athletes to also excel in studies while improving their athletic skills. He also urged parents to support their children so they can realize their potential.

"Your ability to balance academics and your other interests measures your aptitude for skills such as multi-tasking, time management and decision-making—skills that you will need as you take on greater responsibilities in the future," Duterte said.
"To the parents, there is no better way to show your love for your children than to help them realize their potential. Support them as they discover themselves and explore the limitless possibilities for their growth and development."
Duterte ended his speech by formally opening the athletic event.