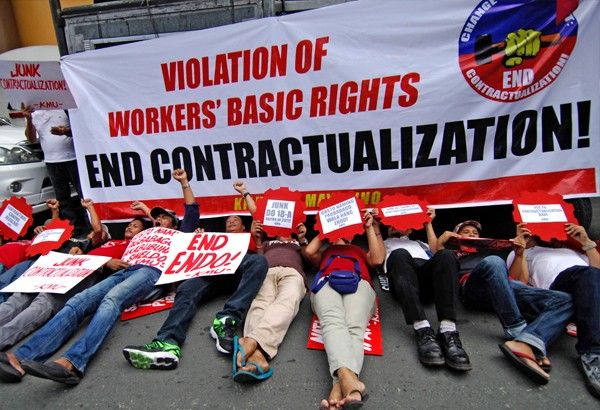 Labor Coalition said they are hopeful that the EO they proposed will be approved by Duterte.
Philstar.com/File Photo
Labor groups await signing of executive order on job contracting
MANILA, Philippines — Labor organizations are expecting President Duterte to finally sign an executive order (EO) that will regulate job contracting at the workplace.
In separate statements, the Federation of Free Workers, Associated Labor Unions-Trade Union Congress of the Philippines (ALU-TUCP), Kilusang Mayo Uno and Nagkakaisa Labor Coalition said they are hopeful that the EO they proposed will be approved by Duterte.
They said Duterte should sign the EO that mandates direct hiring of employees to fulfill his campaign promise to improve the lives of the workers.
"We trust that on April 16, President Duterte will sign an EO that will include the words 'consistent with the policy of this government the direct hiring of a worker by the principal employer shall be the general norm of direct hiring," said ALU-TUCP-Nagkakaisa vice president Louie Corral.
He added their proposed EO provides that contracting or subcontracting will be prohibited.
"However, our EO will also allow the Department of Labor and Employment (DOLE) secretary to exempt certain jobs from the prohibition upon consultation with the National Industrial and Peace Council," Corral said.
The groups said the version of the EO submitted by the Department of Trade and Industry and supported by DOLE should not be considered by Duterte.
They claimed this EO would not reflect the views of the workers and would only be a rehash of DOLE Department Order 174 where a worker is regularized under the agency or contractor.
FFW vice president Julius Cainglet said the workers' draft is "more anchored on existing reality on the ground."
It can also "be defended under the Constitution, the Labor Code and existing jurisprudence," he said.
"The President is a lawyer and he knew very well where he stand when he promised to end contractualization in the 2016 presidential election campaign," Cainglet added.