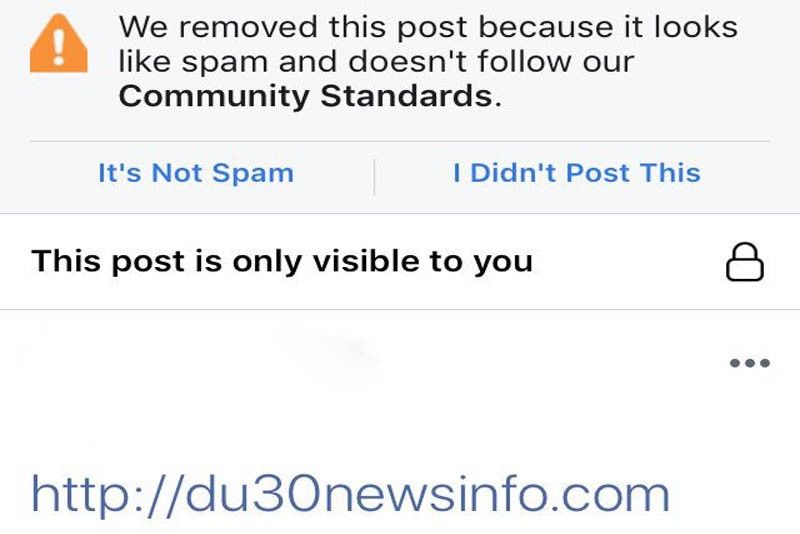 According to Facebook, users are prevented from visiting the websites for not following the social network's "community standards."
The STAR/Janvic Mateo
Facebook blocks pro-Duterte websites suspected of spreading fake news
MANILA, Philippines — Facebook has started blocking some pro-Duterte websites that are suspected of peddling fake news, as the world's largest social network intensifies fact-checking efforts to weed out misleading content and false information.
According to Facebook, users are prevented from sharing content from the banned websites for not following the social network's "community standards" and for being "unsafe."
LOOK: Facebook now preventing users from sharing content from sites believed to be sharing false information. @PhilippineStar @PhilstarNews pic.twitter.com/uPv8yx2wRs

— Janvic Mateo (@jvrmateoSTAR) April 14, 2018
Facebook has been battling widespread alarm amid issues on the company's efforts to protect users' data, as well as accusations that the platform was used as a tool to influence elections and imperil democracies through the spread of false and divisive news.
Bloomberg last year reported that the social media giant's "political team" allegedly trained the camp of President Rodrigo Duterte on how to maximize the platform for campaign.
Among the first and the notable fake new propagated during Duterte's campaign was the supposed badge of support given by Pope Francis to the firebrand leader, whose almost two decade mayoral stint in Davao City was marred by alleged human rights abuses.
But Malacañang had maintained that it would have been "foolhardy" for any political candidate not to tap Facebook as a campaign tool.
The proliferation of fake news in the Philippines has prompted lawmakers to hold congressional probes into the matter. Meanwhile, some officials of the current administration are being accused of spreading disinformation online, including Presidential Communications Operations Office Assistant Secretary Mocha Uson, who runs a pro-Duterte Facebook page with more than five million followers.
Despite conducting public hearings in aid of legislation, Sen. Grace Poe, chair of the Senate Committee on Public Information and Mass Media, said Congress "cannot legislate thought control." — with a report from Janvic Mateo