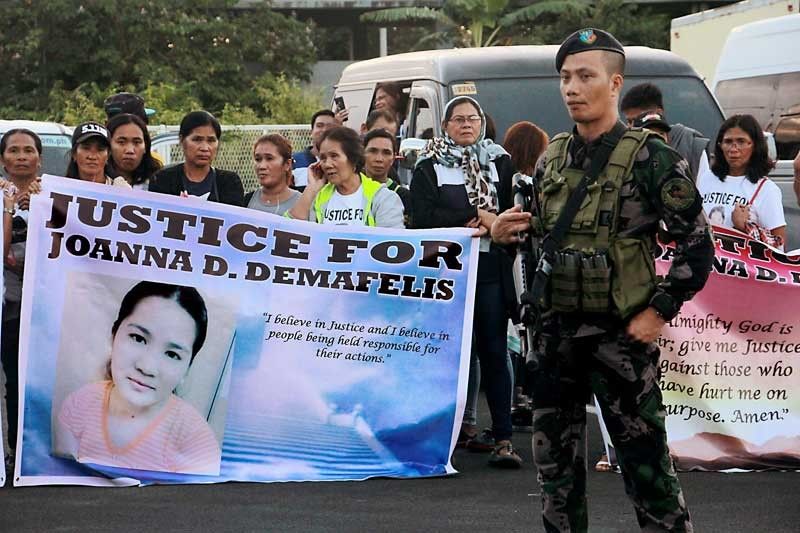 The Lebanese-Syrian couple was arrested in February in the Syrian capital Damascus following an Interpol manhunt. AFP/File
Joanna Demafelis killers get death penalty
(Agence France-Presse) - April 2, 2018 - 12:01am
KUWAIT CITY – A Kuwaiti court yesterday sentenced in absentia the Lebanese man and his Syrian wife to death by hanging over the murder of Filipina maid Joanna Demafelis.
The court issued the sentence during the first hearing in the case of Demafelis, the 29-year-old maid whose body was found in a freezer in Kuwait earlier this year.
The sentencing can still be appealed if the couple returns to Kuwait, a judicial source said.
The Demafelis murder triggered a diplomatic crisis between Kuwait and the Philippines, prompting Manila to impose a departure ban for its citizens planning to work in the Gulf state.
The Lebanese-Syrian couple was arrested in February in the Syrian capital Damascus following an Interpol manhunt.
Syrian authorities handed over to Lebanese authorities the husband, Nader Essam Assaf, while his Syrian wife remained in custody in Damascus.
An estimated 252,000 Filipinos work in Kuwait and depend on remittances to help their families back home.
About 10 million Filipinos work overseas and their treatment abroad is often a political issue at home.
Rights groups have raised alarm over the plight of workers in the Gulf and other Arab countries, where migrant labor is regulated under a system known as "kafala," tying migrant workers' visas to their employers and prohibiting workers from leaving or changing jobs without prior consent.
The Overseas Workers Welfare Administration (OWWA) reported that at least 196 Filipinos had died in Kuwait in the last two years, mostly for unspecified medical reasons but also four who committed suicide.
The sheer number of Filipino workers abroad makes monitoring their wellbeing an overwhelming task.
That is often complicated by workers not having proper travel and work documents, such as in Kuwait, where nearly 11,000 Filipino workers are in the country illegally or are not properly authorized.
As this developed, the Department of Foreign Affairs (DFA) called on undocumented Filipino workers in Kuwait to register for their repatriation until April 12.
The DFA issued the deadline after the Philippine embassy reported a drop in the number of undocumented Filipino workers registering for repatriation after Kuwait announced a two-month extension up to April 22.
"Our kababayans in Kuwait must realize that we cannot do things overnight and they should not wait until the last minute before they sign up for repatriation," Foreign Affairs Undersecretary for Migrant Workers Affairs Sarah Lou Arriola said.
The DFA said a total of 3,668 Filipinos have been flown home since Feb. 11 when the Philippine embassy started repatriating undocumented workers who had availed themselves of Kuwait's amnesty program.
Arriola said the DFA is concerned about the more than 6,000 undocumented workers who still have not signed up for repatriation and whom the embassy believes would register only during the last few days before the amnesty deadline.
Ambassador to Kuwait Renato Villa echoed the appeal, saying undocumented workers should register as soon as possible so they could be immediately be flown home.
"It takes at least 10 days to process the documents of our kababayans and get the necessary clearances from Kuwaiti authorities before we can put them on the plane to Manila," Villa pointed out.
Since Kuwait announced a two-month extension to their amnesty for overstaying foreign workers, Villa said the number of Filipinos registering themselves with the embassy has gone down.
"Filipinos always want to do things at the last minute but in this case, we cannot be expected to handle a deluge of applications especially during the last few days of the amnesty period," Villa added.
"We are appealing to our kababayans to go to the embassy as soon as possible and get themselves registered," he said. "We want to make sure no one is left behind." – Pia Lee-Brago
Related video: