Military putting up another marker at Philippine Rise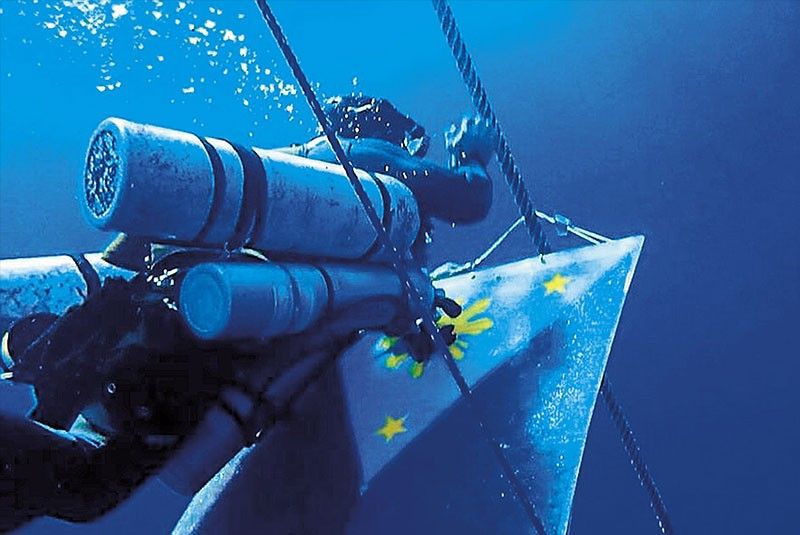 MANILA, Philippines — The military is adding another marker this month at Philippine Rise (Benham Rise) to further solidify the country's maritime rights over the 13-million-hectare underwater plateau off the coast of eastern Luzon.
The new maritime marker will be composed of buoys to complement an earlier Philippine flag that combined government forces installed underwater at one of the highest submarine mountains in the area last year.
Since last month, military and civilian divers have been training in various dive spots of the country to prepare for the upcoming maritime mission.
"We are returning to Philippine Rise, this time to put up another marker," a military official said.
He added that aside from buoys, several divers of the Army, Air Force, Navy and the Coast Guard would also conduct an inspection and repairs on the underwater Philippine flag that was placed in the area last year.
Scheduled on April 12, the activity is being spearheaded by the Armed Forces of the Philippines-Northern Luzon Command (AFP-Nolcom).
"The forthcoming military event was scheduled on April 12 to give more meaning to the day when the UN adopted in full the Philippines' submission for an extended continental shelf in the region," the official said.
On April 12, 2012, the UN approved the Philippines' maritime rights over Benham Rise, which Manila later renamed Philippine Rise.
Top government officials as well as defense and military leaders are expected to join the 10-hour voyage to Philippine Rise from Casiguran, Aurora.
Nolcom has operational jurisdiction over the country's northern frontier – Philippine Rise fronting the Pacific, Batanes Island Group and Panatag Shoal in Zambales.
Located northeast of Aurora province, Philippine Rise is considered a strategic spot that serves as a gateway to the Pacific Ocean as well as to the East China Sea for commercial and military vessels sailing through Bashi Channel, a body of water that separates Batanes and Taiwan.
Over the past two weeks, there have been a lot of military activities both in the South China Sea and East China Sea.
The United States Navy last week conducted a live fire naval drill in the East China Sea, particularly in the waters near Okinawa, Japan, while China has conducted naval war exercises in the South China Sea.
China is claiming almost the entire South China Sea as well as the Senkaku Island Group in East China Sea, as an integral part of its maritime and territorial domain.
Meanwhile, several Filipino-owned fishing companies are shying away from Philippine Rise as the area is not a viable area for commercial fishing.
Three fishing companies have been conducting surveys over the area, the results of which are not encouraging, according to one of the country's fishing magnates, who asked not not be identified.
"There are fish out there but not in commercial quantity. For small fishermen it's OK, but for us who are into commercial fishing, it's not," he said.
Related video: