Congress can help move peace talks forward, Joma says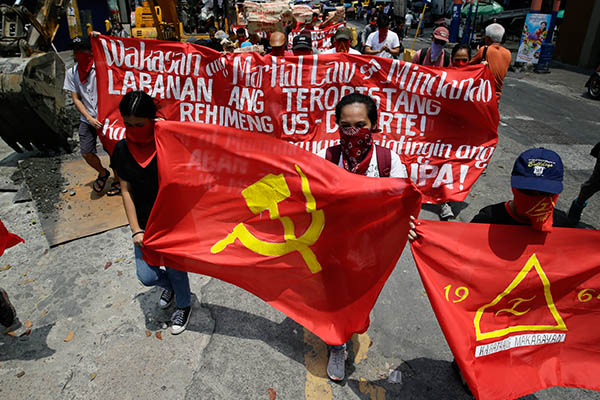 MANILA, Philippines — Communist Party of the Philippines founder Jose Maria Sison on Tuesday stressed that the cooperation of both houses of Congress is needed for the peace negotiations between the government and the rebels to resume.
In a statement, Sison said that the concurrence of Congress is needed for a presidential amnesty proclamation to release all political prisoners in compliance with the Comprehensive Agreement on Respect for Human Rights and International Humanitarian Law. The release is meant to be in exchange for a mutually effective ceasefire.
This, he said, is the "first step toward the end of hostilities."
"The cooperation of Congress is also needed to pass the laws for enabling the realization and implementation of the policy agreements to be embodied in the comprehensive agreements on social and economic reforms, political and constitutional reforms and the end of hostilities and disposition of forces," Sison added.
His statement came days after 61 members of the House of Representatives signed a resolution urging President Rodrigo Duterte to continue the peace negotiations with the communist rebels.
Senate President Aquilino Pimentel III has also said he favors the resumption of peace talks but no counterpart resolution has been filed at the Senate.
A simple resolution expresses the sense, or sentiment, of a congressional chamber but is non-binding.
'Reds' willing to resume talks
Sison, who is also the chief political consultant of the National Democratic Front of the Philippines, said the group is definitely willing to resume peace negotiations.
Defense Secretary Delfin Lorenzana, however, is not keen on reviving the peace talks with the communists, saying the government gained nothing from the past talks.
"[I]f President Duterte and his subordinates Lorenzana and [PNP chief Ronald] dela Rosa are unwilling to negotiate peace, the revolutionary forces and the people represented by the NDFP have no choice but to concentrate single-mindedly on fighting those who lust for their blood, death and humiliation," Sison said.
In a statement Tuesday, Malacañang insisted that there must be "genuine sincerity" on the part of the rebels if they want to revive the peace talks. The communist guerrillas earned the ire of Duterte for continued attacks on security forces — an attack on a police vehicle in Bukidnon in November left an infant dead.
"The best test of sincerity is to maintain sobriety and reasonableness in the peace process, comply with mutually approved agreements and concentrate on the negotiation and forging of agreements on social, economic and political reforms to lay the ground for a just and lasting peace for the benefit of the Filipino people," Sison said.