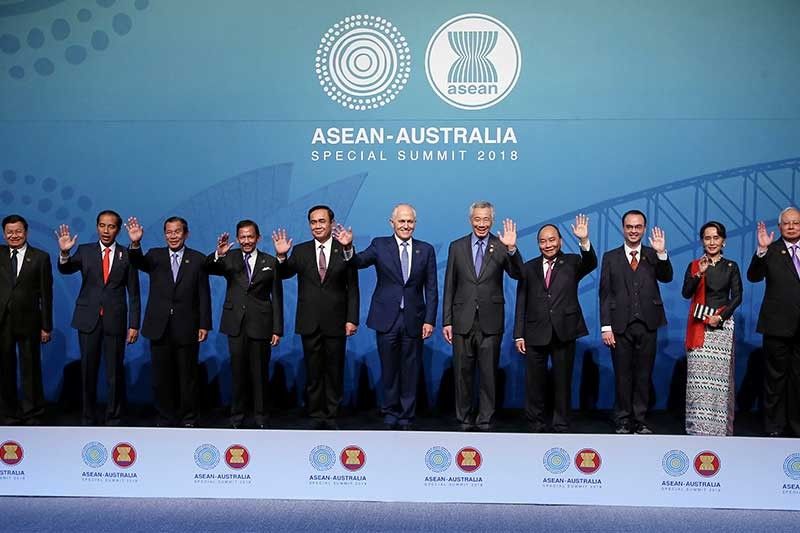 Leaders, from left to right; Prime Minister of Laos Thongloun Sisoulith, Indonesia's President Joko Widodo, Cambodia's Prime Minster Hun Sen, Brunei's Sultan Hassanal Bolkiah, Thailand's Prime Minister Prayuth Chanocha, Australia's Prime Minister Malcolm Turnbull, Singapore's Prime Minister Lee Hsien Loong, Vietnam's Prime Minister Nguyen Xuan Phuc, Philippines' Secretary of Foreign Affairs Alan Peter Cayetano, Myanmar's leader Aung San Suu Kyi, and Malaysia's Prime Minister Najib Razak, pose for a group photo at the Association of Southeast Asian Nations, ASEAN, special summit, in Sydney, Saturday, March 17, 2018. Australia is hosting leaders from the 10-country Association of Southeast Asian Nations during the 3-day special summit. AP/Rick Rycroft
Analyst: ASEAN's Sydney Declaration aired strongest position on South China Sea
MANILA, Philippines — Despite the lack of an explicit reference to China's militarization of the West Philippine Sea, the ASEAN and Australia's joint statement brought out the strongest position on the contested waters, an analyst said.
The 10-member regional bloc and Australia released the "Sydney Declaration" at the end of the two-day ASEAN-Australia Special Summit.
In the joint declaration, the leaders reaffirmed the importance of maintaining and promoting peace, stability, maritime safety and freedom of navigation and overflight in the region.
"We emphasise the importance of non-militarisation and the need to enhance mutual trust and confidence, exercise self-restraint in the conduct of activities and avoid actions that may complicate the situation," the joint statement read.
The ASEAN and Australian leaders also called for an early conclusion of an effective Code of Conduct in the South China Sea.
Dindo Manhit, president of independent think tank Stratbase ADR Institute, said that the Sydney Declaration "raised the level of regional cooperation amidst a changing geopolitical environment where the Philippines is a major stakeholder."
"ASEAN's unequivocal support for the Code of Conduct in the South China Sea and non-militarization springs a new momentum for the government and a strong message against actions that run counter to building regional trust and confidence," Manhit said.
Australia and Vietnam also released a separate joint statement in the same event, signaling the establishment of a strategic partnership between the two nations.
The partnership between Australia and Vietnam shows that two countries with different political systems can build a relationship that can be a model for bilateral cooperation, Manhit said. He also noted that this alliance is aligned with the pronouncements in the recently concluded ASEAN-Australia Special Summit.
Foreign Affairs Secretary Alan Peter Cayetano on behalf of President Rodrigo Duterte. The Philippine leader was the only head of state who did not attend the event.
Prior to the summit hosted by Australia, Singaporean Prime Minister Lee Hsien Loong said that they share the same concerns with Canberra.
"We both have a vital interest in freedom of navigation and overflight in the South China Sea. We should continue to uphold these principles," Lee said.
Lee, who sits as ASEAN chair this year, vowed that Singapore will work with all parties to manage the disputes and overlapping claims in the South China Sea.