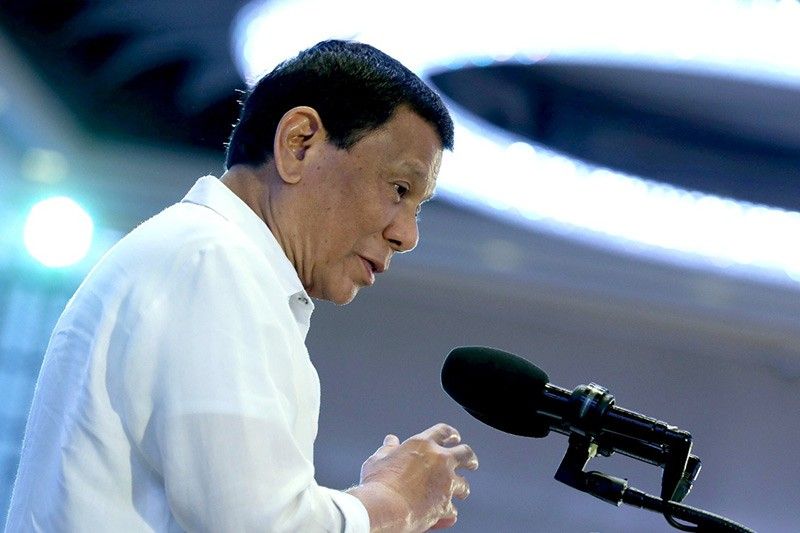 President Rodrigo Duterte speaking at the 2018 General Assembly of the League of Municipalities of the Philippines at the Manila Hotel in the City of Manila on March 20, 2018.
Robinson Niñal Jr./Presidential Photo
Duterte backs anti-political dynasty proposal but uncertain if public will like it
MANILA, Philippines — President Rodrigo Duterte said on Tuesday he agrees with the proposed abolition of political dynasties, although he doubts whether the idea would sit well with the public.
The firebrand leader's latest comment was a stunning about-face from his previous rejection of any moves to ban family dynasties, whose machinery and political control have left little room for discussions on much-needed reforms for years.
"A few of the principled men, I would say, want this kind of thing about dynasty is abolished. I am for it," Duterte, whose children had been elected to office in Davao City, told municipal mayors.
"Ang problema lulusot ba 'yan (The only problem is will that breeze through Congress)?" he added.
He then cited his experience as long-time mayor of Davao City, saying the tough policies he imposed on his hometown made his family popular among the voters.
"Because sa atin pagkatapos mo eh they would ask for your son or your wife (Because in our country, once you finish your term, people would ask your son or wife to run for office)," he said.
The switch to a federal system was one of the key planks of Duterte's election campaign, along with his deadly war on drugs.
The country currently employs a unitary form of government, with much of the power emerging from Manila although many functions have been devolved to local governments.
Early this month, a 20-member consultative committee created by Duterte to review the 1987 Constitution voted to regulate political dynasties in the draft federal charter.
In an en banc session, members of the consultative committee agreed to insert a provision prohibiting politicians' second-degree relatives from succeeding each other and from simultaneously running in an election, or holding more than one position.
Congress, which has representatives of political clans in its ranks, is holding parallel discussions on proposed amendments to the 1987 Constitution. The current charter prohibits political dynasties but lawmakers have repeatedly failed to pass an enabling law for the ban.
In a press conference also on Tuesday, Reynato Puno, chairman of the consultative committee, said the proposed anti-political dynasty provision is a "sine qua non (without which, nothing)" requirement of the shift to a federal system.