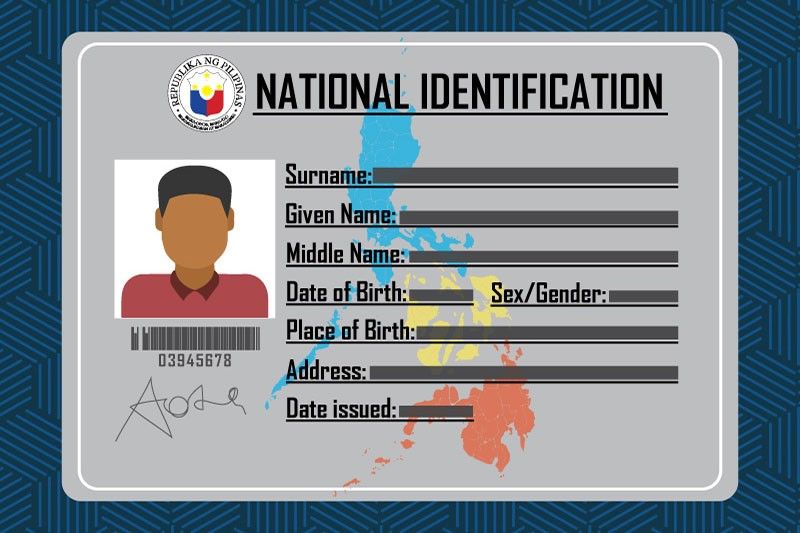 Senator Panfilo Lacson said the public has nothing to fear about the nation ID system since it would only contain very basic demographic and biometric data of every Filipino citizen and resident alien.
Infographics, John Nicole Villamayor
Have no fear of national ID — Lacson
Marvin Sy
(The Philippine Star) - March 21, 2018 - 12:00am
MANILA, Philippines — Sen. Panfilo Lacson has allayed fears about the proposed national identification system, saying this would not violate rights to privacy.
Senate Bill 1738 or the proposed Philippine identification system law was approved on third and final reading on Monday with 17 senators in favor and two against.
Lacson said the public has nothing to fear about the nation ID system since it would only contain very basic demographic and biometric data of every Filipino citizen and resident alien.
"There are only two questions being addressed in the proposed measure: who are you and are you who you claim to be? So, I don't see how the privacy of an individual may be invaded when it just answers these two basic questions," Lacson said.
The Philippine Statistics Authority (PSA) would serve as the repository of information, which would include the name, address, date and place of birth and biometric data of the cardholder.
However, Lacson stressed, the PSA would not be allowed to disclose these data unless ordered by the court.
The House of Representatives previously approved its version of the bill, which is slightly different from that of the Senate. The House wanted the card to be purely functional, while the Senate wants the Philippine ID to be foundational – a term that Lacson said would mean "each and every Filipino citizen and even resident aliens will be armed with a legal, valid information."
"This is to enable our citizens to transact business with public and private entities with ease and expeditiously and conveniently," he added.
As an example, Lacson said that anyone who intends to open a bank account would no longer have to provide two valid IDs for identification and would only have to provide either the Philippine ID or just the Philippine ID system number.
The bank would then just need to have the Philippine ID authenticated by the PSA to proceed with the transaction.
Eventually, Lacson foresees the evolution of the Philippine ID system into a unified ID system wherein only one card would be carried around by Philippine citizens in place of the different government-issued IDs such as the driver's license, PhilHealth and GSIS cards.
In voting against the bill, Sen. Risa Hontiveros aired her concern about how the cardholder's data could be disclosed if the interest of public safety or health requires it. She wants additional safeguards to prevent indiscriminate disclosure of information, a move which Lacson said could be taken up during the bicameral conference committee meetings.
Sen. Francis Pangilinan opposed the bill along with Hontiveros.
Senate President Pro Tempore Ralph Recto noted that the law would require P25 billion to implement, spread out over a five-year period.?The issuance of the card, however, would be free to all Filipino citizens.
"I think that for P25 billion, it would not be too much to expect that what will be given to us is an ID system which will be safe, secure and will serve as a substitute for the accordion of government cards that we carry in our wallets," Recto said.
Lacson said the rollout of the Philippine ID is expected to take place in 2019.
Sen. Joel Villanueva said a good national ID system "will result in better delivery of and access to government services because it can reduce cost both to the government and the Filipino citizens."
Left-leaning Bayan Muna Rep. Carlos Zarate also opposed the proposed national identification system, saying it would violate the right to privacy and "pose serious sovereignty and security implications to our country."
"This measure may have some very serious sovereignty and security implications since the proposed repository of all these data is the Philippine Statistics Authority, which entered into a questionable contract with the US-based firm Unisys," he said.
According to him, the PSA contracted Unisys for P1.59 billion to manage its civil registry system from March 2017 to 2029. Unisys also allegedly won a similar deal from the defunct National Statistics Office (NSO), which the PSA replaced.
"With Unisys having unbridled control of the civil registry system, the US government and its intelligence agencies can easily have undiminished access to all civil documents of more than 100 million Filipinos," Zarate pointed out.
Once a final version of the bill is crafted, it would be sent to President Duterte for signature. – Jess Diaz