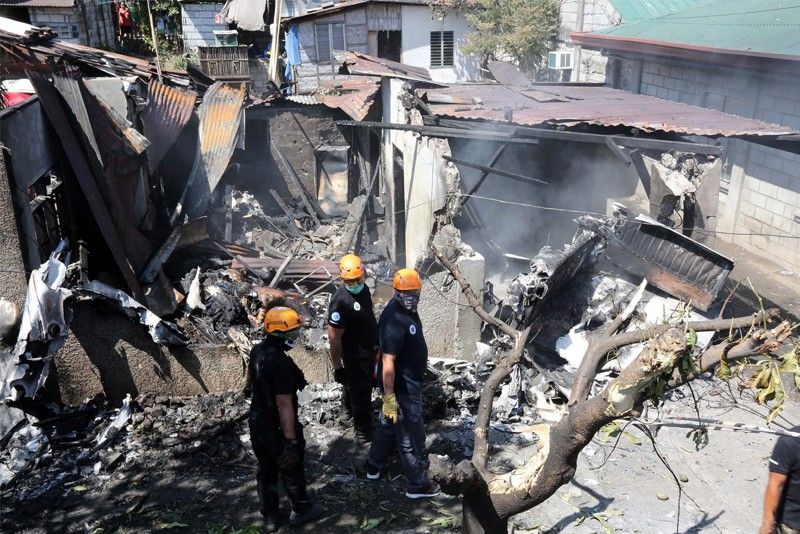 Rescue workers look at the crash site in Plaridel, Bulacan, where 10 people were killed when a small plane crashed into a house while trying to take off. Boy Santos
10 dead as light plane crashes in Bulacan
MANILA, Philippines — A small plane carrying five persons crashed into a house shortly after takeoff in Plaridel, Bulacan yesterday, killing everyone onboard and five others on the ground.
The six-seater Piper PA-23 Apache plane was reportedly carrying three passengers aside from the pilot and a mechanic when it crashed in Barangay Lumang Bayan shortly before noon.
Plaridel police chief Supt. Julio Lizardo said all five persons on board died in the crash as the well as the five members of a family occupying the house.
The fatalities were identified as Capt. Ruel Meloria, pilot; mechanic Romeo Huenda and passengers Alicia Necesario, Maria Vera Pagaduan and Nelson Melgar.
Those who died on the ground were Risa dela Rosa; her mother Louisa, 80, and her children John John, 17; Timothy, 11 and Trisa, 7.
The victims' remains were recovered from the crash site at around 4:30 p.m., according to Bulacan police director Senior Supt. Romeo Caramat.
The incident sparked a fire that also caused injuries to other residents, identified as Verginia Marquez, 60, and Santino Salinas, 11.
Police and the Civil Aviation Authority of the Philippines (CAAP) have yet to determine the reason for the crash, according to CAAP spokesman Eric Apolonio.
The plane, which was bound for Laoag in Ilocos Norte, was reportedly operated by Lite Air Express.
CAAP's accident investigators and a team from the Flight Safety & Inspectorate Service went to the crash site.
The agency said all aircraft operated by Lite Air Express were grounded pending results of an investigation into the incident. – With Rudy Santos Ramon Efren Lazaro, AP