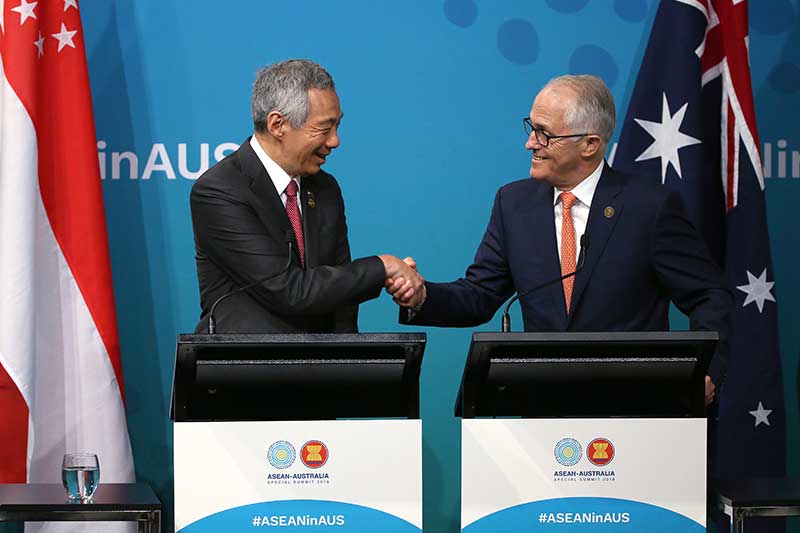 Singapore's Prime Minister Lee Hsien Loong, left, and Australia's Prime Minister Malcolm Turnbull shake hands as they hold a joint press conference at the Association of Southeast Asian Nations, ASEAN, special summit, in Sydney, Friday, March 16, 2018. Australia is hosting leaders from the 10-country ASEAN during the three-day special summit. AP/Rick Rycroft
Australia, Singapore share common concern in South China Sea
(Philstar.com) - March 16, 2018 - 5:19pm
MANILA, Philippines — Sharing concerns with Australia, Singapore urged all concerned parties to observe international law and international norms to minimize tensions in the region.
Australia is hosting a special summit with ASEAN this weekend and they are expected to come out with a joint communique that will outline the countries' formal position on China's aggressive actions in the disputed waters.
An Australian newspaper reported that the joint communique which will be issued after the ASEAN-Australia summit would most likely include statements supporting freedom of navigation and resolving disputes through international law.
President Rodrigo Duterte is the only head of state who will not be attending the ASEAN-Australia Special Summit. Foreign Affairs Secretary Alan Peter Cayetano will represent him.
"As ASEAN Chair and country coordinator for ASEAN-China relations, Singapore will work with all parties to find common ground so that we can manage the disputes and overlapping claims," Singaporean Prime Minister Lee Hsien Loong said.
Lee noted that like Australia, Singapore depends in a peaceful and stable region to support free trade and open markets.
Both Singapore and Australia place importance to international law and peaceful settlement of dispute, according to a report from The Straits Times.
"We both have a vital interest in freedom of navigation and overflight in the South China Sea. We should continue to uphold these principles," Lee said.
The two countries, however, could not solve the the South China Sea dispute among competing states as they are non-claimants.
Lee also noted that several countries support the position of the United States in conducting freedom of navigation operations in the South China Sea.
"They will take their own actions to protect these interests. The US, for instance, conducts freedom of navigation operations. They do not consult Singapore," Lee said.
Interested parties could only observe international law and agree to rules which minimize the risk of incidents and escalation, according to the Singaporean leader.
"It is also important that ASEAN stays cohesive and relevant," the Singaporean Prime Minister said.
The 10-member regional bloc have already started negotiations on a Code of Conduct in the South China Sea. — Patricia Lourdes Viray