Trillanes faces sedition raps over anti-Duterte speech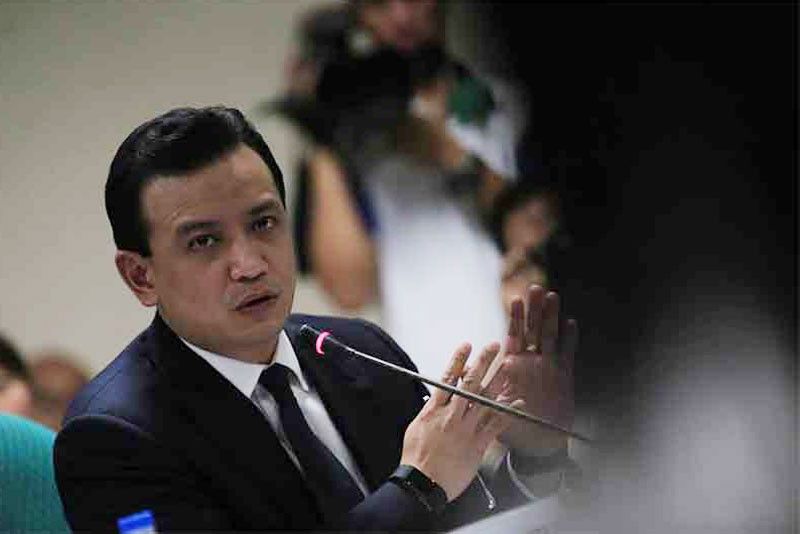 MANILA, Philippines — A Pasay City prosecutor has found probable cause to charge Sen. Antonio Trillanes IV with inciting to sedition in connection with his pronouncements on President Duterte's alleged hidden wealth.
The case has been filed before the Pasay City Metropolitan Trial Court and raffled off to Branch 45 under Judge Remiebel Mondia.
Bail of P12,000 was recommended.
In a 12-page resolution dated March 14 and released yesterday, Pasay City Senior Assistant City Prosecutor Joahna Gabatino-Lim said Trillanes could have destabilized the very same government to which he belongs through his pronouncements in violation of Article 142 of the Revised Penal Code.
Article 142 states that inciting to sedition can be done through speeches, proclamations, writings, emblems, cartoons, banners or other representations that tend to disturb or obstruct any lawful officer in executing the functions of his office, or instigate others to cabal and meet together for unlawful purposes, or which suggest or incite rebellious conspiracies or riots, or which lead or tend to stir up the people against the lawful authorities or to disturb the peace of the community, the safety and order of the government, or who shall knowingly conceal such evil practices.
The case stemmed from the complaint of suspended lawyer Eligio Mallari, Glenn Chong, Nestor Ifurung, Eduardo Bringas, Nasser Marohomsalic and Department of Labor and Employment (DOLE) undersecretary Jacinto Paras accusing Trillanes of inciting to sedition "by concocting, creating and making false documents and statements, (making) it appear that President Duterte has bank transactions from 2006 to 2015."
They based their complaint on Trillanes' privilege speech at the Senate on Oct. 3, 2017 that was later uploaded on video streaming site YouTube and on various news stories from his interviews and speeches delivered at the University of the Philippines-Diliman.
In his speech quoted in the resolution, Trillanes said Duterte himself noted that if P40 million at the very least was found in his accounts, he could be shot and killed by the soldiers.
"So here's the answer now. If the soldiers could see this, they will use the M60 machine gun on you. These are many. The magazines will be emptied if you're looking for P40 million, Mr. Duterte," the resolution further quoted Trillanes as saying.
Trillanes also questioned how Duterte, then a mayor of Davao City without any business as source of income, managed to have bank credits amounting to a total of P2 billion from September to December of 2015.
The senator said he got the documents for his exposé from the Anti-Money Laundering Council (AMLC), which later denied his claim.
In various speeches, Trillanes also called on Duterte to sign a waiver allowing government to open his bank records for possible investigation.
"Analysis of the contents of the speech and its intention and the following publication of which in YouTube, staging of a rally, speeches in UP and various statements or press releases led this office to believe that respondent's (Trillanes) intent is to sow the seeds of sedition in the mind of the people," Gabatino-Lim said.
Trillanes, being a senator, has the duty to investigate allegations of graft and corruption by government officials in aid of legislation, Gabatino-Lim said.
"However, it varies when the attack is personal and the allegations are without any proof to back (them) up," she pointed out.
While Trillanes claimed that he has legislative immunity in making these statements since he pronounced them during a Senate session, Gabatino-Lim said that his statements were "not made in accordance with a legislative function."
Gabatino-Lim, meanwhile, junked the other complaints filed against Trillanes, which included conspiracy and proposal to commit coup d'etat and violation of Section 3 (e) of the Anti-Graft and Corrupt Practices Act, or "causing any undue injury to any party, including the government, or giving any private party any unwarranted benefits, advantage or preference in the discharge of his official administrative or judicial functions through manifest partiality, evident bad faith or gross inexcusable negligence."
The prosecutor said Trillanes could not be charged for both crimes as "the privileged speech he made... was delivered in the performance of his public duties as a senator."
She also noted the complainants' basis for their complaint were news articles, which she said "are not only inadmissible but also lack probative value."
Malacañang, through presidential spokesman Harry Roque, said "we respect the finding of our Pasay prosecutor on this." – Alexis Romero