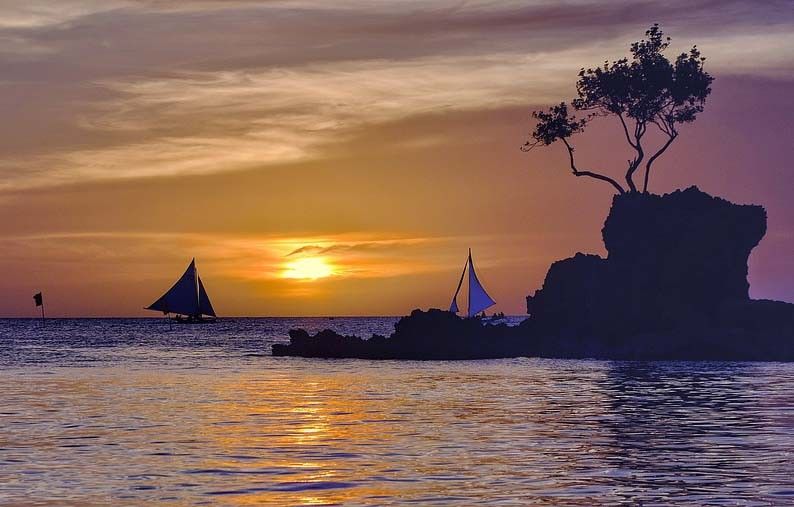 President Rodrigo Duterte has threatened to close Boracay, which he called a "cesspool" because of the lack of proper sewerage system.
Pixabay
Duterte: Bomb illegal Boracay structures
MANILA, Philippines — If the need arises, President Duterte is ready to blow up illegal establishments in Boracay.
After the Boracay West Cove resort was closed due to lack of permits, presidential spokesman Harry Roque yesterday urged local governments to seek the assistance of Duterte, whom he said is prepared to deploy soldiers to enforce regulations.
"The last I heard is that the local government may even ask the President for assistance to call in the Marines if need be. So when I heard that report, I told them, 'send the letter because I'm sure the President will not hesitate to send in the Marines and even use dynamite to blow up the illegal structures there'," Roque said in a press briefing.
Duterte has threatened to close Boracay, which he called a "cesspool" because of the lack of proper sewerage system. He also announced a plan to declare the island under a state of calamity and file cases against local officials who allowed the tourist destination to deteriorate.
Last Wednesday, the local government of Malay, Aklan shut down the Boracay West Cove resort for operating without business and other permits and for building structures on a no-build zone.
But its owner claimed that the closure has no legal basis and vowed to question the move before the court.
Roque said West Cove Boracay's plan to appeal the closure would not affect the government's plan to rehabilitate the island.
"The decision that they are in breach of environment laws as far as I know is immediately executory. And I think the DILG (Department of the Interior and Local Government) and DENR (Department of Environment and Natural Resources) have said that they will demolish West Cove," the spokesman said.
Total closure
If she would have her way, Tourism Secretary Wanda Teo would rather go for the full closure of Boracay to speed up the cleaning operations there.
"I think it will depend on Secretary Cimatu (partial or full closure) but, for me, I think it should be total because work will be done faster. If it is partial, it will take time and we only have six months to do (the cleanup)," she told reporters.
Duterte earlier tasked the DENR and DILG to fix the problems in Boracay within six months and threatened to close the island to tourism if problems persisted.
Teo believes that shutting the island from the influx of local and foreign tourists for a time would eventually result in more tourist arrivals.
"We (tourism industry) will be affected by this, but we have to sacrifice," she added.
Frederick Alegre, DOT assistant secretary and spokesman, believes that it "might turn for the best" if the two agencies are able to fix the Boracay problem within the six-month period given by the President.
Related video: