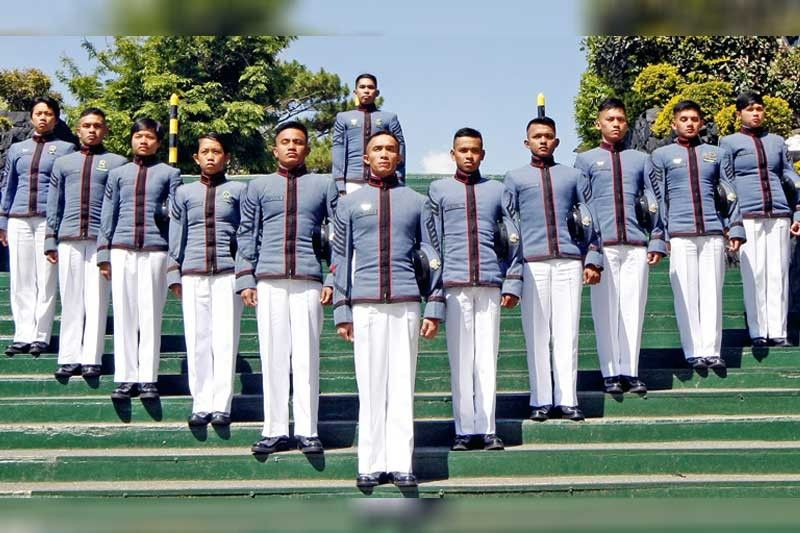 TOP CADETS: Jaywardene Hontoria (center) leads graduating cadets of the Philippine Military Academy's Alab-Tala Class of 2018 during a presentation at the PMA in Baguio yesterday. Others in the top 10 are Witawit Liwaden, Jun-Jay Castro, Leonore Japitan, Mark Jantzen Dacillo, Jezaira Buenaventura, Jessie Antonio Laranang, Paola Briones, Jayson Cimatu and Micah Reynaldo. Special awardees are Jasm Marie Alcoriza (athletic saber) and Christian Michael Peña (journalism). Andy Zapata Jr.
Sons of OFW, farmer top PNPA, PMA classes
MANILA, Philippines — The sons of a farmer from Iloilo and a domestic helper from Negros Occidental top this year's graduates at the Philippine Military Academy (PMA) and Philippine National Police Academy (PNPA), respectively.
Slated to receive the Presidential Saber Award from President Duterte on Sunday at the PMA graduation rites at Fort del Pilar in Baguio City is Jaywardene Hontoria, 25, who bested all his 281 "mistahs" (classmates).
The valedictorian's achievement is even more remarkable than those that came before him because he is the "baron" of the PMA Alab-Tala (Alagad ng Lahing Binigkis ng Tapang at Lakas) Class of 2018.
A baron is the brigade commander, or the topmost military commander in the PMA Cadet Corps.
PMA superintendent Lt. Gen. Donato San Juan said Hontoria, who is a nurse by profession and will become a Marine officer with the Philippine Navy, is only the third baron to graduate as topnotcher in a span of 67 years. The last time a baron graduated valedictorian was in 1951.
Hontoria hails from a peasant family from Balabag, Pavia, Iloilo. He graduated from the West Visayas State University, where he was awarded as "Best in Community Health Nursing."
"I want to be in the Marines because they are on the frontlines. As a registered nurse, I want to help in basic health care in the communities, including in the rehabilitation of Marawi City," he said.
Even before entering the PMA, Hontoria was enlisted with the Philippine Coast Guard.
"It was really my dream (to become a soldier)," he said, adding that he pleaded before his father Oscar and mother Nancy to allow him to enter the PMA after becoming a nurse.
Hontoria's town mate, deceased Lt. Col. Alain Osano of PMA Class 1995, introduced him to the Academy.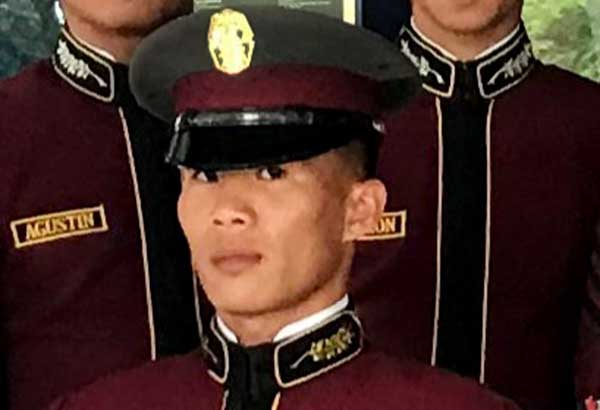 Police Cadet Fritz John Vallador, the top graduate of the Philippine National Police Academy. Andy Zapata Jr.
"I had to give up my nursing profession to fulfill my dream," he said.
But Hontoria said he would always be a nurse while in the battlefield as a Marine officer.
Right after the PMA graduation rites, the topnotcher will marry his college sweetheart Loura Fe Dillera, a registered nurse.
Hontoria will also receive the Chief of Staff Saber, Phil. Navy Saber, Academic Group Award, Australian Defense Best Overall Performance Award, Spanish Armed Forces Award, Humanities Plaque, Natural Sciences Plaque, JUSMAG Award and the Department of Leadership Plaque.
Joining Hontorio as this year's top 10 PMA graduates are three female 1st Class Cadets, namely, Leonore Andrea Japitan, 21, from Butuan City placing fourth; Jezaira Buenaventura, 22, from Calasga-an, Bais City, Negros Oriental (sixth) and Micah Reynaldo, 22, from Bamban, Tarlac (10th).
Others in the PMA top 10 are Cadet 1st Class Ricardo Liwaden of Barlig, Mountain Province (second); Jun-Jay Castro, 23, from Amulung, Cagayan (third); Mark Jantzen Dacillo, 25, from Zamboanga City (fifth); Jessie Antonio Laranag, 22, from San Clemente, Tarlac (seventh); Paolo Broines, 20, from Baguio City (eighth) and Jayson Cimatu, 24, from Casiguran, Aurora (ninth).
Special awards will be given to Christian Michael Olarte Pena, 24, from Legazpi City, Albay for his exemplary journalism skills and Jasm Marie Alcoriza, 24, from Bacolod City, the Athletic Saber for females.
Also among this year's PMA graduates is Pongpeera Disapirom, 23, the sixth Thai to finish at the academy.
As a second lieutenant in the Royal Thai Army after Sunday, Disaporom, who could be mistaken for a Filipino, said issues in his country like civil disturbance challenged him to become a soldier and be a solution.
Mother's sacrifices
The number one graduate of the PNPA this year may be a male, but Police Cadet Fritz John Vallador is crediting his success to all the sacrifices of his mother, who works as an overseas Filipino worker (OFW).
"Narating ko po ito kahit po ako'y walang itay… Hindi ko po siya nakita (I achieved this even though I don't have a father, I haven't seen him) since birth… I was able to achieve this with the inspiration of my mother," Vallador said, becoming emotional as he honored the sacrifices of his mother to raise him.
Vallador, who hails from Kabankalan City, Negros Occidental, said his mother has been working as an OFW since he was in grade 5.
He said that his mother could not make it to his graduation rites next week but his aunt, who has been taking care of him since his mother left to work abroad, will be there to celebrate his success on behalf of his mom.
Vallador vowed that he would be a dedicated and trustworthy public servant.
"Kasama ko ang mga classmates ko, nangangako po kami na kami po ay magsisilbi nang tapat (Together with my classmates, we promise to serve faithfully)," he said. – With Jaime Laude