Duterte tells cops, soldiers: Snub any UN rights probe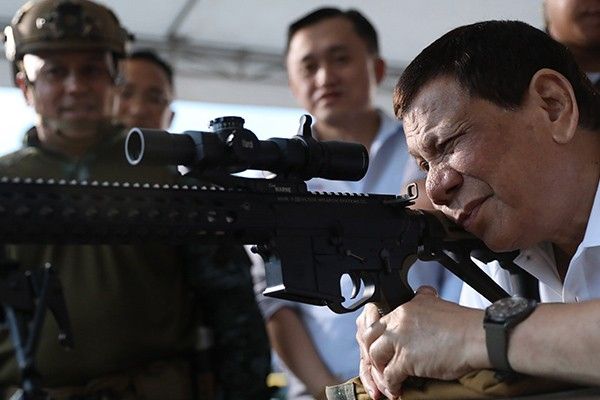 MANILA, Philippines — President Rodrigo Duterte said Thursday he would not cooperate with UN investigators looking into extrajudicial killings under his rule, telling police and soldiers not to cooperate with any probe.
Duterte's angry reaction came after his government said it was willing to accept a visit from a UN Special Rapporteur to look into the rash of killings under Duterte's deadly anti-drug war.
"When the human rights or whoever is that rapporteur arrives, my order to you is, do not answer... Who are they and who are you to interfere in the way I would run my country?" he told a gathering of police and military.
"If they ask you about wrongdoing, do not answer. And if they ask you why, tell them: we have a commander in chief," who they should speak to, he said.
"You're investigating us, fact finding? Well sorry, do not f*** with me," he said, referring to the rapporteur.
The Philippines' human rights record was raised at a UN Human Rights Council meeting in Geneva late February with Iceland Foreign Minister Gudlaugur Thor Thordarson urging Manila on Monday to accept a visit from the UN Special Rapporteur.
Foreign Secretary Alan Peter Cayetano later told the council that Manila was ready to cooperate, but also said the investigators should be fair and not "weaponize" human rights.
Duterte, elected by a landslide in 2016 largely on a pledge to kill tens of thousands of criminals, has presided over a narcotics crackdown that rights monitors say amounts to crimes against humanity.
Philippine police say they have killed more than 4,000 drug suspects who resisted arrest, but human rights groups estimate there have been more than 12,000 deaths in all, including people murdered by shadowy vigilante groups.
Duterte, who still enjoys wide popularity despite the concerns of rights activists, has previously rejected any call to investigate his rights record.
In his speech, he told a crowd of camouflage-garbed government troops, "it is not easy to run a government that is democratic."
Related video: