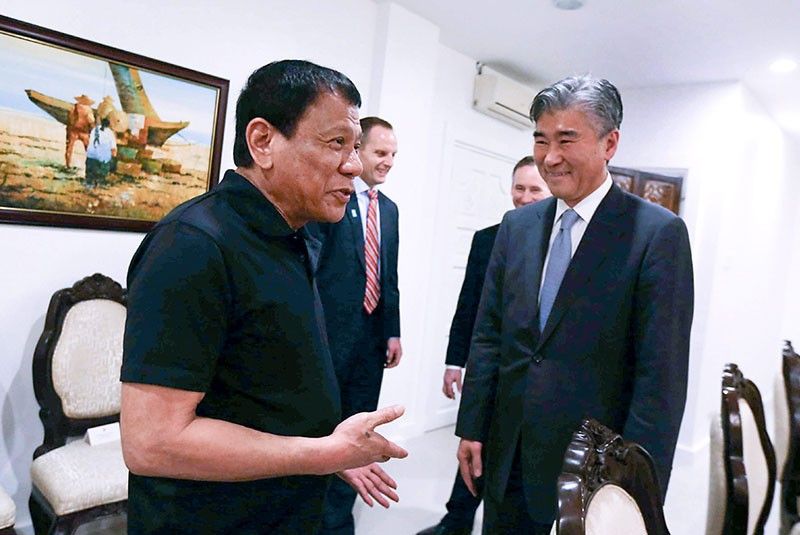 President Rodrigo Duterte chats with US Ambassador Sung Kim, who was in Davao City.
File photo
Palace summons US envoy to explain threat assessment report
MANILA, Philippines — Malacañang summoned United States Ambassador to the Philippines Sung Kim following the inclusion of President Rodrigo Duterte as a regional threat in the latest World Threat Assessment of the US Intelligence Community.
According to the US Embassy, Executive Secretary Salvador Medialdea requested to meet with Kim on Thursday to discuss the matter.
In the threat assessment report, Duterte and Cambodian Prime Minister Hun Sen were tagged as threats to democracy and human rights in Southeast Asia.
READ: US intelligence lists Duterte as threat to democracy in Southeast Asia
"Executive Secretary Medialdea likewise instructed the Department of Foreign Affairs, through our Philippine embassy in Washington DC, to coordinate and engage with the US agencies involved in the writing of the assessment," Roque said in a statement.
Philippine embassy officials and staff in the US were also directed to provide Washington with "accurate information on the realities happening on the ground in the Philippines."
The US Embassy, on the other hand, clarified that the threat assessment report was based on widely available information.
"Their discussion focused on the references to the Philippines in the report, including clarifying that the information about the Philippines had been previously reported by media sources," the US Embassy in the Philippines said in a statement.
According to the US Embassy, Kim assured Medialdea that the US will continue to collaborate with the Philippine government.
"The meeting ended with both Executive Secretary Medialdea and Ambassador Kim reaffirming the strength of the broad and deep bilateral relationship," the statement read.
The US intelligence report is an annual assessment on the conditions in each of the world's various regions.
Duterte was briefly mentioned in the Southeast Asia portion of the report, where the region is forecasted to "remain fragile" this year.
"In the Philippines, President Duterte will continue to wage his signature campaign against drugs, corruption, and crime. Duterte has suggested he could suspend the Constitution, declare a 'revolutionary government,' and impose nationwide martial law. His declaration of martial law in Mindanao, responding to the ISIS-inspired siege of Marawi City, has been extended through the end of 2018," the report read.