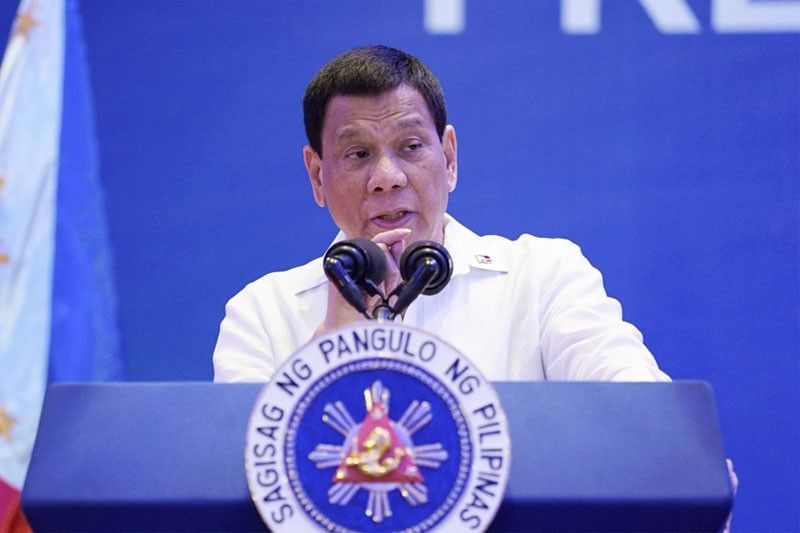 "In the Philippines, President Duterte will continue to wage his signature campaign against drugs, corruption and crime. Duterte has suggested he could suspend the Constitution, declare a 'revolutionary government' and impose nationwide martial law," according to the report "Worldwide Threat Assessment of the US Intelligence Community" presented by National Intelligence director Daniel Coats last Feb. 13. File
Philippines concerned as US intelligence tags Duterte a 'democracy threat'
Pia Lee-Brago
(The Philippine Star) - February 22, 2018 - 12:01am
MANILA, Philippines — President Duterte's war on drugs and his avowed readiness to suspend the Constitution and declare a "revolutionary government" are among the regional threats to democracy identified by the United States intelligence community.
"In the Philippines, President Duterte will continue to wage his signature campaign against drugs, corruption and crime. Duterte has suggested he could suspend the Constitution, declare a 'revolutionary government' and impose nationwide martial law," according to the report "Worldwide Threat Assessment of the US Intelligence Community" presented by National Intelligence director Daniel Coats last Feb. 13.
Presidential spokesman Harry Roque immediately dismissed the report as "myopic and speculative at best," but said it was viewed "with some concern."
The report said democracy and human rights in many Southeast Asian countries will remain fragile in 2018 as autocratic tendencies deepen in some regimes and rampant corruption and cronyism undermine democratic values.
"Countries in the region will struggle to preserve foreign policy autonomy in the face of Chinese economic and diplomatic coercion," the report stated.
It added domestic and foreign challenges to democracy and institutional capacity would test governance quality globally in 2018, especially as competitors manipulate social media to shape opinion.
While the number of democracies has remained steady for the past decade, the 2018 Worldwide Threat Assessment of the US Intelligence Community said some scholars suggest the quality of democracy has declined.
"We note that more governments are using propaganda and misinformation in social media to influence foreign and domestic audiences," the US intelligence community report said. "The number and sophistication of government efforts to shape domestic views of politics have increased dramatically in the past 10 years," it pointed out.
In 2016, Freedom House identified 30 countries, including the Philippines, Turkey and Venezuela, whose governments used social media to spread views, drive agendas and counter criticism.
"Poor governance, weak national political institutions, economic inequality and the rise of violent non-state actors all undermine states' abilities to project authority and elevate the risk of violent – even regime threatening –instability and mass atrocities."
The report also said Cambodian leader Hun Sen is seen to repress democratic institutions and civil society, manipulate government and judicial institutions, and use patronage and political violence to guarantee his rule beyond the 2018 national election.
"Having alienated Western partners, Hun Sen will rely on Beijing's political and financial support, drawing Cambodia closer to China as a result," it said.
Thailand's leaders, the report said, have pledged to hold elections in late 2018, but the new Constitution will institutionalize the military's influence.
The report also said that governance shortfalls, violent conflict, environmental stresses and increased potential for a global health crisis will create significant risks to human security, including high levels of human displacement and migration flows.
Roque, meanwhile, stressed that Duterte is loyal to the Constitution and will always uphold the rule of law.
"For one, President Duterte is no autocrat or has autocratic tendencies. He adheres to the rule of law and remains loyal to the Constitution," Roque said in a statement.
"An autocracy is not prevalent, as they would like everyone to believe. Our media are still able to broadcast and print what they want, fake news included. Our judiciary and the courts are functioning as usual. Our legislature remains independent and basic services are still being delivered," he added.
He maintained that Duterte has neither declared a revolutionary government nor imposed nationwide martial law in the Philippines.
He also refuted the report's statement about the Philippine government using propaganda and misinformation in social networking sites to influence foreign and domestic audiences.
"While it is true that the administration uses and maximizes social media to promote government messages and accomplishments, members of the political opposition and other cause-oriented groups use the same media platform to advance their agenda," the presidential spokesman said.
"We have to understand the use of social media has become an important part of the daily lives of Filipinos. It is therefore foolhardy not to tap social media as a tool when the technology exists for free," he said. - Alexis Romero