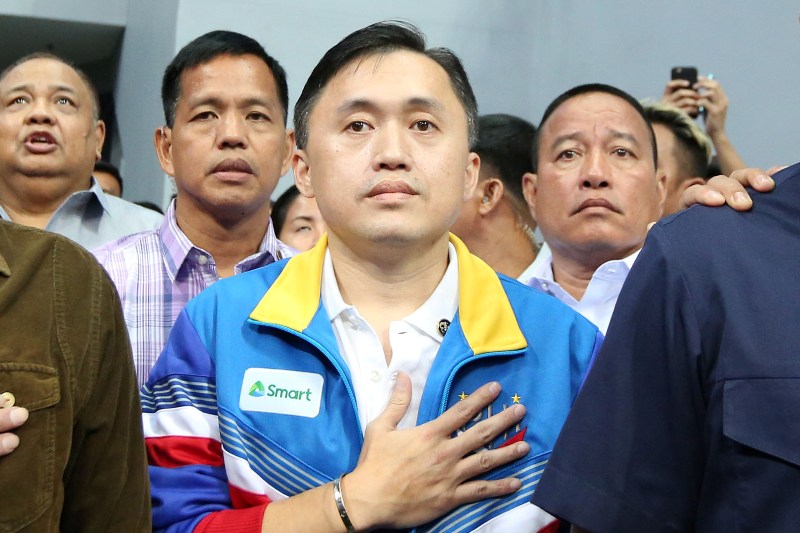 Duterte said Christopher "Bong" Go's family owns the biggest printing press outside of Manila and the people of Davao know that Go is not corrupt. PPD/Released
Go allowed to testify in frigate hearing
MANILA, Philippines — President Duterte has given the go-signal to his special assistant Christopher "Bong" Go to attend the Senate Blue Ribbon hearing on the P15.5-billion Navy frigate procurement controversy to answer charges that his most trusted aide intervened in the contract.
Duterte also told Go to take advantage of the publicity if he wants to become a senator.
It was not clear, however, if the President was merely teasing Go or if he really wanted him to run for senator.
Duterte said Go's family owns the biggest printing press outside of Manila and the people of Davao know that Go is not corrupt.
"Hindi na kailangang magnakaw ng (he does not have to steal a) frigate diyan, may yate (he owns a yacht)," Duterte said.
Go had denied the allegations that he had intervened in the frigate deal.
During his speech at the 116th anniversary celebration of the Bureau of Customs last Tuesday, Duterte reiterated his call for all government workers to stop corruption and avoid red tape in the bureaucracy.
He then talked about the efforts to link Go to corruption in connection with report that he tried to intervene in the Navy's procurement.
Duterte teased Go to take advantage of his appearance in the Senate inquiry to test his chances to become a senator.
Duterte also joked that while Go could run for senator, Philippine National Police chief Director General Ronald dela Rosa is now keen on becoming a governor.
The President then remarked that presidential legal adviser Salvador Panelo, whom the President often teases for his fashion statements, wants to join the showbiz industry.