Duterte believes he will be belittled at Brussels meet
February 6, 2018 | 8:50pm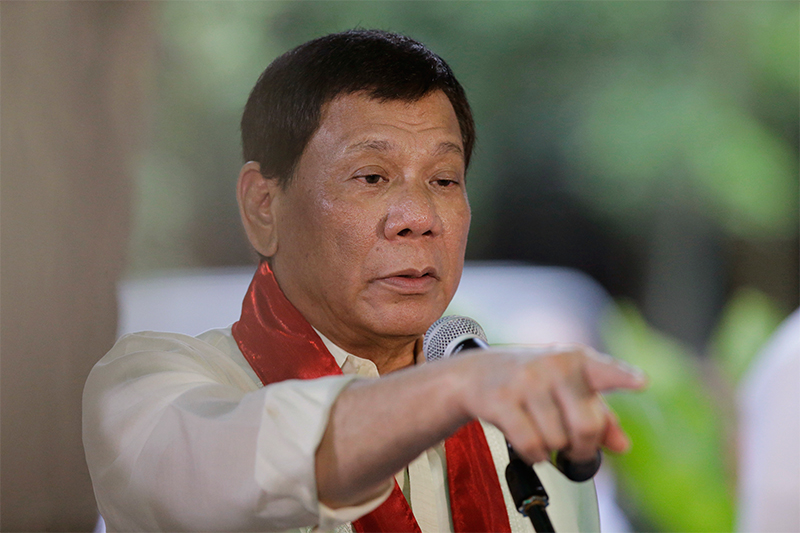 MANILA, Philippines — President Rodrigo Duterte believes that he will only be insulted if he accepts the invitation to attend the 12th Asia-Europe Meeting in Brussels, Belgium in October.
Duterte, who has had a difficult relationship with the European Union over his brutal war on illegal drugs, said he would not hesitate to curse at the delegates of the summit if they insult him.
"Tingin niyo sa akin ganun noon (You used to belittle me). Why change your assessment of my persona? What am I supposed to do there? Ask me question? Insultuhin ninyo ako (insult me)? E pu**hin ko kayong lahat dun (I will curse at you there)," the president said during the 45th anniversary of the National Economic and Development Authority Tuesday in Pasig.
"Hindi ako gaya ng ibang presidente na pwede mo lang... Bahala kayo diyan (I'm not like other presidents you can belittle. I leave that to you)," he added.
READ: EU invites Duterte to attend Asia-Europe Meeting
The EU has expressed concerns over the spate of deaths tied to Duterte's crackdown on narcotics, a move that the president viewed as an attempt to interfere with the Philippines' internal issues.
Last year, Duterte wrongly accused the EU of calling for the Philippines' ouster from the United Nations over alleged human rights violations. He even asked ambassadors of the bloc's member states to leave the country.
The statement about the possible removal of the Philippines from the UN was not issued by the EU but by a group of European parliamentarians who do not represent the bloc.
READ: Duterte not going to Brussels
Despite the controversies, the EU invited Duterte to attend the ASEM 12 on Oct 18 to 19. The event aims to strengthen ties between Asian and European countries.
EU Ambassador Franz Jessen said Duterte's attendance would provide an opportunity to "develop an understanding of Europe."
Duterte insisted that he hates to travel, even calling the EU "gago (fool)."
"I've been invited by the EU, isa pa rin yang mga gagong dyan," he said.
Duterte: Foreign women have 'weird odor'
Duterte also assailed American senators who threatened to stage protests if he accepts the invitation of United States President Donald Trump to visit the White House.
"Trump has a standing invitation. According to two senators (sic), if that Duterte comes here, we will lead the protest. You know guys, you are too presumptuous. Whoever told you that I will go to your place?" he said.
Duterte was referring to Rep. James McGovern, who represents the 2nd district of Massachusetts, and Rep. Jackie Speier of California's 14th district, who have scored the alleged human rights violations of the war on drugs.
"What will I get there? What will I see there? Girls?" Duterte said.
The president went on to claim that he is faithful to Filipinas because foreign women have "weird" odor.
READ: CHR: Duterte's '42 virgins' joke strips women of dignity, human rights
"I am faithful to the Filipina. There are many of them but I am faithful. It does not have to be just one. They are fragrant," he said.
Related video: