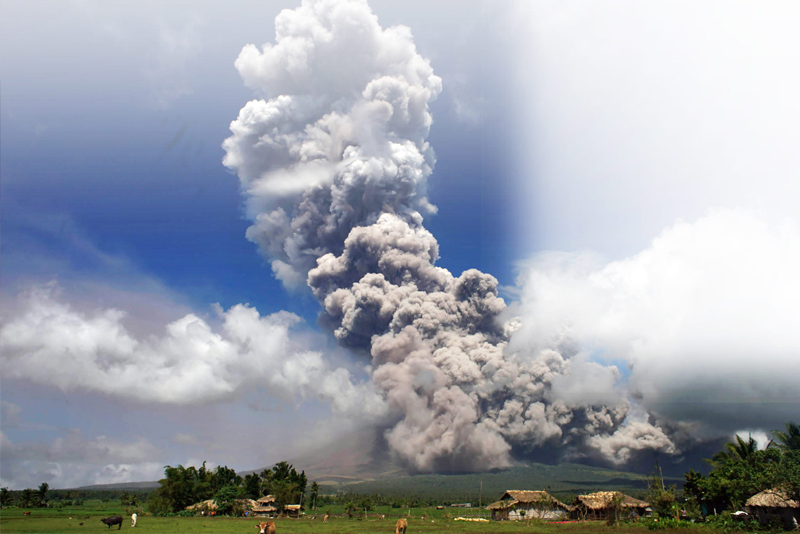 A giant column of ash rises into the air from Mayon Volcano in Legazpi City, Albay yesterday, darkening the skies in several communities. Phivolcs raised the Mayon threat level to 4 yesterday, warning of an imminent 'hazardous eruption.' AFP
Alert Level 4 raised as Mayon spews 10-km ash
(The Philippine Star) - January 23, 2018 - 12:00am
MANILA, Philippines — After slowing down in the past days, Mayon Volcano's unrest has intensified with volcanic quakes and voluminous lava extrusion, prompting the Philippine Institute of Volcanology and Seismology (Phivolcs) yesterday to raise its threat level to 4 and warning of an imminent "hazardous eruption."
Department of Science and Technology Undersecretary and Phivolcs director Renato Solidum said the danger zone was extended from a six-kilometer radius to eight from the summit vent as pyroclastic flows – fast-moving currents of hot gas and volcanic matter that move away from the volcano – may reach more areas.
"At 1 p.m. today, we raised the alert level of Mayon from 3 (increased tendency to hazardous eruption) to 4 (hazardous eruption imminent)," Solidum said.
Level 5 is the highest warning, which means dangerous explosion is taking place.
Phivolcs said Mayon has been exhibiting increased seismic unrest, lava fountaining and summit explosions.
The agency raised the alert level of Mayon after it spewed a giant ash column past noon yesterday.
Ash fall was observed in the municipalities of Oas and Guinobatan and in Legazpi City.
"The public is reminded to observe the danger zone – not to panic, but in essence just be ready. Prepare either gas masks, handkerchiefs or cloths to prevent inhalation of fine ash," Solidum said.
Solidum suggested the relocation of people living within the six kilometer-radius permanent danger zone so people would not be displaced every time Mayon becomes restive.
Cedric Daep, chief of Albay Provincial Security and Emergency Management Office (APSEMO), said areas affected by ash fall were Camalig, Guinobatan and Ligao City at the southern sector of the volcano.
"The ash fall was carried by prevailing wind so our counter-measure is to urge the affected population to use masks or damp cloths and to stay indoors," said Daep.
Daep said lava flow still does not pose a risk outside the permanent danger zone and the one kilometer extended danger zone at the south flank of the 2,462-meter volcano.
But he said based on past eruptions, lava flows indicate incoming pyroclastic flows due to an advancing ash column.
"What we must prepare for is when Phivolcs says they have monitored pyroclastic flows," he said.
Pyroclastic flows are life-threatening and follow an ash column that looks like a grey cauliflower.
"We have two scenarios, which guide our interpretation of Mayon's activity," said Paul Alanis, science research specialist at the Phivolcs during a press conference at APSEMO conference hall yesterday morning.
The first scenario, Alanis said, is characterized by quiet lava extrusion that has been happening at Mayon for the past few days. The second scenario is a hazardous eruption, he warned.
"At the moment, based on our instruments and field surveys, there is an indication that magma underneath the volcano is moving toward the vent that can lead to a second scenario of hazardous explosion," said Alanis.
Lava eruption from the summit and lava collapse events characterized Mayon's activity in the past 24 hours.
Three episodes of volcanic tremor, two of which corresponded to lava fountaining, 64 rock fall events and one pyroclastic density current were recorded by seismic monitoring network.
Strombolian eruption was observed at 10:45 p.m. last Saturday, followed by another explosion at 2:25 a.m. last Sunday, generating 200- to 500- meter high lava fountains which triggered ash plumes that rose 1,300 meters above the summit.
The ash plumes drifted southwest and were deposited in Oas and Guinobatan.
Alanis said lava has flowed down about three kilometers from the crater, mostly on the upper slopes of the Boyoan gully.
The number of evacuees has swollen to more than 30,296 after Mayon ejected lava and smoke up to 5,000 meters above the crater at 12:45 p.m. yesterday, APSEMO reported.
The National Disaster Risk Reduction and Management Council said various government agencies and local government units are working together to assist evacuees.
The Department of Social Welfare and Development remains on red alert.
Soldiers from the Philippine Army's 9th Infantry Battalion are providing assistance to affected communities.
The Philippine Air Force, through its Tactical Operations Group 5, is leading transport operations as well as in aerial surveys of the volcano.
The Bureau of Jail Management and Penology is ready to evacuate prisoners in Albay to other detention facilities.
The Philippine Red Cross advised yesterday the affected communities in Albay to be extra vigilant on the health hazards of volcanic ash to human health.
Albay Gov. Al Francis Bichara, in an interview with CNN Philippines, said classes were suspended in all public and private schools in the province.
Appeal for assistance
Albay Rep. Joey Sarte Salceda has appealed for relief assistance and donations for Mayon Volcano evacuees, now housed in government evacuation centers around the province, to augment limited resources of local communities.
Salceda said there's a need for steady supply of relief goods — food items and drinking water — especially since no one can tell when the calamity would end, as in the past Mayon eruptions when evacuees stayed for months in evacuation centers.
As of Jan. 18, there were 6,973 families or 26,971 persons, housed in evacuation centers based on reports from municipal disaster risk reduction and management offices and the Provincial Social Welfare and Development Office.
Salceda said should the Alert Level escalate to Alert 4, Camalig would actually need to evacuate some 4,800 more families, since its entire poblacion is within Mayon's 9-km permanent danger zone.
The youth group Team Albay Youth Organization (TAYO) had already started accepting relief donations for evacuees. Together with the Filipino-Chinese communities, TAYO has recently provided psychosocial and relief assistance aside from hygiene kits to 2,949 families to evacuees at the Camalig North Central School, Anoling and Bariw in Camalig; and at the Guinobatan East, West and Binogsacan in Guinobatan.
Donors can contact TAYO at Door 2, Citispire Bldg., Imelda Roces Avenue, Gogon, Legazpi City or telephone number 0927 665 4715 for cash or in kind donations.
Quezon City Rep. Alfred Vargas vowed to extend assistance to Bicolanos displaced by the potential eruption of Mayon as he called on everyone to pray that this calamity will become "bearable" to the residents.
For his part, Legazpi Mayor Noel Rosal has ordered the mandatory evacuation of the residents of Barangays Matanag, Mabinit, Buyuan, Bonga and Padang, which are nearest to Mayon.
The Civil Aviation Authority of the Philippines issued a notice to airmen effective 12:06 p.m. yesterday until 9 a.m. today, saying the Legazpi Airport was temporarily closed until further notice and advising pilots flying near the area to exercise extreme caution as ash can affect their flight.
– With Cet Dematera, Michael Punongbayan, Non Alquitran, Rudy Santos, Delon Porcalla, Emmanuel Tupas, Louella Desiderio