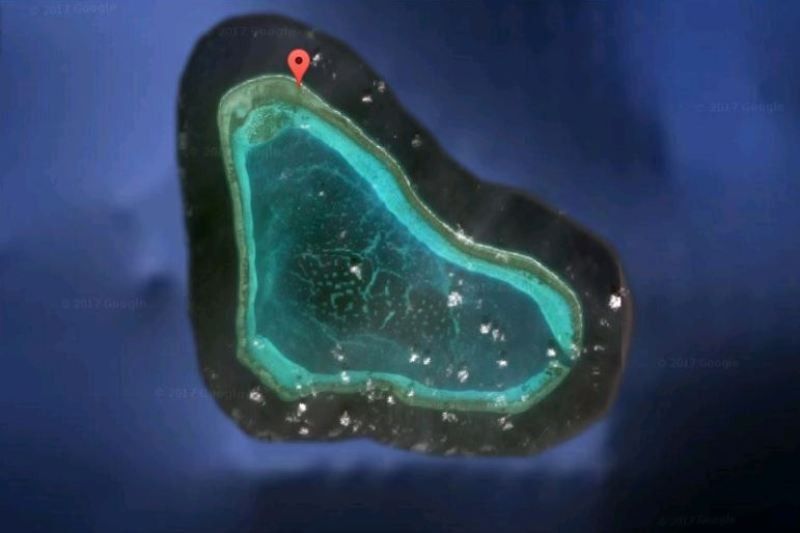 Asked if China's claim to Panatag is objectionable, Roque replied: "Well, let them make such claim. Their basis is historic water, and the International Law of the Sea Tribunal has already made a decision." Philstar.com/File Photo
Palace: Philippines has sovereignty over Scarborough
Paolo Romero
(The Philippine Star) - January 23, 2018 - 12:00am
MANILA, Philippines — China can assert its claim to Panatag (Scarborough) Shoal but Philippine sovereignty over the area remains, Malacañang said yesterday.
"What can we do? That is their claim. But what is very clear is all pieces of evidence affirm that we have sovereignty (over the shoal)," presidential spokesman Harry Roque said in a press briefing.
Roque made the statement days after China protested the presence of US guided missile destroyer USS Hopper near the shoal, which is located within the Philippines' 200-nautical mile exclusive economic zone.
The shoal, a traditional fishing ground for Filipinos, is situated 124 nautical miles off Zambales.
China's occupation of the shoal started in 2011 after a standoff between Chinese maritime surveillance vessels and Philippine Navy ships whose crew tried to arrest Chinese poachers caught with a harvest of endangered marine species. The shoal is also called Bajo de Masinloc. Beijing calls it Huangyan Island.
"We continue to stand by our claim that Scarborough is part of the territory of the Philippines but we will set aside these discussions for now so that our people will have a source of livelihood," Roque said, referring to Filipino fishermen who he claimed are no longer being prevented by Chinese ships from entering the shoal because of better ties between Manila and Beijing.
Asked if China's claim to Panatag is objectionable, Roque replied: "Well, let them make such claim. Their basis is historic water, and the International Law of the Sea Tribunal has already made a decision."
Roque was referring to a ruling by an arbitral court based in The Hague voiding China's expansive maritime claim in the South China Sea and reaffirming the Philippines' maritime entitlements. In the ruling, however, Panatag is declared a common fishing ground.
"We have title, despite China's contrary statements. But for now, what's important is the right of the livelihood of our fishermen and right now our fishermen are able to exercise that right," the presidential spokesman said.
But Roque said there would be breach of goodwill if China conducts new reclamation or build structures on Panatag Shoal.
"Well, let's just say that if there are new reclamations or new artificial islands then, we would then maintain that there would be a breach of the good faith obligation, but so far, no breach," he said.
"I think at this point, Manila and Beijing know that it is, to both are interests to maintain the current good relations and that is why the status quo is being served," he maintained.
China has accused the US of violating its sovereignty after US missile destroyer USS Hopper came near the Panatag Shoal.
American officials claimed the patrol did not violate international law.
Roque has said the Philippines would not interfere in what he described as an "intramural" between the two countries.
In the same press briefing, Roque said the Philippines has sovereign rights to explore and exploit the natural resources in Benham Rise off Aurora province.
"Sovereign right is different from title. Sovereign right is the exclusive right to explore and exploit the natural and non-living resources, natural resources found in the area," he said.
"Part of the exclusive right of the sovereign rights is the sovereign decision to allow other countries to conduct scientific studies," he said.
President Duterte has allowed the Chinese to conduct research in Benham provided that Filipino scientists are allowed to join them and the results of the research are shared with Filipinos.
Meanwhile, Filipino fishermen at Panatag Shoal were unaffected by the controversy triggered by China's accusing the USS Hopper of intruding into what Beijing called its territory.
This was according to the Philippine Coast Guard (PCG), which reported business as usual for Filipino fishermen at the shoal days after the Hopper sailed in the area to China's consternation.
"As per our monitoring, there is no change in the operations of our fishermen at the Panatag Shoal, they are not affected," PCG commandant Rear Admiral Elson Hermogino said. He said the US warship had already left the vicinity.
The Hopper came within 22.22 kilometers or 12 nautical miles of the shoal. Beijing said US ships entering the West Philippine Sea should get its permission.
PCG spokesperson Captain Armand Balilo said that to his knowledge there is no restriction imposed on Filipinos fishing in the area.
"As far as I know they can freely engage in fishing in the area," Balilo said.
The Philippines' relationship with China has greatly improved since President Duterte's assuming office in 2016. For fear of antagonizing Beijing, Duterte made a promise not to press for China's compliance with a ruling by a UN-backed arbitral tribunal invalidating Beijing's massive claim in the South China Sea and reaffirming the Philippines' entitlement.
China has matched Duterte's gesture by reportedly easing restrictions on Filipino fishermen at Panatag Shoal.– With Evelyn Macairan
Related video: