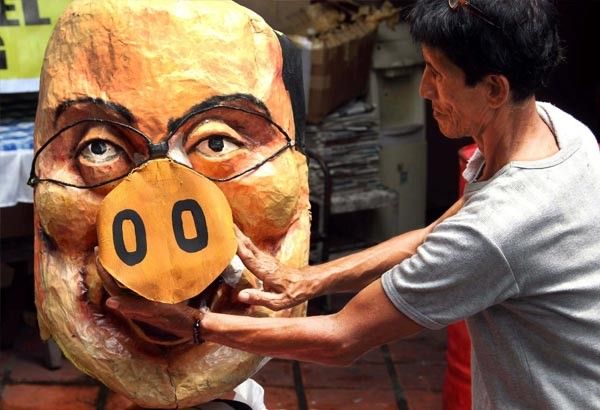 In a resolution dated January 15 and released to the media yesterday, the Sandiganbayan Seventh Division declared former undersecretary Mario Relampagos a "fugitive from justice" as he failed to return to the country after it granted his travel to the United States from Dec. 2, 2017 to Jan. 1, 2018. Philstar.com/File Photo
DBM exec in PDAF scam flees
MANILA, Philippines — Citing the psychological, emotional and financial burden of facing more than 300 cases in court, former undersecretary Mario Relampagos of the Department of Budget and Management (DBM) has opted to flee the country.
In a resolution dated Jan. 15 and released to the media yesterday, the Sandiganbayan Seventh Division declared Relampagos a "fugitive from justice" as he failed to return to the country after it granted his travel to the United States from Dec. 2, 2017 to Jan. 1, 2018.
"Relying on accused Relampagos' good faith in alleging his grounds to travel to the United States, this Court granted his motion to travel. Needless to say, accused Relampagos, in failing to return to the country... acted contrary to his representations to, and in blatant contempt of, this Court," the Seventh Division said.
"At this point, accused Relampagos is already considered a fugitive from justice," it added.
Relampagos is facing a total of 313 criminal cases before six out of the seven divisions of the Sandiganbayan in connection with the multibillion-peso pork barrel fund scam and the P900-million Malampaya Fund scam.
The cases include graft, malversation of public funds and the complex crime of malversation through falsification.
As of yesterday, the other divisions of the Sandiganbayan have yet to issue a similar resolution declaring Relampagos a fugitive.
Following his escape, the Seventh Division ordered the cancellation of Relampagos' passport, forfeiture of his bail bond and the issuance of an arrest warrant against him.
The court also directed government prosecutors to initiate steps for Relampagos' extradition while his lawyers Godofredo de Guzman, Arnold Caga and Christopher John Lao are directed to explain in writing why they should not be cited in contempt of court and charged administratively for their failure to ensure Relampagos' return to the country.
In his motion filed last Oct. 11, Relampagos prayed to the court to allow him to stay in the US from Dec. 2, 2017 to Jan. 1, 2018 to attend a financial management summit in Washington and to visit his daughter and three grandchildren.
But in a manifestation filed last Jan. 10, Relampagos' lawyers informed the court that the former budget undersecretary decided to no longer return to the country.
Based on the manifestation, Relampagos called his lead counsel De Guzman last Jan. 2, informing the latter that he was still in the US and no longer intends to return as "he could not psychologically and emotionally bear to fulfill" the legal undertakings for his cases.
"Mr. Relampagos explained that he can no longer bear what he perceives as extreme injustice he is suffering and will certainly continue to suffer (and) will continue to bring unimaginable burden on his family and himself," Relampagos' legal team relayed to the court.
Relampagos is named as co-accused of several former and incumbent lawmakers, including former senators Juan Ponce Enrile, Jinggoy Estrada and Ramon Revilla Jr., in connection with the alleged misuse of millions of pesos from their Priority Development Assistance Fund (PDAF) or "pork barrel."
Just last December, the ombudsman also charged Relampagos with 97 counts of graft and another 97 counts of malversation of public funds through falsification of public documents, as co-accused of former budget secretary and incumbent Camarines Sur Rep. Rolando Andaya Jr. and former agrarian reform secretary and incumbent Masiu, Lanao del Sur mayor Nasser Pangandaman Jr.
The cases are in connection with the alleged misuse of P900 million of government income from the Malampaya natural gas project in 2009.
Relampagos' lawyers said that aside from the psychological and emotional burden, the former budget secretary also lamented that he no longer has the financial capacity to pay for legal expenses, especially as he is required to post a total of P5.57-million bail bond for the Malampaya cases.