Military claims there are 48 foreign terrorists in Mindanao
January 17, 2018 | 3:00pm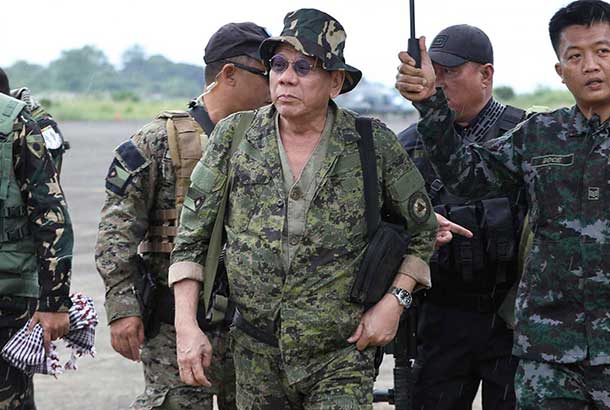 MANILA, Philippines — The government has monitored 48 foreign terrorists operating and recruiting in Mindanao, the military told the Supreme Court on Wednesday.
Maj. Gen. Fernando Trinidad, Armed Forces of the Philippines deputy chief of staff for Intelligence, said that there has been an "influx" of foreign terrorists, "in the guise of tourists and businessmen," in the southern Philippines.
At the resumption of oral arguments on the extension of martial law, Trinidad made a presentation to justify the AFP's request for a year-long extension of martial law in Mindanao.
Four petitions have been lodged before the SC claiming President Rodrigo Duterte's request for a year-long lacks factual basis.
The petitioners raised that, following military statements that they are fighting only "remnants" of the terrorist groups, military rule is not needed in Mindanao for another year.
READ: Duterte wants martial law extended one more year
He said that, last November, 15 terrorists from Indonesia and Malaysia entered Mindanao to augment the Maute terrorist group in Sarangani. In December 2017, another 16 Indonesians entered the country to train the members of the Abu Sayyaf groups in Basilan, and Maute Group in Lanao del Sur.
In January 2018, Trinidad said that it was reported that an Egyptian national also entered the country.
The new recruits, said Trinidad, are being trained in tactics and marksmanship, while those who displayed advanced skills are undergoing training in making IEDs and in urban operations.
He added that there are about 400 terrorists in Mindanao. Around the same numbers that mounted the Marawi siege in May 2017 although the government had initially estimated the number of terrorists in Marawi at 50-100 during the early days of the siege.
"Abu Sayyaf groups, in the presence of remnants, supporters, protectors and sympathizers of DAESH (another term for the Islamic State of Iraq and Syria, ISIS), pose a clear and present danger to national facilitation of rehabilitation, recovery and reconstruction in Marawi, and hinder peace in Mindanao," Trinidad said.
He appealed to the SC to uphold the granting of the year-long extension in Mindanao so that the AFP "can hasten accomplishment" of the agency's mandate to secure Mindanao
The SC continues its oral arguments on four consolidated petitions challenging the constitutionality of Duterte's martial law extension in Mindanao on Wednesday.
READ: Lagman told: Convince me rebellion in Mindanao has ended