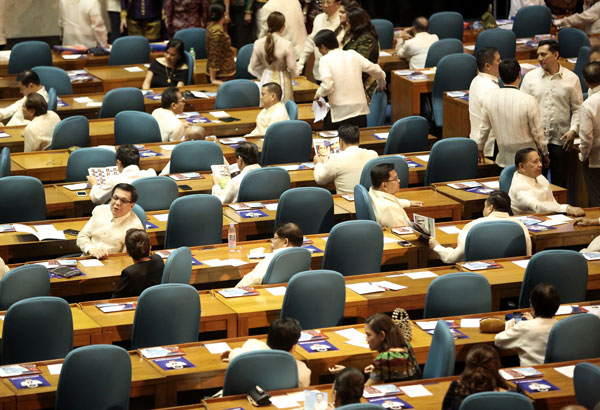 According to the proposed draft constitution, the members of the federal assembly shall be elected for a term of five years with one re-election. No member of the federal assembly shall serve for more than two consecutive terms. Philstar.com/AJ Bolando, File
House panel tackles term limits for proposed federal assembly
MANILA, Philippines — Members of the House of Representatives debated the proposed terms of office of members a new legislature at a hearing on charter change on Tuesday.
According to the proposed draft constitution, the members of the federal assembly will be elected to five-year terms and can be reelected once. No member of the federal assembly will be allowed serve for more than two consecutive terms.
Rep. Corazon Nuñez-Malanyaon (Davao Oriental), Committee on Constitutional Amendments vice chair, admitted that the subcommittee was "divided" on term limits.
"Some want indefinite term limit, others want no term limit. Others want the same as that as the president," she said.
Rep. Roger Mercado (Southern Leyte), panel chair, said he personally wants members of the federal assembly to have terms of four years but with no limits on reelection.
"I want four years because during the time before martial law, it was just for years and that was effective. Now, three years is very short for a working official. We will still be pushing bills for our respectives by the time of the next elections." he said in Filipino and English.
Rep. Rodel Batocabe (Ako-Bicol party-list ) said that there is no reason to impose term limits for those in the federal assembly.
"We should do away with term limits for federal assembly. But with respect to state and local assemblies, then we retain the proposal for term limit. For the federal assembly, we elect the best and qualified people to enact laws to work for their districts and their sectors. There's no need for term limit," he said.
Mercado said that the committee is still open for revisions.
According to the proposed draft constitution, the federal assembly, or the national legislative department, shall be composed of not more than three hundred members.
Of those members, 80 percent shall be elected by plurality votes, where each member of the legislative electoral district shall have one seat in the assembly.
The remaining 20 percent of seats shall be elected through a party-list system of registered federal or regional sectoral parties or organizations.
The federal assembly will elect its speaker, and the Senate, its president, by a majority vote of all members.