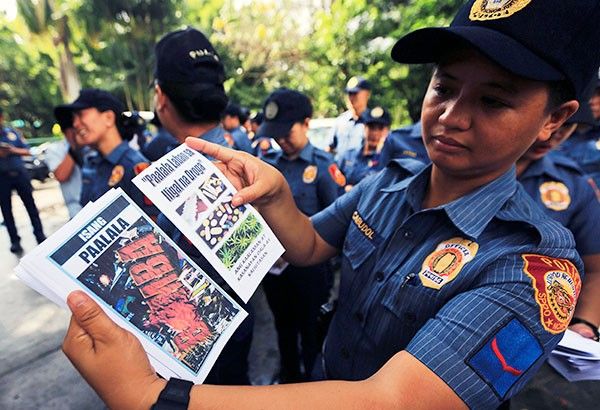 Under Oplan Tokhang, police officers knock on the doors of drug suspects and ask them to stop their illegal activities.
Edd Gumban, File photo
PNP's 'Oplan Tokhang' to be relaunched
MANILA, Philippines — It's a bloodless approach to the drug menace, and the Philippine National Police promises to abide by the "true spirit" of "tokhang" as the PNP relaunches its war on drugs this month.
PNP chief Director General Ronald dela Rosa said yesterday that he had ordered field commanders to resume Oplan Tokhang, which means to knock and plead in Cebuano, that resulted in the surrender of around 1.3 million drug users and pushers and the death of over 3,000 suspects in police operations.
"My instruction to them is to bring back Tokhang," Dela Rosa told reporters.
Under Oplan Tokhang, police officers knock on the doors of drug suspects and ask them to stop their illegal activities.
Dela Rosa clarified that Tokhang is actually a bloodless initiative if implemented properly and that previous problems stemmed from police scalawags who used the program for their own ends.
He warned police officers against using Tokhang for personal gain, saying, "I will hold them accountable for their foolishness."
The PNP stopped Oplan Tokhang and other operations against illegal drugs in October last year after President Duterte ordered the Philippine Drug Enforcement Agency (PDEA) to take the lead in the government's campaign following public outcry over the killing of several minors in police drug enforcement operations.
Dela Rosa said an oversight committee would monitor police commanders to ensure the "true spirit" of Tokhang is implemented.
He said the PNP does not want rogue police officers to take advantage of the program to extort money from drug suspects so that their names would be removed from the barangay watchlist.
"There have been incidents so we need to implement Tokhang properly," Dela Rosa said.
Asked if policemen on Tokhang operations would be required to wear body cameras, he said lawmen belonging to drug enforcement units are the priority for those equipment.
"Why would you need to wear a body camera when you will just knock and plead?" said Dela Rosa.
He warned policemen not to be involved in illegal activities now that they have received substantial increases in their monthly salaries.
Dela Rosa said there is no reason for police
officers to be involved in fraud in the first place.
"Even if their salaries did not increase, they should not commit wrongdoings. Now, they have no more reason to commit wrongdoings,"
Dela Rosa said in an ambush interview.
"They will not only face grave punishment but also immediate dismissal," he added.
The PNP chief will now receive a monthly salary of P121,143 starting this year, a 79-percent increase from his current pay of P67,500.
Dela Rosa said he did not expect a big increase in pay as he was expecting the priority are lawmen with the rank of Police Officer 1 who received a 100-percent increase in their base pay while they will only get an increase of about 54 to 58 percent.
Around 76,000 PO1s who used to receive a monthly salary of P14,834 will now get P29,668 a month. The other ranks will have an average increase of 58.70 percent.
The increase was attributed to the implementation of a joint resolution that was passed by Congress and signed into law by President Duterte authorizing the increase in base pay of military and uniformed personnel effective Jan. 1.
At the turnover of 60 police cars donated by the Valenzuela City government, the PNP chief vowed a less bloody Tokhang, a term which has come to define the government's brutal police crackdown on illegal drugs.
In his speech to Valenzuela policemen and local officials, Dela Rosa said that the Duterte administration is a great opportunity to be part of the police force.
With an increase in pay, cops are expected to do better in their operations, Dela Rosa said.
He called on the police to bring back the "peaceful" spirit of the operation – knocking on doors of suspected drug personalities and calling on them to go back to the fold of the law.
Joint Resolution No. 1 passed by Congress in December last year and signed by the President increased the base pay of the military and other uniformed personnel (MUP), with the biggest increases enjoyed by the entry level and highest ranking officers.
But apart from the men and women in active service, the resolution also has a provision on the increase in pension of retired MUPs.
The joint resolution provides for the indexation of pension of retired MUPs to base pay, but its implementation is suspended until Jan. 1, 2019 or upon effectivity of a pension reform law, whichever comes first.
Until Jan. 1, 2019 or upon the effectivity of the pension reform law, the indexation of the pension would remain based on the rates of the base pay schedule under Joint Resolution No. 4 approved by Congress in 2009.
One of the retirees who would benefit from the increase in pension is Sen. Panfilo Lacson, a former PNP chief who retired in early 2001.
Lacson lauded Duterte for signing the joint resolution increasing the base pay of MUPs, which he said shows that the Chief Executive makes good on his promises.
Lacson pointed out that the new law would also benefit over 200,000 retirees.
Killings
The Office of the Solicitor General (OSG) yesterday asked the Supreme Court to reconsider its order for them to submit documents relevant to the 3,806 individuals killed in reported legitimate police operations in connection with the Duterte administration's war on drugs.
In a 14-page motion for reconsideration, Solicitor General Jose Calida asked the SC to set aside its order dated Dec. 5, 2017 and recall its directive for the OSG to submit the information and documents mentioned in the order.
In its Dec. 5 order, the SC directed the OSG to submit within 60 days information/documents, namely: list of persons killed in legitimate police operations from Jan. 1, 2016 until Nov. 30, 2017; list of deaths under investigation from July 1, 2016 to Nov. 30, 2017; list of Chinese and Filipino-Chinese drug lords who have been neutralized; list of drugs involved whether shabu, cocaine, marijuana, opioids, etc; comparative tables on index crimes; statistics of the internal cleansing within the police force; drug watchlist in the affected areas; reports and documents regarding Ryan Dave Almora, Rex Aparri and Jefferson Soriano; pre-operation and post-operation reports in the Sr. Ma. Juanita Dano incidents; number of buy-bust incidents in San Andres Bukid from July 1, 2016 to Nov. 30, 2017; list of warrants and warrantless arrest in the high valued target (HVT) police operations; and list of cases under investigation under Internal Affairs Service (IAS).
"By requiring the respondents to submit the aforementioned information and documents, the court has ventured into unwarranted factual inquiries," said Calida.
The OSG also pointed out that the documents required involve sensitive information that has national security implications.
Calida said that the right to information is not absolute. The Constitution provides that the people's right to know is limited to "matters of public concern" and is further subject to limitations such as if it concerns national security matters and intelligence information, trade secrets and banking transactions, criminal matters, and other confidential information such as confidential and classified information officially known to public officers and employees by reason of their office and not made available to the public as well as diplomatic correspondence, closed door Cabinet meetings and executive deliberations of the SC.
He also said the petitioners in the case failed to comply with Section 5 of the rule of the writ of amparo.
The OSG chief said that the Dec. 5, 2017 order "might send unrealistic expectations to present and prospective amparo petitioners that sensitive government documents will always be available to them even if they fail to comply with the amparo rule. This will set a dangerous precedent for the lower courts hearing amparo cases.
"It would open the floodgates for the filing of groundless petitions that aim at nothing other than engaging in fishing expeditions. Moreover, amparo petitions may be utilized and manipulated by drug syndicates themselves to discover the amount of confidential information that the government has against them," he added.
Named respondents in the petition were PNP chief Dela Rosa, all officers, agents or other persons acting under his authority and supervision; Department of the Interior and Local Government (DILG) acting secretary Eduardo Año, and all under his authority and supervision. – Marc Cayabyab, Marvin Sy, Evelyn Macairan