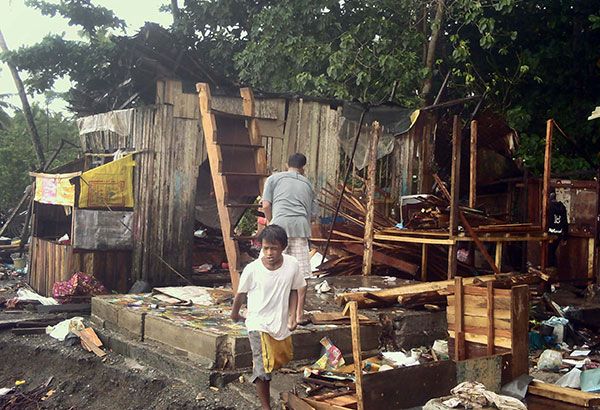 File photo shows residents salvaging what was left of their houses that were destroyed by a storm surge that hit Baranga Labuan, Zamboanga City in October. Roel Pareno
DMCI Chairman Consunji: Conclusion may be premature
MANILA, Philippines — The government may have based its allegations against two logging firms on "premature" conclusion, DMCI chairman Isidro Consunji said in a phone interview yesterday.
DMCI is the mother company of South Davao Development Company Inc. (Sodaco) and Sirawai Plywood & Lumber Corp. (SPLC) in Sibuco, suspended by the Department of Environment and Natural Resources (DENR) on President Duterte's orders.
"I'm not aware of that," he said, referring to the suspension. "I already asked our people in the area and they said that our operations are very far from what they are referring to," Consunji told The STAR.
"The secretary's conclusion may be premature," he said, referring to agriculture chief Emmanuel Piñol. "They should study and investigate it first before (they decide)."
Consunji said they will wait for an official order from the DENR before making further comment.
"We don't know the findings yet. I don't know what they are saying and I am not aware of any violation," he said.
In a statement yesterday, Sodaco belied Piñol's declaration that logging operations of the Consunji family were to blame for the deadly flooding and landslides in the Zamboanga peninsula, particularly in the towns of Sirawai, Siocon, Sibuco and Balinguian.
Sodaco said it has been operating in the Zamboanga peninsula for 11 years, and this was the first time that a flood and landslide of this magnitude had ever occurred in the area.
It said attributing the flood, landslide and casualties to Sodaco's clearing operation without scientific proof or due process was unfair and irresponsible.
The firm said flooding and landslides "were very likely to happen" in the region, judging from the fact that total rainfall from Dec. 22 to 24, 2017 was three times the normal monthly rainfall of 299 millimeters in the area.
It said the Philippine Atmospheric, Geophysical and Astronomical Services Administration (PAGASA) itself had predicted the possibility of flooding and landslides in the area.
"In its Dec. 21, 2017 forecast, PAGASA issued a stern warning of possible floods and landslides in Eastern Mindanao, Northern Mindanao, Caraga region, Zamboanga peninsula and Southern Palawan," Sodaco said.
"With prompt and appropriate disaster response (preemptive evacuation), the deaths in Sirawai, Siocon and Sibuco could have been prevented," it added.
In its statement, Sodaco also claimed that Sirawai, Siocon, Sibwuco and Balinguian are considered flood prone areas because of their relatively flat elevation compared to sea level. "With the prolonged heavy rainfall, flash floods are to be expected in the said towns," it pointed out.
"Sodaco has a reforestation project and plantation in Zamboanga peninsula. It has planted 306,360 rubber trees and 7,980 African oil palms, which translate to at least 622 hectares of reforested land," the company's statement read.
"The alleged denuded areas are the prepared sites for plantation development. In fact, we are scheduled to plant more rubber trees, palm oil trees and forest trees in the said areas once the rainy season sets in," Sodaco maintained.
"Unfortunately, such vegetative measures are not enough to offset the impact of a severe storm like Typhoon Vinta," it added.