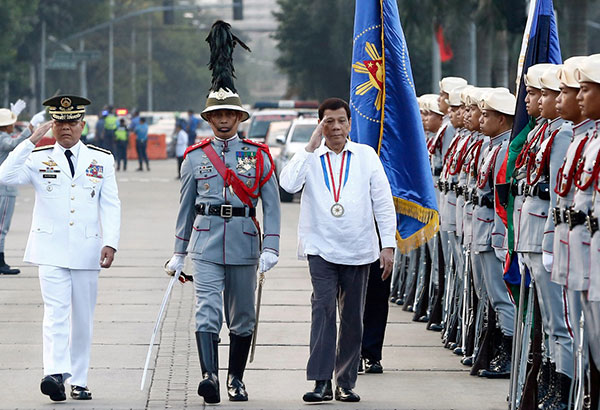 President Rodrigo Roa Duterte is accorded with foyer honors upon his arrival at the Rizal Park in Manila for his attendance to the 121st Anniversary of Dr. Jose Rizal's Martyrdom on December 30, 2017. Accompanying the President is Armed Forces of the Philippines Chief of Staff Rey Guerrero. Alfred Frias/Presidential Photo
Duterte visiting India, South Korea, Israel this year
MANILA, Philippines — President Duterte is planning to join nine other leaders of the Association of Southeast Asian Nations (ASEAN) during the Republic Day celebrations in India later this month, which will mark his first travel abroad for the year.
Presidential spokesman Harry Roque said Duterte would be promoting trade and investments during his possible official visit to New Delhi, which also coincides with the commemorative summit marking the 25th anniversary of India's ties with ASEAN.
Apart from India, Duterte is also eyeing official visits to South Korea and Israel.
"I think these are planned visits so far. It's being discussed between the Department of Foreign Affairs and the countries that have invited the President," Roque said, without going into details.
"It's not yet definite. But I know that it (India trip) has been mentioned. And his visits of course will have very specific goals and part of a state visit or working visit is always to promote trade and investments as far as the Philippines is concerned," he said.
The India-ASEAN Special Commemorative Summit will be held in New Delhi on Jan. 25.
Last year, Indian Prime Minister Narendra Modi invited the leaders of the 10-member ASEAN bloc to attend the India Republic Day and the special commemorative summit.
An ASEAN-India Business and Investment summit and an expo will also be held.