Axing deferred; Is it Marina chief?
January 4, 2018 | 12:00am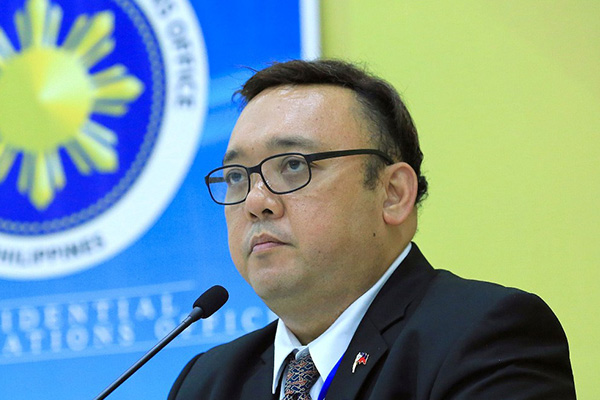 MANILA, Philippines — President Duterte has deferred the announcement on the dismissal of another government official even as he ordered an investigation into reports of the unnecessary foreign travels of Maritime Industry Authority administrator Marcial Quirico Amaro III, now in hot water after the Association of MARINA Employees accused him of impropriety.
Speculations on Amaro's impending relief swirled at Malacañang after presidential spokesman Harry Roque said over the holidays that Duterte would fire the head of an agency over frequent travels abroad.
Although Roque said he was advised to hold in abeyance the name of the next official on the chopping block, he said Duterte knows about the complaints against the MARINA chief.
Roque sidestepped questions on whether Amaro is the one set to be sacked.
Asked whether the President has ordered an investigation on the Marina issue, Roque said: "He always looks at all complaints received by the Office of the President."
Roque said he had no knowledge that Amaro enjoys the backing of Davao-based businessman Dennis Uy, owner of Phoenix Petroleum who is a major contributor to the presidential campaign of Duterte.
Amaro was appointed to the post in July 2016.
Roque said appointed officials serve at the pleasure of the President.
In a six-page statement, Amaro defended himself over the complaints leveled against him by the employees group.
"Simply, this claim is utterly false because, firstly, I have been able to discharge my official duties and, secondly, my travels, as shall be explained, were actually in fulfillment of my obligations as administrator of Marina," Amaro said.
He said his foreign travels were done in accordance "with our country's obligation to attend conventions and bilateral and multilateral agreements, which are relevant to the work of the MARINA, and the Philippines being a member of the IMO Executive Council under Category C."
Saying he was attending as an official representative of the Philippines, Amaro said it was vital to attend the conventions to help in the formulation of policies, rules and regulations for the maritime sector.
He said some groups might have been used to call for his ouster since he did not sign a resolution that would allow a certain group to set up a maritime school despite failure to comply with requirements.
Amaro claimed he was also a victim of a "shakedown" by business groups with vested interests.
The MARINA head also defended Uy from insinuations that he granted favors for the businessman.
"This is simply and utterly false because anyone who knows President Duterte will know that regardless of someone's previous employment or even ties with the President, President Duterte will always do what is right and what is good food for the country," he said.
He added that Association of MARINA Employees (AME) has not produced any proof that he influenced or facilitated any document of Uy's companies.
Contrary to the allegations of the employees' group, Amaro said he could have earned the ire of many when he implemented a "strict" no gifts policy for two straight years.
"Gone are the days when flat TVs, refrigerators, microwave ovens, air-conditioners, other appliances, food items, grocery baskets, boxes of fruits, gift certificates and money floods the different MARINA offices during Christmas season," he said.
Amaro turned the tables on some long-time employees of Marina who were used to soliciting from shipping, manning and training companies. He also denounced reports that there were some unscrupulous individuals who used the name of Transportation Secretary Arthur Tugade in a shakedown in the revocation of a shipping franchise following the capsizing of a vessel last year during a typhoon.
AME earlier accused Amaro of going on monthly foreign trips, calling him an "absentee administrator." – Rainier Allan Ronda, Jose Rodel Clapano