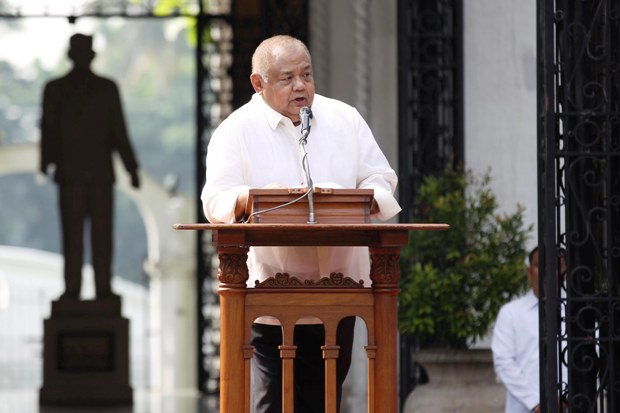 In a two-page memorandum issued by Executive Secretary Salvador Medialdea, no foreign travel of government officials and personnel shall be allowed only if it satisfies the minimum criteria set by the Office of the President. Malacañang Photo Bureau/King Rodriguez, File
Palace issues new rules on government junkets
MANILA, Philippines — Malacañang has released guidelines for foreign travels of all government officials in the executive branch after President Duterte blew his top and fired some appointees for frequent and lavish travels using taxpayers' money.
In a two-page memorandum issued by Executive Secretary Salvador Medialdea, no foreign travel of government officials and personnel shall be allowed only if it satisfies the minimum criteria set by the Office of the President.
These are: the purpose of the trip is strictly within the mandate of the requesting government official or personnel; the projected expenses for the trip are not excessive; and the trip is expected to bring substantial benefit to the country.
The memo, dated Jan. 3, was issued to "ensure compliance with the pronouncements of the President against extravagant and lavish travels abroad of government officials and personnel, all concerned officials."
Medialdea warned that any government executive who will violate the guidelines may be slapped with administrative actions for misconduct, insubordination and other related offenses under the Civil Service Revised Rules on Administrative Cases in the Civil Service and/or relevant laws, rules and regulations.
The official who unduly endorsed or approved the travel authority or who failed to submit the requirements will also be meted with sanctions.
Malacañang said the order also covers all the heads of agencies, government-owned and controlled corporations and government financial institutions and ensures that all their personnel are informed of the guidelines, Medialdea said.
"No government official or personnel shall be allowed to depart for any travel abroad, even if such is for a personal or private purpose without cost to the government, unless such official or personnel has obtained the appropriate travel authorization from his/her agency," Medialdea said.
The concerned official must have accomplished the requisite leave forms, and his/her absence shall not hamper the operational efficiency of the agency.
All heads of agencies authorized to approve travels abroad shall, at the end of every quarter, submit a list to the Office of the President, through the Executive Secretary, of all travel authorities they have issued for the official and personal foreign trips of their respective officials and personnel.
The list should include details on the names of the officials, destination, duration of the trip, nature and purpose of the travel, total cost of travel for official trips and a brief statement explaining how each official trip complies with the minimum criteria.
Medialdea said the requirement to submit quarterly lists of travel authorities issued shall be observed by the Department of the Interior and Local Government with regard to foreign travels of local government officials.
In case of participation in an international conference abroad in which the Philippines is represented by a delegation, the Office of the President mandates the submission of a report of the delegation to the President through the Secretary of Foreign Affairs within 30 days after the closing of the conference or the convention. Any member of the delegation may submit a supplementary report.