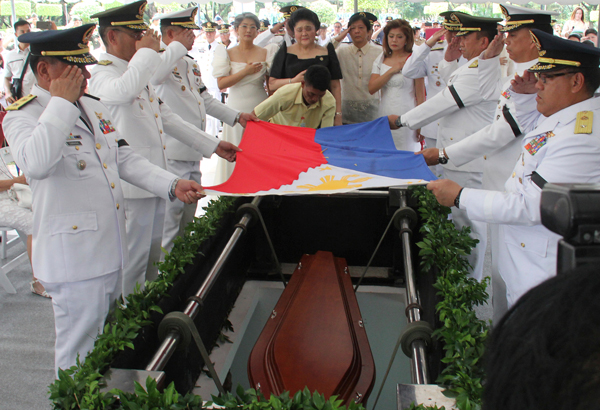 The National Union of Journalists of the Philippines on Wednesday urged the social media giant to review its guidelines to ensure that it will not violate the rights of individuals to freely express themselves. OACPA HPA via AP, File
NUJP hits Facebook for censoring anti-Marcos posts
(philstar.com) - January 3, 2018 - 9:14pm
MANILA, Philippines — The National Union of Journalists of the Philippines on Wednesday called out Facebook for taking down posts condemning the alleged compromise deal between the Philippine government and the Marcos family.
"The NUJP condemns Facebook's baseless takedown of netizens' posts critical of the government and institutions, as it is a direct infringement on the users' right to freedom of expression," it said in a statement.
NUJP was referring to the viral posts of Manila Bulletin columnist Tonyo Cruz and educator Gang Badoy, which were removed by the platform for "violating community standards."
The posts of Cruz and Badoy have been restored, saying "a member of our team accidentally removed something you posted on Facebook."
"We call out Facebook for its arbitrary community standards, which are often used as a basis for expurgating critical and thought-provoking commentaries," NUJP said.
The journalists' organization also urged the social media giant to review its guidelines to ensure that it would not violate the rights of individuals to freely express themselves.
Badoy's post, which contains photos of the alleged draft agreement between the government and the family of late strongman Ferdinand Marcos Sr. regarding the ill-gotten wealth of the Marcoses, prompted a reaction from the Palace.
READ: Palace denies reaching compromise deal with Marcoses
On Monday, Presidential Legal Counsel Sal Panelo confirmed that lawyer Oliver Lozano had submitted a document proposing the possible grant of immunity to the Marcoses to the Office of the Chief Presidential Legal Counsel last June.
Panelo said Malacañang has not acted on the document.
Former Sen. Ferdinand "Bongbong" Marcos Jr. on Tuesday denied having a hand in an alleged proposal for a compromise deal, noting that Lozano, a Marcos loyalist, does not represent any member of the family.
The members of Marcos family have always maintained that they did not loot the country during their patriarch's 21-year rule.
But various courts in Switzerland, Singapore, United States and the Philippines have held that part of the Marcoses' wealth is ill-gotten.
Marcos' successor, Corazon Aquino, formed the Presidential Commission on Good Government to recover ill-gotten wealth from the Marcoses and their cronies. The commission was able to recover P170.4 billion of ill-gotten wealth as of last year.
NEWSLAB: Money Trail: The Marcos billions