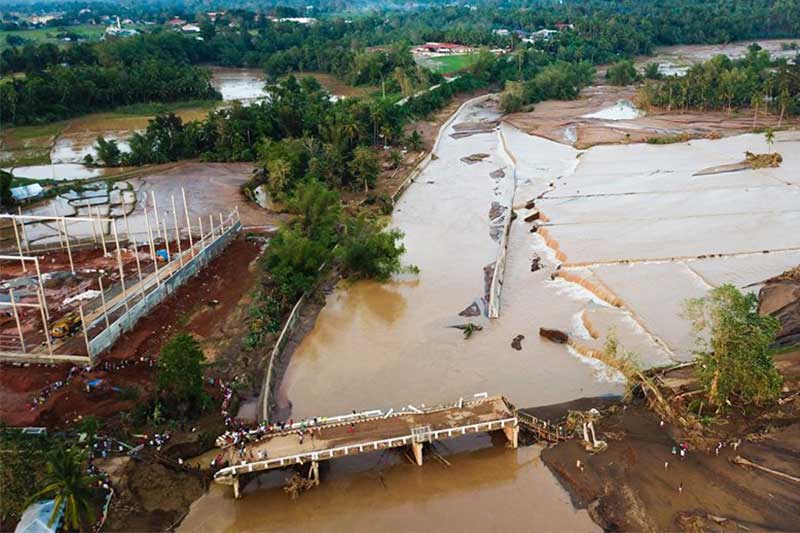 The appropriation is formerly known as the calamity fund. The President uses it for disaster-related expenses such as the immediate repair of roads and bridges like those destroyed by Tropical Storm Urduja in Biliran and for the procurement of relief goods. Biliran Island Facebook page/Jalmz, File
Duterte's disaster fund cut by P11 billion
Jess Diaz
(The Philippine Star) - December 20, 2017 - 4:00pm
MANILA, Philippines — Congress has reduced President Duterte's national disaster risk reduction and management fund for next year by P11.1 billion, from P30.7 billion to P19.6 billion.
The appropriation is formerly known as the calamity fund. The President uses it for disaster-related expenses such as the immediate repair of roads and bridges like those destroyed by Tropical Storm Urduja in Biliran and for the procurement of relief goods.
The contingency fund was kept at P13 billion as proposed by Duterte.
The House of Representatives and the Senate also cut allocations to local government units by P19.7 billion, from P78.1 billion to P58.4 billion; and the pension and gratuity fund by P23.5 billion, from P145.8 billion to P122.3 billion.
However, the two chambers increased the miscellaneous personnel benefits fund (MPBF) by P15 billion to P99.4 billion and budgetary support to government corporations by P6.2 billion to P178.8 billion.
The MPBF is one of the funding sources for the increase in the basic pay of soldiers, policemen and other uniformed personnel.
The adjustments are contained in the final version of the 2018 budget the House and the Senate approved on Wednesday and which the President signed into law on Tuesday.
The changes also include an P11-billion augmentation to the Department of Public Works and Highways (DPWH), increasing its funding to P637.9 billion, the biggest allocation among agencies.
On the other hand, the Department of Education (DepEd) suffered a P2.5-billion reduction, from P555.8 billion to P553.3 billion.
Agencies traditionally receiving pork funds also received increases for next year.
Some P4.8 billion was added to the Department of Social Welfare and Development (DSWD), increasing its funding to P141.8 billion. The department is the repository of lawmakers' allocations for financial assistance to their poor constituents.
The Department of Agriculture was given an additional P1.5 billion, which increased its budget to P53.3 billion. The department farms out farm-to-market road projects.