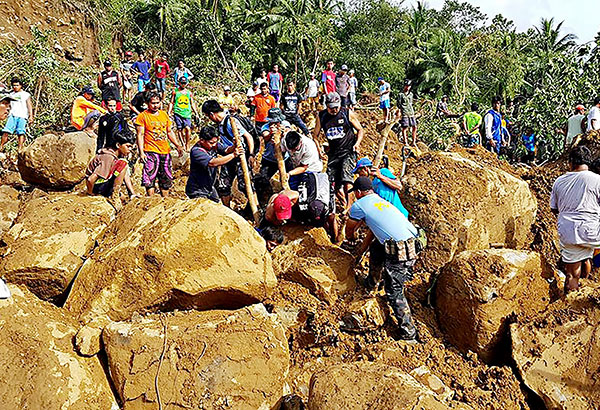 Photo provided by the PNP Regional Office VIII last Sunday shows police and civilian volunteers searching for survivors after a landslide triggered by Storm Urduja hit a village in Naval, Biliran. AFP
Death toll due to Urduja soars to 40
(The Philippine Star) - December 18, 2017 - 4:00pm
MANILA, Philippines — Rescuers used bulldozers to dig through mountains of mud in Eastern Visayas yesterday in a frantic search for more people missing after Tropical Storm Urduja (international name Kai-Tak) triggered landslides that have killed at least 40 persons.
Most of the dead were in the island province of Biliran, which suffered the worst of the landslides, with many homes buried.
Rescuers searching for survivors on the island were not optimistic.
"There is an assumption that the missing are already dead," Sofronio Dacillo, a provincial disaster risk reduction and management official, told AFP.
The largely agricultural island of Biliran, with a population of over 140,000, also suffered massive damage to its roads, bridges and power system, which was knocked out on the weekend.
Electricity supply is not expected to be restored until Wednesday, said Dacillo.
"It was like two months of rain fell in one day in Biliran. And because of this, the soil really softened and that is also why so many bridges were destroyed," said presidential spokesman Harry Roque.
President Duterte visited Biliran yesterday afternoon to inspect the damage and rescue efforts.
Urduja's winds were not very powerful, but its slow movement across the central islands unleashed heavy rains over a long period, flooding large areas.
Many of the islands hit by Urduja also bore the brunt of Super Typhoon Yolanda (international name Haiyan) in 2013, which left more than 7,350 people dead or missing.
In a video message posted on Facebook, the island province's governor Gerardo Espina said communities were running out of fuel and water as the storm had knocked out many vital bridges, preventing delivery of supplies.
"Of all the storms that passed Biliran ... this is the one that we can call the worst," he said.
As of yesterday, Urduja – packing gusts of 90 kilometers per hour – had crossed the central Philippines and was over the western island of Palawan, heading west at 18 kph, the government weather station said.
The government expects the storm to move away from the Philippines tomorrow.
Found dead in Biliran were Anita Caliao, John Carlo Superio, Allyssa Mae Superio, Mary Jean Batister, Edgardo Batister, Kevin Batister, Napoleon Cadion, Antonio Poyales, Annie Poyales, Jannes Novillo, Jadine Novillo, Ronald Español, Jessebel Mandaue, James Ron Español, Judy Ann Español, Mylene Bendisyon, Manuel Lambonao III, Merlan Sangcap, Jimmy Jorge, Willie Garbo, Maribeth Garbo, Wilma Garbo, Angelica Gullon, Mark Leo Tancinco, and Jerson Conde. One corpse was unidentified.
In Samar, the corpses of Alma Sabulao and Filomeno Cubeunos were found.
Michael Tabinas, Eduardo Rapis and Socorro Quiminales were found dead in Eastern Samar, while in Leyte, David Bravo, Gabriel Flanco, Larry Pelayo, Elominda Campos, Caridad Samson and Raymond Brazil were found dead.
Found dead in Tacloban City was Marlon Marcos Jr. while the corpses of Juanita Cabello and Jedan Gucela were recovered in Ormoc.
The casualty in Masbate was a woman who drowned last Sunday while crossing a river, a report from Camp General Simeon Ola said yesterday. She was identified as Jenilyn Baula.
Reported missing were Chiquito Cadion, Ivy Caliao, Haide Poyales, Andy Poyales, Anabelle Poyales, Anthony Poyales, Jhay-R Caliao, Jhe-ann Mabalo, Kimberly Batister, Kathleen Batister, Joey Caliao, Mary Christine Divine Caliao, Alenna Kristine Toriffil, Sherelyn Lambonao, alias Annie, Letecia Estadillo, Maria Louisa Estadillo, Erwin Estadillo, Diday Estadillo, Aldren Lambonao, Gerald Abrigo, Nanjian Abrigo, Winne Garbo, Dioscorro Palconit, Elmer Beroja, Rogelio Gamalo, Miguel Quiminales, Nene Quiminales, Jay Balais, Rogine Pamero and Christopher Balais.
Office of Civil Defense (OCD)-8 said the storm with maximum sustained winds of 75 kph near the center and gustiness of up to 120 kph with a 500-km diameter made landfall over San Policarpio, Eastern Samar last Dec. 16.
Police Chief Inspector Ma. Bella Rentuaya, PRO 8 regional information officer, told reporters that PRO 8 personnel are still on monitoring and retrieval operations regionwide.
The National Disaster Risk Reduction and Management Council (NDRRMC) said information is being verified by the dead and missing persons cluster headed by the Department of the Interior and Local Government (DILG).
It added that a total of 44,369 families had to be evacuated during Urduja's onslaught, considering that the storm almost became stationary, moving as slow as five kph.
NDRRMC spokesperson Romina Marasigan said people remained stranded as of yesterday morning, mostly in the Port of Manila's North Harbor.
Urduja's rains, she added, also left four bridges in Biliran, Leyte and Samar non-passable along with 17 road sections in various areas.
Air Swift, CebGo and PAL Express cancelled flights yesterday due to bad weather.
Marasigan, meanwhile, denounced the New People's Army (NPA) as they reportedly attacked soldiers doing humanitarian assistance and disaster response operations in affected areas.
"If you are fighting for the welfare and well-being of the Filipino people, stop attacking our soldiers who are Filipinos like us and who are helping others," she said in Filipino.
Ormoc City Mayor Richard Gomez ordered pre-emptive evacuation last Dec. 15. Ormoc Rescue, together with members of the 802nd Brigade and the city police office, did the rounds of flood-prone barangays to urge residents to evacuate.
Relief operations ready
The Department of Social Welfare and Development (DSWD) intensified relief operations to respond to the needs of families and individuals.
Emmanuel Leyco, DSWD officer-in-charge, flew to Biliran with other Cabinet officials on the orders of Malacañang to determine the impact of Urduja on affected communities and regions.
"We are constantly communicating and coordinating with local government units and all units of the NDRMMC to ensure that the affected regions receive the assistance they need," Leyco said.
The Philippine Navy will be carrying out humanitarian assistance and disaster response operations in coordination with the local government agencies and local government units in delivering relief goods and basic services to affected families and communities.
The Department of Education (DepEd) has opened the doors of a number of public schools in provinces hit by Urduja for evacuees rendered homeless by the heavy rains and floods brought by the weather disturbance.
The Department of Health (DOH) is ready to assist victims of Urduja in Leyte.
"We are still assessing the needs of the people from typhoon-affected areas and if necessary, we are ready to mobilize medical teams. There are available medical teams that are ready for deployment," Health Undersecretary Gerardo Bayugo said.
Bayugo said the DOH's regional office in Eastern Visayas is providing medicine and other assistance to the storm victims.
The Department of Trade and Industry (DTI) has intensified efforts to ensure the price and supply stability of basic necessities in Biliran after the island was cut off from the region due to Urduja.
Trade Secretary Ramon Lopez said the DTI has dispatched more teams to monitor prices and prevent hoarders and profiteers from taking advantage of the situation in the province, where a state of calamity has been declared.
"They were warned that they will be charged," Lopez said about those establishments and businesses looking to capitalize on the situation.
But based on its latest monitoring as of press time, Lopez said prices of water and basic goods have normalized and supply has been assured from Cebu via roll-on roll-off.
While there is no casualty recorded in Metro Manila, National Capital Region Police Office (NCRPO) chief Director Oscar Albayalde placed his men and equipment on standby and ready for deployment.
"We do not want to be caught flatfooted. We should be ready 24/7 basis to prevent casualty figure in the metropolis," said Albayalde in an interview.
As of 2 p.m. yesterday, the NCRPO's tactical operation center (TOC) reported no casualty in Metro Manila.
There was also no report of damaged houses and infrastructure, while all roads in Metro Manila were passable despite the incessant rains.
Albayalde directed his five district directors to alert their respective search and rescue teams, especially in low-lying areas, to evacuate to higher ground residents affected by flooding.
So far, the NCRPO's TOC reported that the water level at the Marikina river is normal.
Rainy Christmas
The new tropical depression spotted east of Mindanao has weakened into a low-pressure area, according to Obet Badrina, weather forecaster of the Philippine Atmospheric, Geophysical and Astronomical Services Administration (PAGASA).
PAGASA weather forecaster Gener Quitlong said the new weather disturbance – which will be given the local name Vinta – is forecast to enter the country by Saturday.
The low-pressure area was located at 1,450 kilometers east of Mindanao as of 3 p.m. yesterday.
Quitlong said the weather disturbance is still far and could gather strength while over the sea.
If the disturbance maintains its present speed and track, its outer rain bands may likely reach the eastern section of the country by Monday, Christmas Day, or Tuesday next week. – Cet Dematera, Michael Punongbayan, Lalaine Jimenea, Cecille Suerte Felipe, Rainier Allan Ronda, Helen Flores, Richmond Mercurio, Evelyn Macairan, Rudy Santos, Non Alquitran, AFP