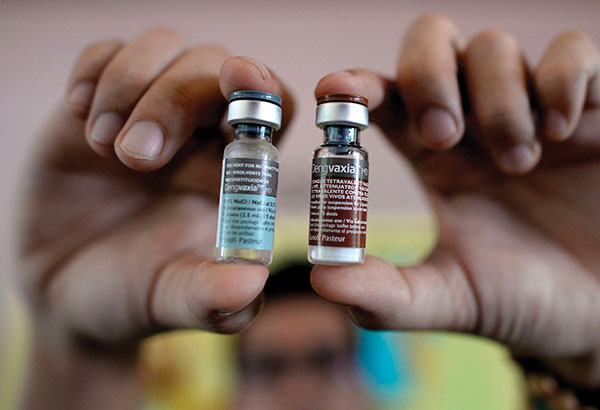 The Department of Education (DepEd) will coordinate with the DOH to monitor the 733,713 school children who were injected with Dengvaxia since last year, the agency said in a statement. AFP, File
WHO to release new position paper on dengue vaccine program in PH
(philstar.com) - December 14, 2017 - 1:50am
MANILA, Philippines — The World Health Organization is preparing a new position paper in light of the dengue vaccine controversy in the Philippines.
During the resumption of the Senate probe on the Dengvaxia controversy, WHO sent its representative to the Philippines Gundo Aurel Weiler to shed light on the issue the Dengue vaccine.
Weiler told the panel that the WHO is "seeking, mobilizing its expert committees, in seeking advice from them."
Two groups composed of experts are looking at the data in the Philippines.
One group, according to Weiler, is the global advisory committee on vaccine safety.
He said that the group has reviewed the data last week, and has "has published a statement on interpretation of data as of last night."
Weiler said that there is a second group of experts on immunization.
The group will look into scenarios around the controversy: "What happened to those vaccinated, those who were not vaccinated, those who only had one dose, compared to those who had three."
Weiler said that the WHO is waiting for the recommendation from its two expert groups to "support the Department of Health in making the best decision on how to take this forward."
The Senate Blue Ribbon and Health Committee continue its probe on Thursday morning.
Among its invited resource speakers are former President Benigno Aquino III, former Executive Secretary Pacquito Ochoa, and former Budget Secretary Butch Abad.
The Department of Health suspended its dengue vaccination program following an analysis from Sanofi Pasteur that patients not infected with dengue risk getting "severe" dengue if infected after vaccination.
Aquino approved the vaccination program, that started in April 2016, where the DOH gave free vaccines to children, nine years old and above, from public schools in Metro Manila, Central Luzon and the CALABARZON region.