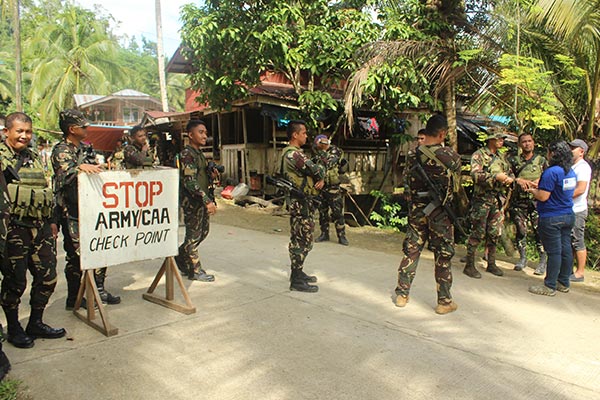 Save our Schools Network, a children's rights group, earlier decried military harassment of teachers of a Lumad school and targeting of volunteers in Lianga, Surigao del Sur. Save our Schools
Karapatan asks UN to probe Lumad killings in Mindanao
(Philstar.com) - December 8, 2017 - 10:44am
MANILA, Philippines — Human rights group Karapatan has asked the United Nations to probe the reported killings and forced evacuations of indigenous peoples in Mindanao amid the continuing martial law rule.
In a statement, Karapatan said that it sent a letter to UN Special Rapporteur on the Rights of Indigenous Peoples Victoria Tauli-Corpuz on December 7.
"With the martial law declaration still in place, and with recent pronouncements of the military endorsing the extension of said declaration to allegedly quell terrorist threats, the situation is bound to impact on civilians, especially indigenous communities in Mindanao, who have experienced grave threats on their lives and security in the past years," Karapatan Secretary General Cristina Palabay raised in its letter.
READ: Child rights group: Troops harassing Lumad school teachers, volunteers
Karapatan asked the UN to "urge the Philippine government to stop its military operations in civilian communities, including the indigenous people of Mindanao. It said that the "military's unwelcome presence" is a factor in the "abuses" to the Lumads.
Among the incidents cited by the group are the killing of eight T'boli and Dulangan Manobo farmers by the elements of the 27th and 33rd IBPA in South Cotabato; series of evacuations of Lumad communities in Surigao del Sur "due to military combat operations of the 75th Infantry Battallion-Philippine Army;" and the "incessant attacks of elements of the 73rd IBPA in Blaan communities" in Saranggani.
Karapatan asked the UN Special Rapporteur to "conduct an independent investigation" on the incidents the group cited in its letter.
"These recent incidents and previous cases of extrajudicial killings, illegal arrests, harassment and forcible evacuation of indigenous communities in Mindanao are illustrative of the worsening human rights situation in the country, as exacerbated by the counter-insurgency program and drug war," the group added.
President Rodrigo Duterte, despite his earlier announcement of Marawi City liberation, has yet to lift the martial law rule over Mindanao.
On Thursday, the Philippine National Police confirmed that it sent its recommendation to the Malacañang to extend martial law for another year.
READ: Karapatan: Cases forwarded to UN filed in Phl agencies, courts first