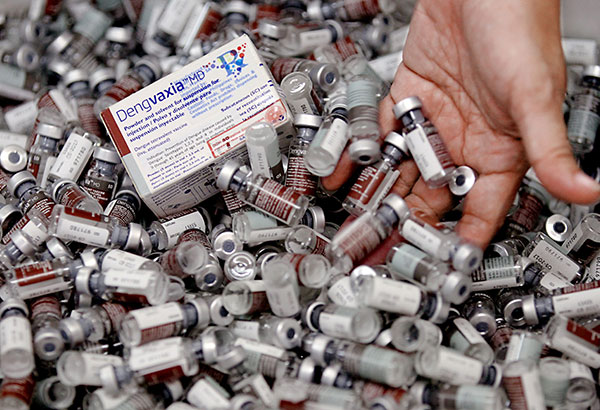 The students' teacher, Almira Buerano, told The STAR it was the first time that she had seen so many students being taken ill simultaneously. She said the students, aged 11 to 12 years, cited high fever as reason for their absences. Krizjohn Rosales/File
9 pupils fall ill after dengue shots
MABALACAT, Philippines — Nine Grade 6 students of an elementary school here developed fever one after the other over a week after they were simultaneously given anti-dengue vaccinations a few months ago.
Mayor Cris Garbo immediately dispatched health officers to the Lakandula Elementary School amid reports that the students, who remained absent from class as of yesterday, have developed symptoms similar to dengue.
The students' teacher, Almira Buerano, told The STAR it was the first time that she had seen so many students being taken ill simultaneously. She said the students, aged 11 to 12 years, cited high fever as reason for their absences.
"One of them developed fever while attending classes only last Wednesday. The rest have been ill starting a week ago. At least one has remained at San Rafael Hospital while another was brought to an albularyo, but I told the parents to bring the child to the doctor," Buerano said.
She identified the ailing students as Enzo de Leon who was the first to get sick, Cirila Tagle, John Levi Leono, Hazel Yumul, Myla Libre, Danica Macasing, Kristine Regala and Kian Soto.
Buerano said the ailing students received their first shots of the anti-dengue vaccine when they were still in Grade 4 and their second when they were in Grade 5. Their third and final vaccination was administered some four months ago when they were in Grade 6.
At least one student was earlier reported to have died of severe dengue in Bataan, six months after receiving vaccination for the mosquito-borne illness.
But in a press conference at Clark Freeport the other day, Department of Health (DOH) spokesman Lyndon Lee Suy said a probe into the reported deaths indicated that the children's having been vaccinated was merely "coincidental."
DOH assistant secretary Leonita Gorgolon also added that there is no data yet on whether more shots of the anti-dengue vaccine would increase the risk of severe dengue among children who had no history of dengue.
The government halted its anti-dengue vaccination program after vaccine manufacturer Sanofi said those without history of dengue could risk being afflicted with severe dengue after vaccination, and that the vaccine is only suitable to those who had previously been afflicted with dengue.
In Angeles City, Mayor Edgardo Pamintuan has put on alert city health officers and tasked them to monitor the conditions of 6,040 public school students who received all three shots of Dengvaxia from April last year to last August.
City health officer Lenario Santos said his office is "reaching out to all those who got vaccinated by our national program so as to know their status."
In Balanga City, the Bataan provincial health office announced that 13,004 public elementary school children in 11 towns have completed the third dose of Dengvaxia from April to June this year.
Provincial health chief Rosanna Buccahan said at least 14,615 Grade 5 students, aged nine years and above, were given the first dose from April to June 2016. The second dose was administered after six months on 13,707 children. – With Ric Sapnu, Edith Regalado