Karapatan files 2nd batch of EJK complaints before UN
December 2, 2017 | 8:58am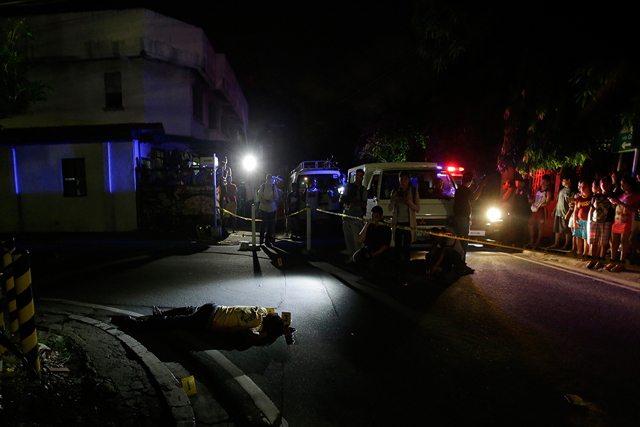 MANILA, Philippines — Human rights advocate group Karapatan on Saturday filed its second batch of complaints before the United Nations connection with cases of extrajudicial killings allegedly perpetrated by state security forces of the Duterte administration.
In two separate letters dated December 2, submitted to UN special rapporteur on extrajudicial killing Agnes Callamard and UN special rapporteur on human rights defenders Michel Forst, the Karapatan called for immediate investigation on 25 cases of summary killings, which the group said were committed "in line with the intensifying counter-insurgency program of the administration of President Rodrigo Roa Duterte."
"From one counter-insurgency program to another, cases of extrajudicial killings against peasants, indigenous peoples, Moro, workers, women and youth continue to be committed with impunity under the murderous Duterte regime," Karapatan secretary-general Cristina Palabay said in the letter.
"We allege that state security forces are primarily responsible for these killings that are all in the context of a government program that makes no distinction between armed and unarmed civilians, thus providing a pretext for the arbitrary tagging of individuals, groups and movements as 'enemies of the state,'" she added.
Karapatan submitted its first batch of complaints before Callamard and Forst in April of this year concerning 47 cases of EJKs under the Duterte administration.
The Karapatan said that from July 2016 to October 2017, it has documented 104 victims of EJKs under Duterte's counter-insurgency program. The group said this is on top of 20 incidents of forced evacuations and 17 cases of aerial bombardment.
"Duterte's recent pronouncements and direct orders on the crackdown on progressive groups and on attacks against human rights defenders, political dissenters and ordinary folks embolden state forces to further violate people's rights," Karapatan's new letter of complaint read.
Just last week, Duterte said he has ordered the police and the military to shoot armed members of the communist group New People's Arm adding that his office is already preparing an executive order declaring the NPA as terrorist group.
Duterte also earlier said that he would slap Callamard if she probes the extrajudicial killings in line with his administration's war on drugs.
In its letter, Karapatan said Callamard and Forst, who are both under the Geneva-based Office of the UN High Commissioner for Human Rights (OHCHR), must hasten their investigation on the EJK cases in the Philippines as "most, if not all, of the perpetrators of human rights violations under the administrations of former Presidents Gloria Macapagal-Arroyo and Benigno Simeon "Noynoy" Aquino III have not been brought to justice."
The group attached in the letter its separate documentation of each of the 25 EJK cases. The group said most of the victims were peasant leaders and members of various human rights advocate groups.
Among them were Carolina Arado,52, a member progressive farmers' group in Compostela Valley staunchly opposing the entry of large-scale mining corporations in the province. Karapatan said Arado was killed by armed men believed to be members of the Armed Forces of the Philippines' 46th Infantry Battalion-Philippine Army on July 13, 2017 inside her residence in Mabini town. Arado's husband Carlito and their four children were wounded from the incident.
The group also documented the killing of Daniol Lasib, 58, a barangay councilor and member of the B'laan tribe in Matanao, Davao Del Sur. Karapatan said Lasib, on May 26, 2017 was on his way to Dalapo medical clinic to visit his confined daughter when five gunment fired at him and his companion. Lasib sustained 11 gunshot wounds, majority on his head, which caused his immediate death. His companion, on the otherhand survived. The Karapatan said witnesses later identified the gunmen as elements of the 73rd Infantry Battalion-Philippine
Other individuals indentified in Karapatan's letter as summarily executed by state security forces were Ana Marie Aumada, Eddie Alyawan, couple Jezreel Arrabis and Dalia Arrabis, Oscar Asildo Jr., Joseph Baning, Obello Bay-ao, Jessie Cabeza, Lito Casalla, Mario Castro, Meliton Catampungan, Rodolfo Dagahuya Jr., Lomer Gerodias, Ande Latuan, Reneboy Magayano, Silvestre Maratas, Danilo Nadal, Federico Plaza, Elias Pureza, Bernardo Ripdos, Alberto Tecson, Roger Timboco and Luardo Yac.
On Friday, Karapatan together with the families of the victims of EJKs, hold a protest in front of the Bantayog ng mga Bayani, Quezon City condemning the continuous rise of cases of summary killings and forced disappearances.
The group denounced the killings of Karapatan's coordinator in Negros Oriental, Elisa Badayos, on Nov. 28, 2017, while on a fact-finding mission in Bayawan town and peasant leader Rodrigo Timoteo on November 29. Timoteo, a peasant activist and member of Compostela Farmers Association (CFA), was gunned down by suspected elements of the 66th IBPA in Brgy. Mambusao, Compostela, Compostela Valley, the Karapatan Southern Mindanao said in its initial report.