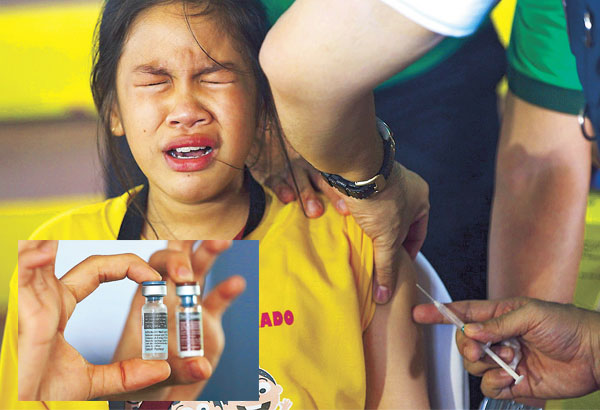 A pupil from Parang Elementary School in Marikina receives an anti-dengue vaccine from a Department of Health worker at the start of the nationwide dengue vaccination program in schools yesterday. Inset shows vials of the vaccine. The STAR/Miguel De Guzman
DepEd vows 'close' coordination with DOH in monitoring students vaccinated with Dengvaxia
(Philstar.com) - December 2, 2017 - 5:47am
MANILA, Philippines — The Department of Education on Saturday said it will monitor the condition of students vaccinated with Dengvaxia, a revolutionary vaccine for the dengue virus, after the manufacturer said it could pose health risks to people without prior infection.
In a statement, the DepEd said it would closely coordinate with the Department of Health in ongoing surveillance of students who received the dengue vaccine "as the health and safety of our learners are of principal importance."
"As a stakeholder, DepEd will likewise be actively participating in the review and consultations of DOH on the dengue vaccination program," it added.
The DOH on Friday suspended the vaccination program after French pharmaceutical giant Sanofi Pasteur on Wednesday revealed that its landmark dengue vaccine could worsen the disease among those who were not infected by the virus before.
According to Health Secretary Francisco Duque III, the DOH is still clarifying with Sanofi on what constitutes a "severe disease."
The Philippines is one of five countries that licensed Dengvaxia. The others are Mexico, Brazil, El Salvador and Paraguay.
In 2016, the DOH launched the dengue vaccination initiative in Regions III, IV-A and National Capital Region—the three highly endemic regions. Over 700,000 individuals received at least one dose of the vaccine.
DOH posted on its website that the dengue vaccine helps protect children against dengue caused by dengue virus serotypes 1, 2, 3 and 4.
The immunization program is in line with the recommendation of the World Health Organization.
Duque assured the public that the people who received dengue vaccine, whether previously infected or not, will still get a 30-month protection from the virus from first dose.
Meanwhile, Sen. JV Ejercito, chair of the Senate Committee on Health and Demography, intends to conduct an inquiry into the dengue vaccination program of the DOH in January next year.