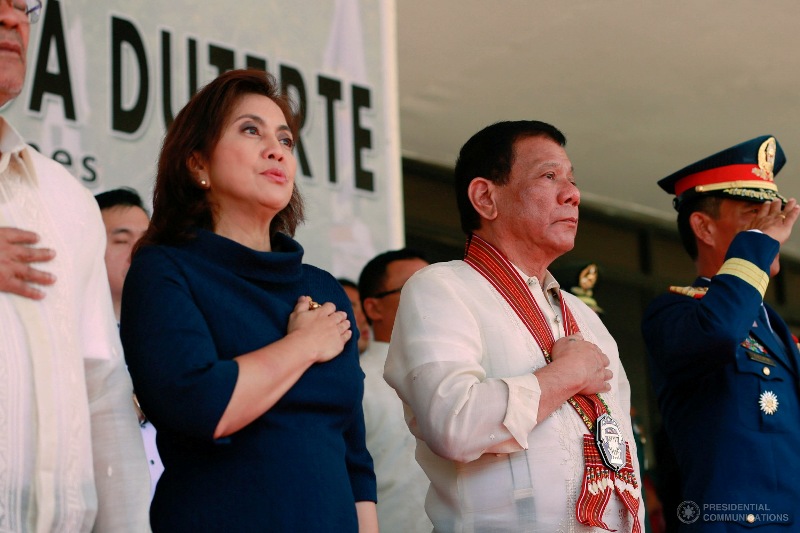 President Rodrigo Roa Duterte and Vice President Maria Leonor Robredo sing the national anthem during the 38th Philippine National Police Academy Commencement Exercises for "Masidlak" Class of 2017 at Camp General Mariano N. Castañeda in Silang, Cavite on March 24, 2017. Presidential Photo/King Rodriguez
Supporters, counterprotesters cross paths as Duterte toys with revolutionary gov't
(philstar.com) - November 30, 2017 - 7:14am
MANILA, Philippines — As protesters with clashing views on the idea of establishing a revolutionary government cross paths in the country's capital on Thursday, President Rodrigo Duterte and Vice President Leni Robredo have a common message to demonstrators: the Constitution must be followed.
Several times in his public remarks, Duterte has threatened to declare a revolutionary government, a form of self-coup disabling the current government system and Constitution.
But early this month, Duterte—in an apparent move to douse fears incited by his threat to revamp the government through extraconstitutional means—called on the military to ignore talks about a revolutionary government.
This was after Robredo said the Armed Forces of the Philippines assured her that it would not back a revolutionary government or any moves "that threatened our Constitution."
Meanwhile, anti-government groups and supporters of the administration held separate rallies in various parts of the country on November 30, Bonifacio Day.
Pro-government groups assembled near the presidential palace to convince Duterte to declare a revolutionary government.
READ: Palace: Duterte rejects revolutionary gov't but supporters can hold peaceful rally
In an interview with reporters, Robredo said she is "alarmed" by the support given by some people to Duterte's proposal to found a revolutionary government.
She said those who back a revolutionary government might be unaware of the implications of such a move.
"'Yung pagdeklara ng revolutionary government sinasabi natin na wala na tayong paniniwala sa gobyernong ito, wala tayong paniniwala sa Konstitusyon (Declaring a revolutionary government means we no longer have faith in this government and in our Constitution)," Robredo said.
"Parang gusto ka mag-alsa laban sa pamahalaan na isa ka sa mga kinatawan. Parang very ironic yung ganong sitwasyon (It's like you are told to revolt against the government which you are a part of. That's a very ironic situation)," she added.
Without dropping names, the vice president said it's disturbing that the idea of establishing a revolutionary government is being pushed by government officials who were elected in accordance with the Constitution.
"Kaya naka-alarma kung mga kinatawan ng pamahalaan mismo 'yung nagsusulong nito kasi ibig sabihin 'yung plataporma kung saan parang nag-ascend ka sa responsibilidad mo ngayon... parang in effect sinasabi mo hindi ka na dito naniniwala at gusto mo umalsa laban dito (It's very alarming that those who represent the government are the ones pushing for the declaration of a revolutionary government because, in effect, it means they no longer believe in the platform that ascended them to their responsibilities and they want to rise up against it)," she said.
No reason
Asked for his message to supporters of his plan to set up a revolutionary government, Duterte said he hopes the day where he would be forced to make such a declaration would not come.
"I hope there will never be a time that I will be compelled to call for it. Ako basta abogado (I am a lawyer) and we follow the constitution," the president said in an interview with presidential communications assistant secretary Mocha Uson on Tuesday.
"Only when the Republic of the Philippines is dying, then siguro (then I might declare a revolutionary government) ... Other than that, wala akong makitang rason bakit ako mag-revolutionary government (I don't see any reason why I should do that)," he added.
He then slammed those who took his remarks about founding a revolutionary government "out of context," saying they just wanted to "draw publicity."
"The predicate was kung tataob na ang bayan. Di man nila pinapakinggan yon (The predicate of my statement on revolutionary government was if the nation would stumble. They did not listen to that)," he said.
Big voice
According to lawyer Tony La Viña, former dean of the Ateneo School of Government, while any president can declare a revolutionary government, doing so would be "illegal and unconstitutional."
Asked what mechanisms would legitimize a hypothetical revolutionary government, La Viña said that can be done by "acquiescence," adding that a lack of protests against the move would be an indication of that.
EXPLAINER: Can Duterte declare a revolutionary government?
In the same interview on Tuesday, Duterte said that while many oppose the possible establishment of a revolutionary government, it cannot be denied that the millions of voters who elected him have a "big voice."
"The 15 million who voted for me lalo na yang six million na ano... malaking boses yan and they are calling for it because the country itong corruption (The 15 million who voted for me especially the six million of them... they have a big voice and they are calling for a revolutionary government because the country is hounded by corruption)," he said.
"Kaya nagpropose nga ako (That's why I proposed) to come up with a constitution na bago (that's new)," he added.