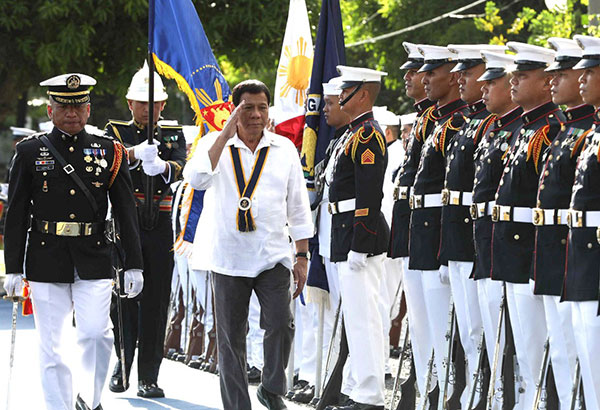 President Rodrigo Duterte is accorded with military honors upon his arrival at Fort Andres Bonifacio in Taguig City for his attendance to the launching of the Karne, Isda Supply Suporta sa Masa at Ekonomiya (KISS ME) Project on November 7, 2017. Ace Morandante/Presidential Photo
Duterte nixes idea of a revolutionary government
MANILA, Philippines — President Duterte yesterday called on the military to ignore talks about a revolutionary government even as he warned of arresting rebels who threaten national security.
Duterte said the country would not benefit from a revolutionary government or coup d'état.
"Huwag kayong maniwala 'yang mga coup d'état, mga revolutionary coup d'état. Wala tayong makukuha diyan (Do not believe talks about coup d'état, revolutionary coup d'état. We won't get anything from that). Let us just build a country," the President said during his visit to wounded soldiers at the Army General Hospital in Taguig.
In a speech delivered during a tribute to fallen soldiers also yesterday, Duterte said the declaration of a revolutionary government is far-fetched.
"Ang sabi nilang revolutionary government, coup d'état, 'wag ninyong intindihin 'yan, malayo 'yan (They talk about revolutionary government, coup d'état, do not mind them. It's far-fetched)," Duterte said.
"Me? I build a nation. If the Armed Forces cooperates with me, if this is something there is good in it, fine. We can work together," he added.
The Chief Executive reiterated he does not intend to stay in power, contrary to the claims of his critics.
"You tell me and I will give it to somebody else. I told senators last night, 'If on the third month I can't do it, I'll step down. I'm old. That means I cannot do it anymore,'" he said.
Only last month, Duterte toyed with the idea of setting up a revolutionary government and declaring all posts vacant if the Philippines plunges into chaos because of alleged ouster plots against him.
The President later dowplayed the statement and said that he would only do so if the government is in danger of being overthrown violently.
He, however, said he does not need a revolutionary government to run after communist rebels who have been waging an armed struggle against the government for 50 years.
"Hindi ako mag-martial law. Hindi ako mag-revolutionary government. (I won't declare martial law. I won't set up a revolutionary government). I will just go out and arrest them," Duterte said.
"If there is no law, because we do not have an Anti-Subversion Law, then I will detain them for a number of hours and arrest them again the following day for a number of hours, until we get what we have," he added.
The communists, according to Duterte, are "officially connected with the conspiracy" so they have to be arrested, although it was not clear what he was referring to.
Communists have always been tagged in alleged plots to destabilize the government.