Mocha Uson on potential Senate run: 'I hate politics'
November 21, 2017 | 7:12am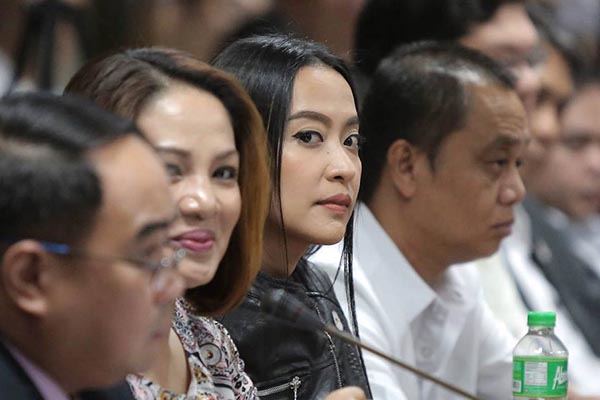 MANILA, Philippines — "I don't want to get involved in politics – not anymore."
This was one of the "simple" reasons listed by Presidential Communications Assistant Secretary Mocha Uson for not seeking a Senate seat but she also emphasized one thing: it might be too early to announce future plans.
House Speaker Pantaleon Alvarez last week announced that Uson was among those being eyed by the ruling party PDP-Laban to be on its senatorial ticket for the 2019 mid-term elections.
Uson later clarified she was not interested in securing a seat at the Senate and that she would only run if President Rodrigo Duterte convinces her to do so.
In her weekly column, Uson said she prefers a private life as she expressed her supposed disdain for politics.
But she also stressed it would be political "suicide" should she officially announce her plans to run for office as early as 2017, noting the "condescending" backlash she received after Alvarez announced her as one of PDP-Laban's senatorial bets.
Citing her "loyalty" to the president, Uson also emphasized anew she would only run if Duterte told her do so.
"It's a common saying that in politics, there are no permanent friends, nor are there permanent enemies. Your closest friend, your party mate, or even your most loyal ally today may be your worst enemy tomorrow – and that's just not for me," she said.
"Here's a piece of the truth that's not known to everyone: I don't want to get involved in politics – not anymore. I want to go back to my private life where it's more peaceful and much quieter," she added.
"But I am still here because I want to see the end of this fight. Not just me, but everyone else who believes and supports the President. We want to see the promises of President Duterte come to fruition."
Senate President Aquilino "Koko" Pimentel III, PDP-Laban president, earlier clarified that the ruling party has not yet made a final decision on the matter.
Meanwhile, Duterte last week said he is leaving it to the public to judge his party's possible 2019 senatorial line-up.
"If that's the choice of the Filipino, you might not like her; her ways might not suit your values. But if that guy or woman is elected by the people, then you have to honor that choice," he said.
Uson—a former starlet who maintains a Facebook blog with more than five million followers—got her mid-level position at Malacañang after playing a pivotal role in helping Duterte easily win last year's presidential elections.
She now handles the Palace's social media platforms.
A staunch supporter of the president, Uson had been using her blog to berate presidential critics and discredit media outlets that produced reports critical of the administration.
She had been accused of spreading false information online. Last August, the hashtag #FireMocha trended on Twitter after she committed back-to-back social media blunders.
But she maintained she had corrected posts containing questionable claims.
Despite several gaffes committed by the Palace assistant secretary, Uson continues to enjoy Duterte's confidence and trust.