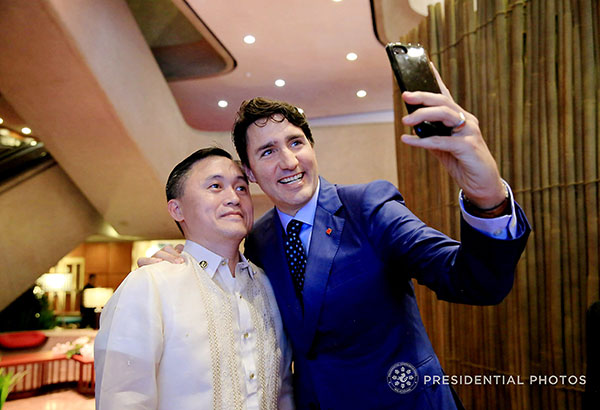 Special assistant to the President Bong Go has a selfie taken by Canadian Prime Minister Justin Trudeau. Presidential Photo
National photobomber becomes 'selfie king'
Janvic Mateo
(The Philippine Star) - November 15, 2017 - 4:00pm
MANILA, Philippines — From Pambansang Photobomber to Selfie King.
Special assistant to President Duterte Christopher "Bong" Go has become a "world leader" in his own right after he was named "Selfie King" for taking photos with world leaders during the recently concluded Association of Southeast Asian Nations (ASEAN) Summit in Manila.
Previously known for "photobombing" or appearing unexpectedly in photos of Duterte, Go raised the notch a little higher by deciding to take photos himself – with his laconic facial expression in the foreground, of course.
Images posted by Go on his Facebook account showed selfies with world leaders who attended the ASEAN summit, including US President Donald Trump, Japanese Prime Minister Shinzo Abe, Chinese Premier Li Keqiang, Russian Prime Minister Dmitry Medvedev, South Korean President Moon Jae-in and Myanmar State Counselor Aung San Suu Kyi.
Go also shared an image showing Canadian Prime Minister Justin Trudeau and Australian Prime Minister Malcolm Turnbull holding the phone while taking a selfie with him.
Go's "power selfies" took cyberspace by storm, with the Washington Post naming him "Selfie King" and Australia's Sydney Morning Herald describing him as the "Philippine government official who can't help taking a selfie."
Both articles noted that Go, with his access to closed-door meetings of Duterte, "gives the world its first – and only – glimpse of what goes on behind closed doors at the high-level meetings involving world leaders."
This was what happened during the Asia-Pacific Economic Cooperation (APEC) meeting in Vietnam last week when he shared a selfie showing Duterte and Trump shaking hands during their first meeting.
With no other photos of the meeting available, Go's picture – which included him in the foreground – landed on the front page of major newspapers including The STAR.
In the same APEC meeting, Duterte's chief aide also published a selfie showing Trump and Russian President Vladimir Putin shaking hands.
Opposition lawmaker Ifugao Rep. Teodoro Baguilat Jr. said the photo ops cost the Filipino taxpayers some P15.5 billion in hosting the ASEAN summit.
"For billions of Filipino taxpayers' money, it seems that we hosted a monstrous and glitzy photo op and social gathering," Baguilat said.
He said there was no "major and significant regional agreement drafted or approved by the bloc," save for the agreement to protect migrant workers.
"It's all just handshakes and safe rhetoric," Baguilat said.
The Duterte administration allocated P15.5 billion for the ASEAN summit and related activities. The budget is P5.5 billion more than the amount spent by the Aquino administration for the bigger APEC summit in 2015.
Online, Filipino netizens were amused over Go's selfies, with many saying they would do the same if given the opportunity.
Special apps
On Facebook, a special filter now allows users to include Go in their pictures, making it appear that the "Selfie King" took time to take pictures with them.
"Update your profile picture with this frame from Photo by SAP Bong Go," has gone viral and used by thousands on the social media site, friends and foes alike.
The app stems from a photo that Go snapped of the first meeting between Trump and Duterte on the sidelines of the APEC summit in Vietnam last Nov. 11.
"It seems somebody has made fun of that particular picture of Go capturing the first meeting between Duterte and Trump and made it into an FB app and it has become a meme," a netizen said.
The Bong Go app is something that automatically puts or watermarks Go, making it appear that he took a selfie with you. Your profile picture on the app is good for seven days.
The app with this frame is free and easily clickable. – With Edith Regalado, Jess Diaz