World leaders in Manila: Key events at ASEAN summit
November 15, 2017 | 8:40am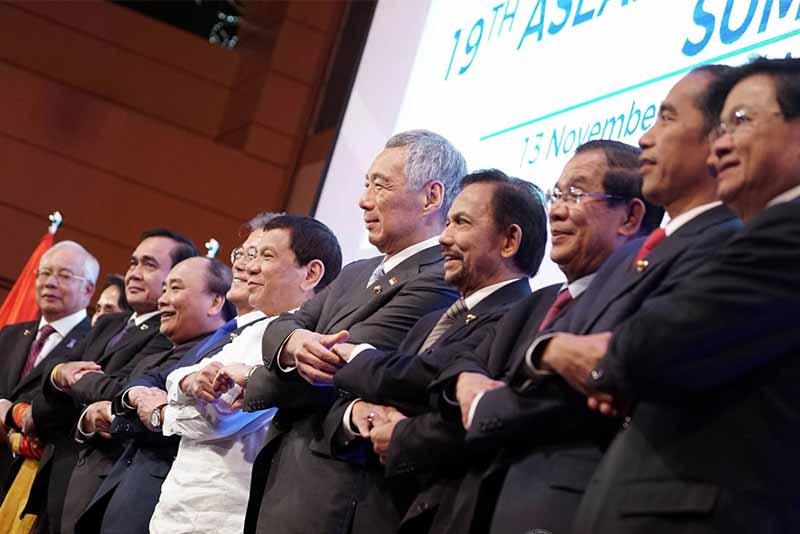 MANILA, Philippines — Amid the pageantry, red carpets, dinners and scintillating performances, leaders of Southeast Asian nations grappled with pressing regional issues during a two-day summit in the Philippine capital.
The Association of Southeast Asian Nations has been criticized for being an unwieldy bloc of 602 million incapable of swiftly arriving at decisions on key problems because of its policy of consensus and non-interference in each other's affairs.
However, despite these shortcomings, its summits and meetings have become an opportunity for regional, Asian and global players to gather and talk about the problems confronting them.
Here are the key developments in the recently-concluded 31st ASEAN Summit and related meetings:
READ: North Korea, Marawi siege, seu feud top ASEAN summit worries
The sticky issue of human rights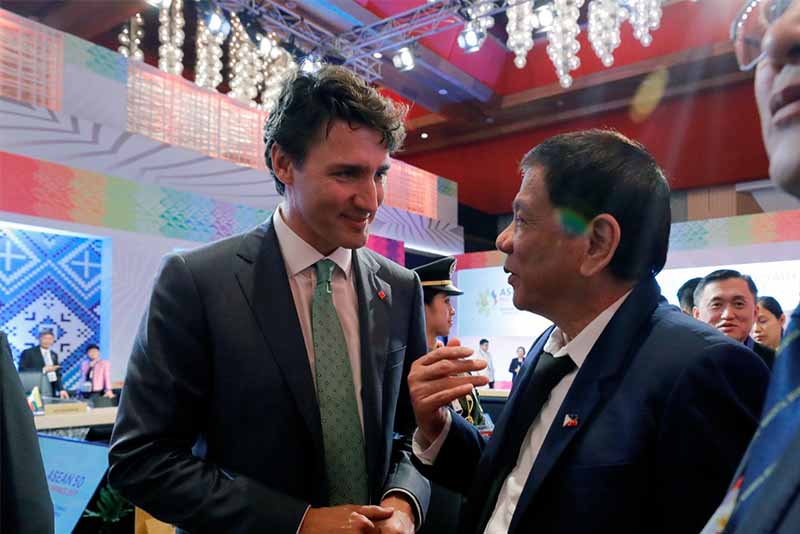 President Rodrigo Roa Duterte chats with Canadian Prime Minister Justin Trudeau after the Association of Southeast Asia Nations (ASEAN)-Canada 40th Anniversary Commemorative Summit at the Philippine International Convention Center on November 14, 2017. Rey Baniquet/Presidential Photo
US President Donald Trump avoided confronting President Rodrigo Duterte, at least in public, over his government's human rights record and the drug-related killings attending his so-called war on drugs, a move sure to disappoint many of the two leaders' critics hoping for Washington's demonstration of its commitment to the rule of law and international statutes.
In contrast to Trump, Canadian Prime Minister Justin Trudeau told a hall packed with journalists that he "impressed upon" Duterte Canada's concern over human rights violations especially the extralegal killings Philippine cops were accused of orchestrating. He also offered help to the Philippines in tackling the problem.
True to form, Duterte did not like the Canadian premier's assertion and blasted Trudeau in a late-night press conference at the end of the summit, saying his comments were an "official and personal insult" and reiterated that he did not have the obligation to explain his side to foreigners.
New Zealand Prime Minister Jacinda Arden also called on the Philippines to probe drug-related deaths.
China agrees to a South China Sea code of conduct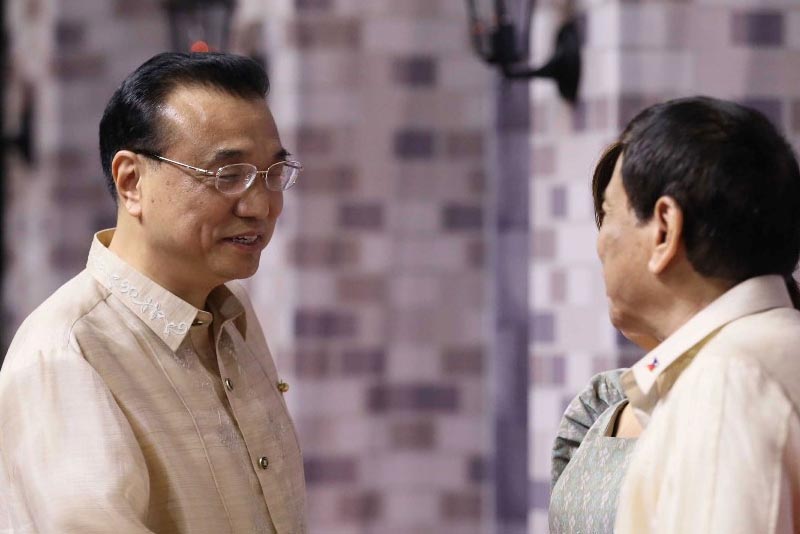 President Rodrigo Roa Duterte and his partner Honeylet welcome People's Republic of China Premier Li Keqiang prior to the start of the gala dinner the Philippine president hosted for the leaders of the Association of Southeast Asian Nations member states and dialogue partners at the SMX Convention Center in Pasay City on Nov. 12, 2017. PPD/Ace Morandante
Duterte announced at the Tuesday night briefing that China had committed itself to a code of conduct that would be forged by senior ministers of parties to the dispute following Beijing acquiescence to a framework of the document early this year.
China also assured him that countries would have "unbridled and unfettered" access to the West Philippine Sea, Duterte said. Beijing has recently transformed several previously uninhabitable features in the region into artificial islands capable of hosting military structures and facilities.
The Chinese have also agreed to "fastrack" discussions on the code, according to the Philippine leader, who also stressed that no country could afford to go to war these days especially amid the specter of a nuclear war on the Korean peninsula. Duterte, however, ignores peaceful policy options that uphold the arbitration ruling favoring the Philippines.
READ: ASEAN, China agree to start talks on South China Sea code
Region's jitters over threat of terrorism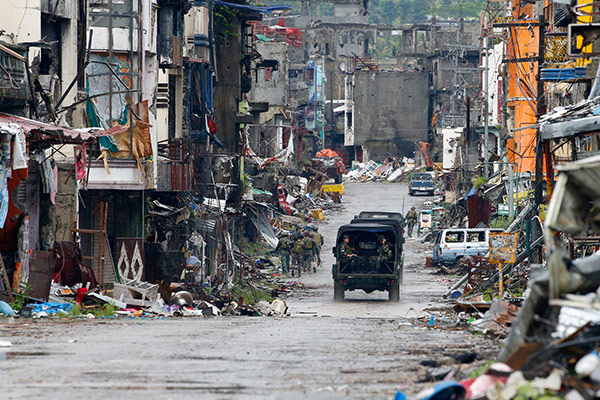 In this Tuesday, Oct. 17, 2017, file photo, Philippine troops return to their deployment after attending the ceremony where President Rodrigo Duterte declared the liberation of Marawi city in southern Philippines after almost five months of the siege by pro-Islamic State group militants. Gunfire rang out sporadically and explosions thudded as Philippine soldiers fought Tuesday to gain control of the last pocket of Marawi controlled by Islamic militants as President Duterte declared the southern city liberated from "terrorist influence." AP Photo/Bullit Marquez, File
ASEAN, the US, Australia and other partners also agreed during the summit to strengthen their defense against terrorism, just weeks after the Philippines was able to free a southern town from the claws of militants inspired by the Islamic State group.
Duterte said that leaders of ASEAN and their regional peers expressed concern over the threat following the five-month siege of Marawi, a lakeside town in Lanao Del Sur in Mindanao.
READ: US pledges support vs terrorism, affirms Mutual Defense Treaty
The US and ASEAN have vowed to curtail the threat of terrorism through information sharing and law enforcement cooperation in an effort to prevent the militants from establishing a base in Southeast Asia as they continue to backpedal in the Middle East.
The Philippines and the US also committed to enhance their counter-terrorism cooperation through additional exercises, increased information sharing and tackling of the roots of conflict and extremism.
READ: Lorenzana: Marawi showed AFP 'woefully inadequate' vs terror
Southeast Asian nations also reaffirmed their fight against the Islamic State group and took note of the battle in Marawi City which has claimed more than 1,000 lives, most of whom combatants, and decimated that once-vibrant town.
Pressure on North Korean nuclear and missile program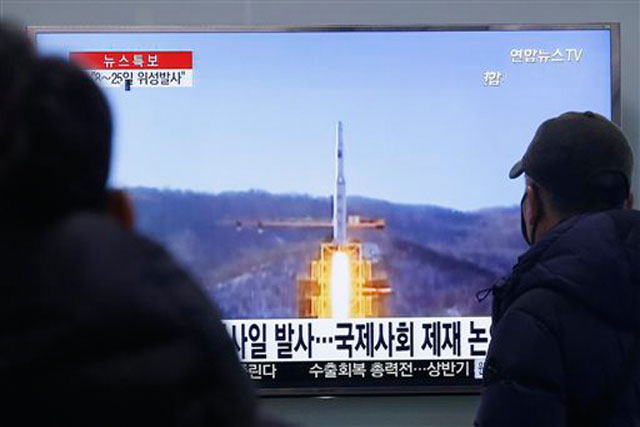 South Koreans watch a TV news program with a file footage about North Korea's rocket launch plans, at Seoul Railway Station in Seoul, South Korea, Wednesday, Feb. 3, 2016. South Korea warned on Wednesday of "searing" consequences if North Korea doesn't abandon plans to launch a long-range rocket that critics call a banned test of ballistic missile technology. The headline on the screen reads "North Korea plans to launch a missile." AP/Ahn Young-joon, File
Trump, ASEAN and East Asian Nations also sought to impose pressure on North Korea for the isolated regime to halt its nuclear and missile weapons program and return to the negotiating table.
Southeast and East Asian nations also condemned the nuclear program of North Korea, with Japanese Prime Shinzo Abe campaigning for more pressure for Pyongyang itself to seek dialog while China advocated for more talks.
The nations urged UN member-states to implement and comply with relevant Security Council resolutions that aimed to cripple Pyongyang's path toward a nuclear missile capable of reaching mainland US.
UN and EU chief: First-timers in the Philippines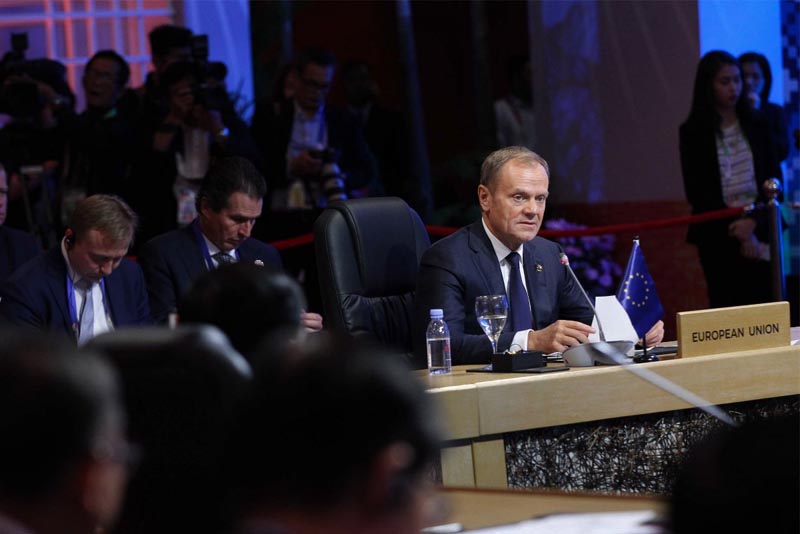 European Council President Donald Tusk, in his opening remarks during the Association of Southeast Asia Nations (ASEAN)-European Union 40th Anniversary Commemorative Summit at the Philippine International Convention Center on November 14, 2017, declares that the EU is working toward a strategic partnership that delves into trade, investment, sectoral, and security cooperation. PPD/Ace Morandante
United Nations Secretary General Antonio Guterres traveled to the Philippines for the first time on a low-key visit to attend the ASEAN-UN Summit.
During his meeting where Duterte was absent, Guterres talked about human rights but did not discuss the Philippine war on drugs, the usual source of sour points between Manila and the UN these days.
Aside from Guterres, also in Manila to attend the ASEAN-EU Summit was European Council President Donald Tusk who insisted that developing ties between the two blocs based on human rights was a priority.
Pact to protect migrant workers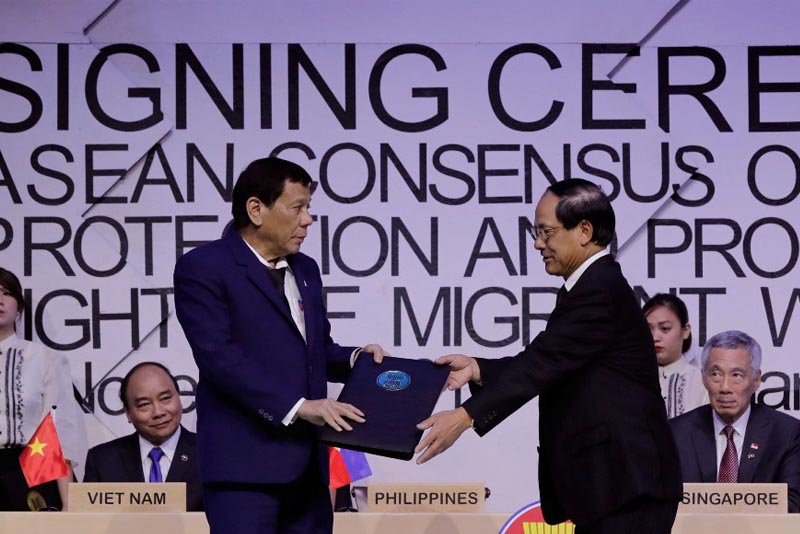 President Rodrigo Duterte receives the signed documents of the Association of Southeast Asian Nations Consensus on the Protection and Promotion of the Rights of the Migrant Workers from ASEAN Secretary General Le Loung Minh following the signing ceremony at the Philippine International Convention Center on Nov. 14, 2017. PPD/Ace Morandante
Southeast Asian leaders signed Tuesday a landmark document that would protect the interests and welfare of thousands of migrant workers in the region.
Among the provisions of this document were fair treatment for migrant workers, provision of visitation rights for their family, prohibition of confiscation of passports and overcharging of recruitment fees, protection against sexual violence and harassment, respect for fair remuneration and benefits and right to join unions and associations.
Beginnings of trade with Russia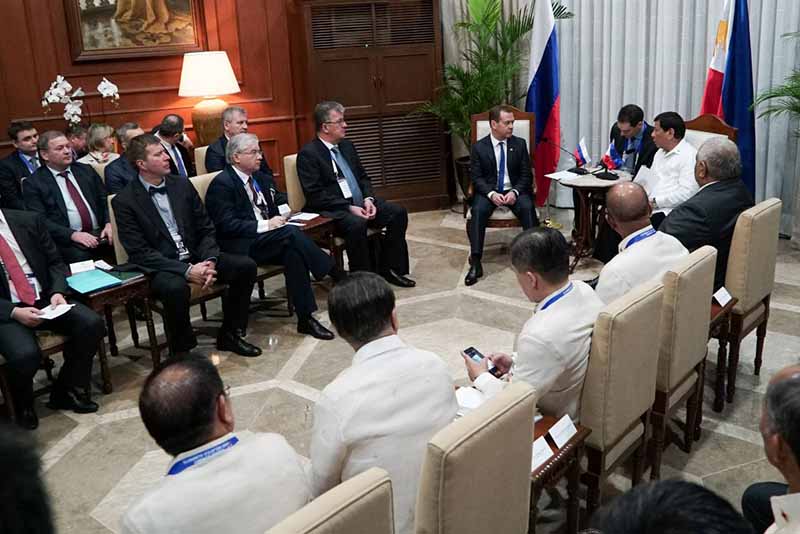 President Rodrigo Roa Duterte and Russian Federation Prime Minister Dmitry Medvedev discuss matters on how the Philippines and Russian Federation can further foster its partnership during a bilateral meeting at the Coconut Palace in Pasay City on November 13, 2017. PPD/King Rodriguez
Duterte also announced during the summit Philippine willingness to expand trade relations with Russia.
In Duterte's meeting with Russian Prime Minister Dmitry Medvedev, Moscow announced that it would continue supporting Manila's efforts to combat terrorism and to supply weapons to help in maintaining peace and order.