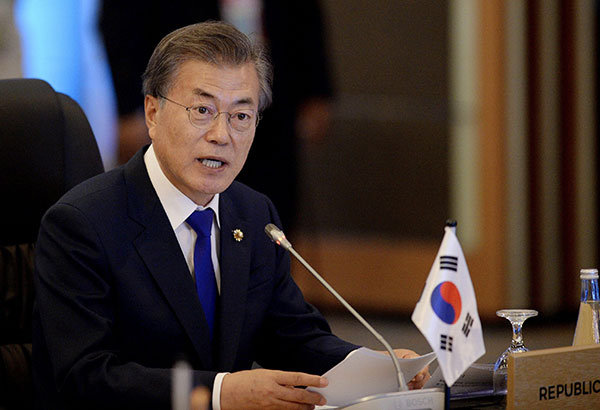 During his bilateral meeting with South Korea President Moon Jae-in on Monday, Duterte said he was hopeful that South Korean investors would pour in more investments in manufacturing, automotive, food production and processing, agribusiness, electronics and energy. AFP, File
South Korea urged to invest more in Philippines
MANILA, Philippines — President Duterte has urged South Korea to invest more in the Philippines as he vowed to further strengthen ties between the two countries.
During his bilateral meeting with South Korea President Moon Jae-in on Monday, Duterte said he was hopeful that South Korean investors would pour in more investments in manufacturing, automotive, food production and processing, agribusiness, electronics and energy.
He thanked South Korea for importing Philippine products such as organic and personal care goods, seafood, garments, chemicals and electronic parts.
Moon responded by saying the Philippines is "very special" to South Korea.
The tensions triggered by North Korea's missile tests were not mentioned during the opening statements of Duterte and Moon.
Journalists were only allowed to cover the two leaders' opening remarks.
Moon, who sent a special envoy to the Association of Southeast Asian Nations (ASEAN) after his inauguration this year, promised to strengthen relations with the bloc "to the highest level."
"I wish to further strengthen our ties with the Philippines, our long-time friend," Moon said.
He said about 1.5 million Korean tourists visit the Philippines annually. He also welcomed the popularity of the "Korean Wave" in the Philippines.
"Among ASEAN nations, we have the most mutual people-to-people exchanges with the Philippines," Moon said.