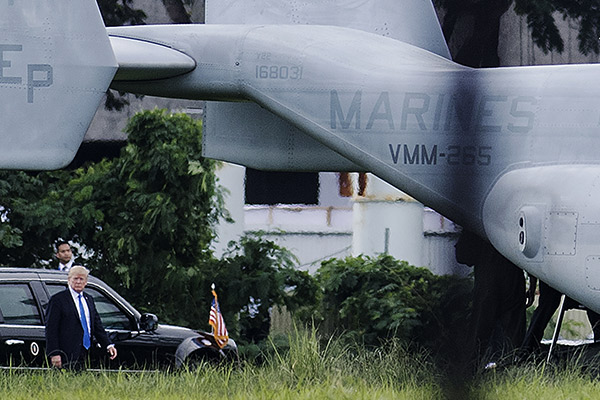 US President Donald Trump prepares to board Marine One (not pictured) after attending the 31st Association of Southeast Asian Nations (ASEAN) Summit and Related Meetings in Manila on November 14, 2017. The US president was in the Philippines with leaders of 18 other nations for two days of summits, the final leg of a headline-grabbing Asian tour dominated by the North Korean nuclear crisis. Noel Celis/AFP
Trump leaves Philippines, skips delayed major meeting
MANILA, Philippines — Despite extending his stay in Manila for a day, US President Donald Trump opted not to attend the East Asia Summit due to the delay in schedule.
According to White House pool reports, Trump did not stay for the family photo with 18 other members of the East Asia Summit.
The major meeting in Manila was behind schedule, and the American leader opted to depart on time.
The East Asia Summit was supposed to start at 1:30 p.m. but was started about an hour and a half later. Trump was scheduled to leave at around 3:40 p.m.
Trump entered Air Force One at 3:12 p.m., and the aircraft left at around 3:18 p.m.
Before boarding the Marine One to the airport, Trump told White House reporters that his Asia trip—the last stop of which was Manila—was "tremendously successful."
"I've made a a lot of friends at the highest levels," Trump said.
Trump and President Rodrigo Duterte held a bilateral meeting on Monday. Trump described his relationship with acid-tongued Filipino leader as "great," and noted that he and Duterte shared a common dislike for the previous administration.
Duterte had cursed at then President Barack Obama, Trump's successor, for criticizing apparent human rights violations in the brutal war on drugs. The campaign has led to the killings of thousands of drug suspects since the start of the Duterte presidency last year.
Duterte, however, warmed up to Trump, having spoken to him over the phone a few times.
Despite international calls to raise alarm over human rights violations in the Philippines with Duterte, Trump largely avoided the issue during their meeting. — with Camille Diola