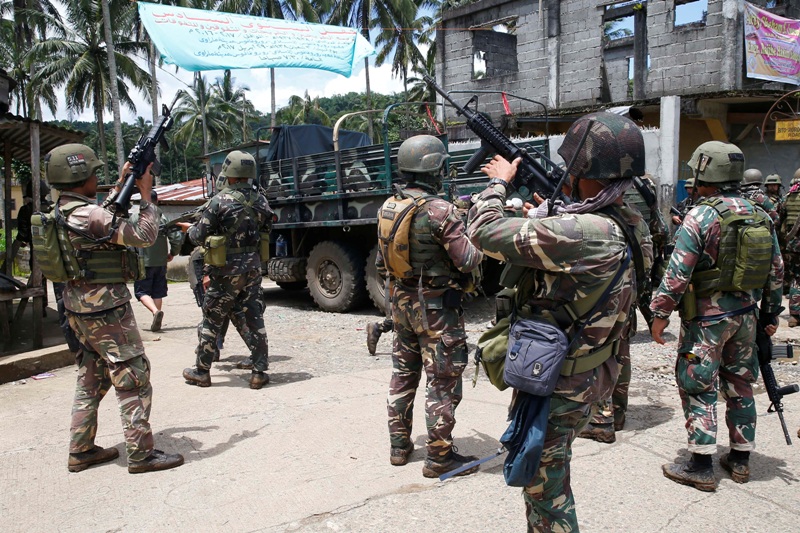 Soldiers have focused on securing the city against surviving militant fighters since ending five months of operations against IS-inspired militants who seized control of parts of the country's main Islamic city in May, in a bid to win a foothold in the region. AP/Bullit Marquez, File
Troops kill Maute straggler in Marawi
(The Philippine Star) - October 31, 2017 - 4:00pm
MANILA, Philippines — Government forces yesterday killed a pro-Islamic State (IS) gunman in Marawi, a military official said, eight days after the hostilities were declared over.
Soldiers have focused on securing the city against surviving militant fighters since ending five months of operations against IS-inspired militants who seized control of parts of the country's main Islamic city in May, in a bid to win a foothold in the region.
The conflict displaced about 350,000 residents and killed more than 1,100 people, mostly militants, stirring concern that Marawi is becoming an IS hub in Southeast Asia.
Yesterday, the military engaged in a gunfight with one of the suspected remaining gunmen in the main battle area, after foiling his bid to escape, army spokesman Col. Romeo Brawner said.
"We still have to put in troops, because there's a possibility of stragglers," Brawner told a news conference in Marawi. "In the main battle area, there are many possible hiding spots."
Indonesians, Malaysians and Middle Easterners were among the fighters who flocked to Marawi to support the IS's emirate in Southeast Asia.
The main battle area in downtown Marawi remains off limits, pending the removal of booby traps and unexploded ordnance.
Lt. Col. Emmanuel Garcia, commander of the 4th Civil Relations Group of the Western Mindanao Command (Westmincom), said the fight occurred at around 6 a.m. in an area adjacent to the city hall compound, which has already been cleared of terrorists.
Although the bulk of soldiers and policemen deployed in Marawi were pulled out after five months of urban fighting, a number of Army battalions have been retained to address possible security concerns posed by either terrorist stragglers or their sympathizers.
Other security officials described the threat as "already insignificant" as authorities were able to restore at least 50 percent of the city's power supply yesterday.
Normal operations at the Marawi city hall also resumed Monday, a week after the government declared the city as liberated from the clutches of terrorists.
Westmincom chief Lt. Gen. Carlito Galvez Jr. said the neutralization of key terrorist figures created a vacuum of leadership in the IS operating in Southeast Asia.
The deaths of Abu Sayyaf leader and IS emir Isnilon Hapilon, the Maute brothers as well as their foreign counterparts have also affected the communication with other IS factions in foreign countries, he added.
Hapilon and Omarkhayam Maute, one of the architects in the Marawi siege, were killed by a composite of army cavalry and scout ranger units last Oct. 16. The other key elements – Malaysian university lecturer and IS financier and recruiter Mahmud Ahmad and Amin Baco – were also killed in the late stage of the operations, the general pointed out.
"I believed they have no contact now here in the Philippines," Galvez said, adding that relentless operations are ongoing to neutralize elusive Basilan-based Abu Sayyaf leader Furuji Indama, who is known for kidnappings.
He recalled that other rising Sulu-based Abu Sayyaf leaders liked Muamar Askali alias Abu Rami and Alhabsy Misaya were killed in separate military operations in Bohol and Sulu in April.
Looting
Thousands of Marawi residents have started returning home, only for some to find dwellings ransacked. Brawner said an Army official and five personnel were detained in barracks after being charged with looting.
Although he described it as "old hat," he said they received a lot of complaints about looting "even before the start of the siege."
"That's why when we deployed our troops, they were warned not to loot because we know that this will be a problem. In fact, we were able to apprehend some soldiers and they are now facing charges," Brawner, also the deputy commander of Joint Task Force Ranao, said in a statement yesterday.
He confirmed that one Army team was apprehended.
"I don't know their exact number, but we are not denying it because they are now facing charges," the officer said.
Reports said a lieutenant colonel and five enlisted personnel were among those slapped with administrative charges before the military court.
Brawner clarified that the alleged looting incident happened shortly after the fighting started and when the IS-inspired militants had ravaged most of the city's houses and establishments.
"When the Army entered Marawi, they arrived when most of the houses have already been forcibly opened by the terrorists apparently in search for cash, jewelry and guns. These accounts were validated by the rescued hostages," Brawner said.
He added that although the AFP leadership reminded the troops to refrain from taking anything from abandoned houses, some soldiers were apparently lured into "salvaging" something from the looted residences.
The officer also clarified some photos showing military trucks loaded with satellite dishes that have been circulating on social media.
"This is routine in all major operations because these are military properties," Brawner said, pointing out that each Army company in Marawi was issued a satellite dish, along with other electronic gear, as part of supplies and logistics.
Even in combat, he added, soldiers are issued laptops and printers because they used these gadgets to make the required reports.
The motorcycles shown driven by soldiers in Marawi are also military property and were used for intelligence gathering and intelligence-driven operations, he said.
"Soldiers have also personal belongings. But just the same all military units who are being pulled from Marawi are subjected to an inspection," Brawner said.
Westmincom's Garcia said looting concerns were being addressed by the military's built-in disciplinary action.
However, he stressed that while the fighting continued, civilians were also looting the houses and that at least 22 "professional looters," some of them coming from as far as Iligan City, were arrested.
"After the first incident, we haven't any report of any soldier engaging in looting activities. What I know is that we have apprehended 22 professional looters in June, August and July," he added.
New AFP assets
On top of sophisticated surveillance planes provided by the US and Australia governments, newly acquired air and naval assets of the Armed Forces of the Philippines (AFP) played critical roles in the city's liberation, said Navy chief Vice Admiral Ronald Joseph Mercado.
Within the five-month campaign, the military used FA50 lead-in supersonic fighter jets and a fleet of brand-new, rocket-firing helicopters to hit terrorist positions hard.
Mercado also noted the steady flow of Marawi-bound troops, including elite forces with armored fighting vehicles (AFV) and logistics from various locations ferried by the Navy's newly acquired landing dock ships BRP Tarlac and BRP Davao del Sur.
Complementing these efforts, he added, are the P3 Orion surveillance and intelligence aircraft provided by the US and Australia.
"We were able to expeditiously complete our missions transporting much-needed equipment (to the main battle area) from combat vehicles, artillery, munitions and ground troops as a result of our modernization program," the Navy chief said following the recent disembarkation of Navy and Marine forces from BRP Tarlac after their five-month deployment in Marawi.
He added that the two landing dock ships also transported relief goods for affected and displaced residents who were then staying in various evacuation centers in Iligan City and nearby towns.
Unlike before when troops needed to wait for days, transporting troops from Luzon and the Visayas was quicker using the Philippine Air Force's five C-130 heavy lift and three C-290 medium lift transport aircraft.
The C-290 aircraft are brand new planes while the C-130s, despite being procured secondhand, continue to live up to their role as the country's main cargo and troop transport aircraft, the way most militaries use them around the globe. – Jaime Laude, Roel Pareño, Reuters