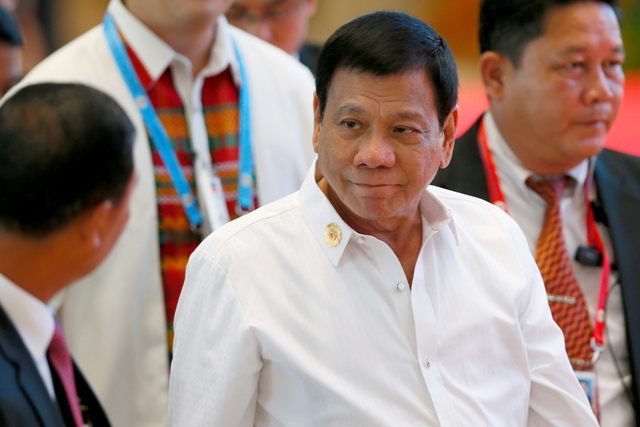 President Rodrigo Duterte arrives at the National Convention Center in the 28th and 29th ASEAN Summits and other related summits last Sept. 6, 2016 in Vientiane, Laos. AP Photo/Bullit Marquez
Duterte may push for resource-sharing in disputed sea at ASEAN meet
(philstar.com) - October 24, 2017 - 6:44am
MANILA, Philippines — President Rodrigo Duterte may rally fellow Southeast Asian leaders attending the region's upcoming summit in Manila next month to support the sharing of resources in the disputed South China Sea.
Speaking before the ASEAN High Level Forum last week, Duterte said he was in favor of sharing resources in the contested waters—which China, an ASEAN dialogue partner, also claims. The Philippines claims parts of the South China Sea within its exclusive economic zone and calls it the West Philippine Sea.
His explanation for possible joint exploration hinted at a willingness to open exclusive economic zones to foreign parties despite an international court ruling favoring Manila's entitlements over the sea.
READ: Duterte finds no urgency in South China Sea row
Asked if such a proposal is included in the president's agenda for the 31st ASEAN summit in November, Ambassador Marciano Paynor, director general for operations of the ASEAN 2017 National Organizing Council, said Tuesday that the subject is "still under discussions."
He said Duterte, who chairs this year's ASEAN meetings, may raise the topic "if the president says and that is his directive."
"In fact, many of the things that will happen during the Summit will still be discussed during the preparatory meetings," Paynor said in a press conference in Malacañan.
In 2013, the previous administration filed a case, and won last year, in a United Nations-backed tribunal against China's sweeping claims to over most part of the resource-rich sea.
The court said China violated the Philippines' sovereign rights by blocking fishing and oil exploration as well as by building manmade islands there.
Resource-sharing a 'win-win'
But Duterte sought warmer relations with the Asian power in exchange for billion dollars' worth of Chinese investments while moving away from Washington—Manila's traditional treaty ally and China's strategic rival.
Aside from Manila and Beijing—other ASEAN countries such as Brunei, Indonesia, Malaysia, Singapore, and Vietnam also have overlapping claims over the sea.
According to Paynor, resource-sharing would be a "win-win situation and solution" for the maritime row that has dogged both ASEAN and China.
But he stressed that leaders must make sure that all parties would agree to the details of the deal.
"As always, the devil is in the details and sometimes, in the details, there's one aspect that might not be agreeable to one and because these are consensus, it has to be threshed out," Paynor said.
"So I'll say, in principle, yes, of course, that is one objective of ASEAN," he added.
Experts say a joint development in the South China Sea between the Philippines and China does not guarantee better relations as they cautioned that failure to spell out the "expectations" under such an agreement may spark another conflict.
The Philippines last April hosted the 30th ASEAN summit, which was highlighted by a watered-down communique that evaded reference to China's maritime encroachment in the South China Sea.
Analysts earlier expressed disappointment over ASEAN's apparent soft stance on China's aggressive activities in the sea—with some saying this response could embolden Beijing to step up its incursion in the area, thereby undermining the bloc's centrality.
READ: Experts: Joint development in South China Sea no guarantee of better ties