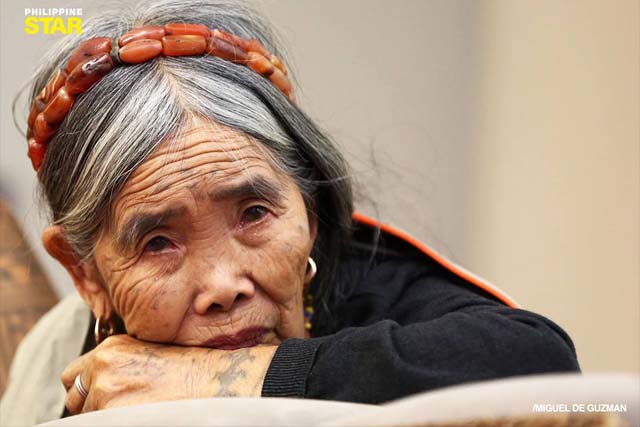 In this Oct. 21, 2017 photo, Apo Whang-od Oggay attends the trade show Manila FAME. The STAR/Miguel De Guzman
Cordillera officials to probe alleged 'exploitation' of Whang-Od
(philstar.com) - October 23, 2017 - 9:07am
BAGUIO CITY, Philippines — Cordillera officials vowed to get into bottom of things in the alleged "exploitation" of legendary Buscalan, Tinglayan, Kalinga tattoo artist "Apo Whang-Od" Oggay during the recent trade show Manila FAME.
"Let me investigate the event and the activity," Dir. Venus Tan of the Department of Tourism said.
Kalinga lawmaker Allen Jessie Mangaoang also said he has to probe what really happened "and uncover the truth" into the Whang-Od fiasco before initiating governmental action on it.
The Manila FAME trade show for buyers of Philippine-made products, brought the over 90-year-old Kalinga tattoo artist to Manila with the help of the Philippine Air Force. The event ran from October 20 to 22.
Whang-Od is said to be Cordillera's sole and original "mambabatok" (Kalinga traditional tattoo artist).
'From Manila FAME to Manila shame'
Netizens however began to show "concern" when organizers began allegedly exploiting the nonagenarian by allowing her to tattoo up to 300 attendees at the trade show.
The Manila FAME scheduled a two-day live mambabatok demonstration from morning to afternoon last Friday and Saturday. Whang-Od was joined by two other tattooists.
A photo of Whang-Od where she was seen sleeping at a press conference where she would have been a panelist also circulated online and sparked the debate among netizens.
According to blogger Winky Scott, the trade show, charged P700 as entrance to those who wanted to see the legendary mambabatok. On the other hand, Scott claimed there was also a P2,500 charge for a tattoo and P500 for a three-dot tattoo signature respectively.
Due to this, netizens criticized Manila FAME for supposedly "exploiting" Whang-od in a "commercialized" event citing her old age and health condition. The hashtag "Manila Shame" also trended on Twitter on Sunday following the viral photo.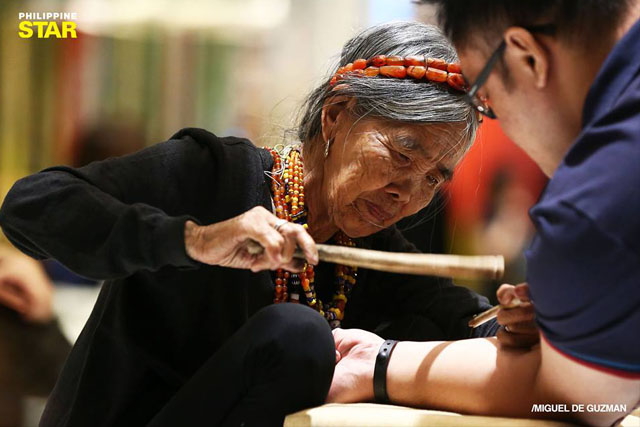 CITEM defends Whang-Od's participation in Manila FAME
The trade show's organizer, Center for International Trade Expositions and Missions, also the marketing arm of the Department of Trade and Industry, defended Whang-od's participation in the event.
CITEM said the invitation of Whang-Od "was [made] through the proper channels." These include Whang-Od herself, the Kalinga community of elders, National Commission on Indigenous Peoples, local government units, DOT, and the DTI regional offices.
"Apo Whang-Od's participation in Manila FAME was a tremendous collaborative effort of various government agencies. These include the Philippine Air Force, Philippine Army who ensured her safety prior to and during her travel to Manila and back," CITEM Executive Director Clayton Tugonon said in a release.
CITEM said Whang-Od was also given comprehensive care prior to and throughout her participation and travel back to Buscalan, Kalinga.
It added that the medical team who attended her was lead by doctor Miguel Ramos, head of the Department of Health's National Geriatric Hospital, Geriatric Medicine consultant of the Jose R. Reyes Memorial Medical Center, National Center for Geriatric Health, and St. Luke's Medical Center.
The organizer also clarified that proceeds from Whang-Od's tattoo services would be given to her community.
"We would also like to communicate to everyone that all proceeds from the tattoo of Whang-Od, and her successors, during the event were completely handled by the Kalinga elders," the organizers said.
Meanwhile, replying to netizens who sought for Ifugao solon Teddy Baguilat's opinion, the lawmaker said only Kalinga people can comment regarding the issue.
"Heard about it. I think if its culturally unacceptable or not, its for the Kalinga people to comment. Because they know most regarding their practices," Baguilat told a netizen on his Twitter account.
CITEM also announced that the nomination of Whang-Od to the Gawad sa Manlilikha ng Bayan or the National Living Treasures Award, was accepted by the National Commission for Culture and the Arts. The nomination sparked from a Senate resolution filed by late Sen. Miriam Defensor Santiago in October 2015.