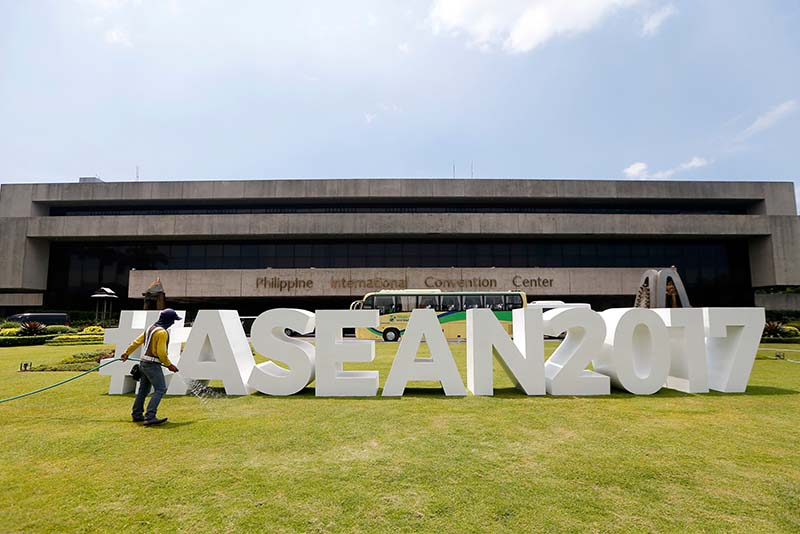 In this April 25, 2017 photo, a worker waters the lawn of the Philippine International Convention Center, the venue for the April 26-29, 2017 30th ASEAN Leaders' Summit in Pasay City, Philippines. AP/Bullit Marquez, file
November 13-15 are special non-working days in NCR, Pampanga, Bulacan
MANILA, Philippines —Malacañang on Monday announced that November 13 to 15 (Monday to Wednesday) will be special non-working days for the National Capital Region, Pampanga and Bulacan.
"Now, therefore, I, Rodrigo Roa Duterte, President of the Philippines, by virtue of the powers vested in me by law, do hereby declare 13-15 November 2017 as special (non-working) days in the NCR and the Provinces of Bulacan and Pampanga," Proclamation No. 322, released Monday, reads.
Duterte signed the proclamation after the ASEAN 2017 National Organizing Council recommended that the dates affected by the summit be declared special non-working days because of ASEAN activities in the provinces and in the capital.
The Metro Manila Development Authority last Sunday said the North Luzon Expressway and some areas in Metro Manila would be affected by the ASEAN summit because of a stop-and-go traffic scheme to help delegates get around.
On October 10, the Metro Manila Council also announced that classes in all levels in Metro Manila will be suspended on November 16 and 17 (Thursday and Friday) due to the ASEAN summit.
Under pay rules set by the Department of Labor and Employment, the "no work, no pay" principle shall apply, unless there is a favorable company policy, practice, or collective bargaining agreement (CBA) granting employees payments on special non-working days
Employees who will work during the special days shall be paid an additional 30 percent of their daily rate for the first eight hours of work.