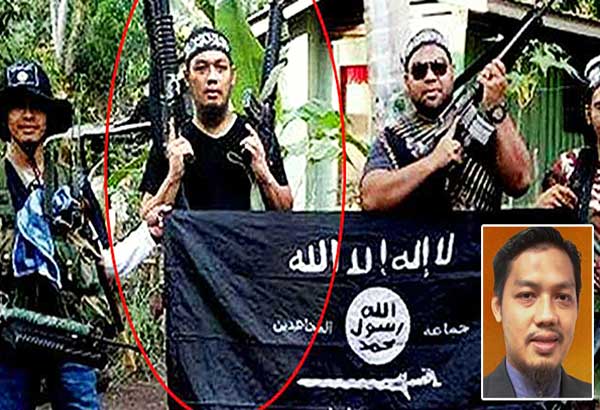 Malaysian Mahmud Ahmad, the alleged financier of the Maute group (center and inset) poses with other Islamic militants in Mindanao. File
Troops search for Malaysian terrorist's body
MANILA, Philippines — Even after President Duterte confirmed the death of Malaysian Mahmud bin Ahmad, the military will have to search for the exact place where the slain terrorist financier was buried.
Armed Forces of the Philippines (AFP) chief Gen. Eduardo Año said troops are hoping to capture some militants who can point to where Mahmud was buried for confirmation of the death.
"Our task now is to find or to look for the grave," he said.
But even though a body is yet to be found and subjected to DNA testing, Año believes the story of hostages who claimed that Mahmud was killed considering other reports supporting the information.
"We have to find the right people that buried him, because the hostages simply would not know because of the ongoing assault," Año said.
"Later on we will, (if) we are able to capture some Maute fighters, maybe they could reveal where Dr. Mahmud was buried," he said.
The military said Mahmud was among the 13 militants killed in a gunbattle with government forces late Wednesday, citing the information provided by two civilian hostages who escaped during the firefight.
The troops in Marawi led by Col. Romeo Brawner, deputy commander of Joint Task Force Ranao, earlier said the ground forces were having difficulty retrieving the bodies of militants for confirmation.
He said the troops are meeting stiff resistance from the remaining Maute terrorists.
The military said the main battle area still needs to be secured despite Duterte's declaration that Marawi City is now liberated from the Maute group with the death of its leaders.