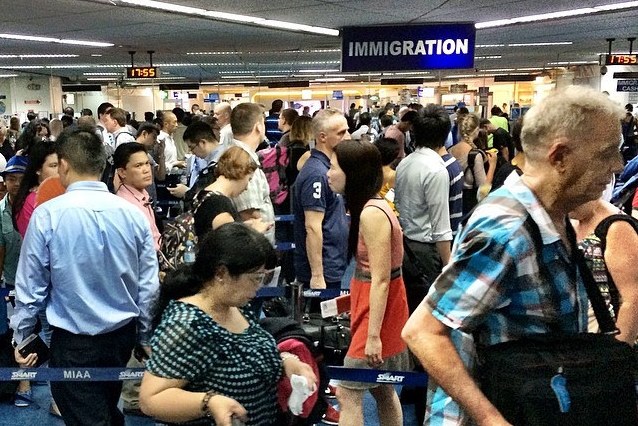 This file photo shows queues at immigration counters at the Ninoy Aquino International Airport. File
Bill creating more Immigration posts may be passed by Christmas
(philstar.com) - October 17, 2017 - 3:45am
MANILA, Philippines — The new Immigration Act, meant to augment the ranks of immigration officers that have dwindled due to issues on overtime pay, may be passed before Christmas this year.
In a text message to PhilStar.com, Justice Secretary Vitaliano Aguirre II said that the bill is currently "under the legislative process of both houses of Congress" but the Justice department hopes it will be passed "before the next adjournment."
Among the aims of the bill is to create permanent positions for Immigration personnel.
Aguirre, whose department oversees the Immigration bureau, said "both houses are aware of its urgency."
The Senate and the House of Representatives will go on a legislative break on October 21, and will resume its session on November 13 before going on a Christmas break on December 16.
Earlier this year, the BI was plagued by reports of undermanned airports due to the increase in leaves and absences of employees.
The immigration officers opted to go on leave citing unpaid allowances and overtime pay. The issues stemmed from a veto on the use of the Express Lane Fund as proposed in the General Appropriations Act of 2017.
READ: Immigration staff ask Duterte to let bureau use express lane fees
The veto left the BI scrambling to find funding for job order salaries and for overtime pay of their officers since the bureau had been using the ELF for decades. Job order staff are hired for specific contract periods.
Budget Secretary Benjamin Diokno has remained firm that charges collected from the ELF should be remitted to the National Treasury and not be used by the BI. Diokno, instead, proposed the opening of more plantilla
positions in the BI to accommodate the employees that may be displaced as an effect of the veto.
READ: Diokno stands firm on airport BI employees' overtime pay
Holiday influx
In the meantime, the BI said that it is looking into hiring 100 additional immigration officers to address an anticipated influx of travelers for the holidays,
Immigration Commissioner Jaime Morente said that the bureau is waiting for the "release of appointment papers of the newly-hired personnel by the end of the month."
Morente said that this new batch of employees, who will be hired for plantilla positions, have been with the agency for many years under contractual positions. Plantilla positions are posts for regular employment that exist within the organization.
"As we have stated before, it is about time that we recognize the services of these employees by rewarding them with permanent items in our plantilla," Morente added.
The BI said that about 600 job items up for promotion are also expected to be completed in October.
In December 2016, the BI said visitor arrivals reached 576,638, which is 4.27 percent higher than the arrivals in December 2015 at 553,002.